Desert storm: Islamists take Mali fight to Algeria
Desert storm: Islamists take Mali fight to Algeria

Show all 2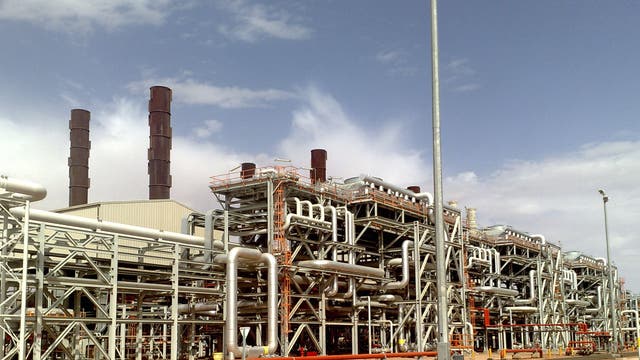 Islamist militants were holding up to 41 Western gas engineers at a remote BP site in Algeria today, deepening fears that the conflict in Mali could unleash an anti-Western war across the deserts of northern Africa.
One Briton and a Frenchman were reported to have been killed in the attack near the Libyan border and an unknown number of workers, including several Britons and an Irishman, were apparently taken hostage. Sixty heavily armed raiders attacked the gas field in a convoy of pick-up trucks.
The head of a French company providing catering services at the site said tonight: "All the Western workers were taken away and tied up … They are being kept apart and not allowed to move." Reports last night suggested that the group had offered to free the captives if Algeria released 100 Islamists in its jails and drove them to the border with Mali. Algeria, which has a history of taking a hard line in situations such as this, ruled out negotiations.
The Interior Minister, Daho Ould Kablia, was quoted as saying: "The Algerian authorities will not respond to the demands of the terrorists and will not negotiate."
Algerian officials said that the raiders, surrounded by its army, were threatening to blow up the site and their captives if their demands were not met. The group of 41 hostages, including 13 Norwegians, seven Americans, several Japanese and British nationals, were seized early yesterday. More than 300 Algerian workers were also captured but later released unharmed.
A spokesman for BP said: "The site was attacked and occupied by a group of unidentified armed people at about 5am UK time. Contact with the site is extremely difficult but we understand that armed individuals are still occupying the site."
Reports suggested that the raiders spoke Arabic with "strong Libyan accents". A group called the Katibat Moulathamine, or "Masked Brigade", told Mauritanian radio the attack was a "punishment" for Algeria's decision to permit French warplanes to use its airspace to attack Malian rebels.
The Algerian government said the raiders had travelled 600 miles through the Sahara desert from Mali, where French troops were engaged today in the first ground fighting of their six-day-old intervention against Islamist insurgents.
Special forces were reported to be fighting house-to-house in the small town of Diabaly, north of the capital Bamako, which was captured on Monday.
The French Defence Minister, Jean-Yves Le Drian, said the town was held by 1,300 fighters from the multinational Al-Qa'ida in the Islamic Maghreb (Aqim) faction. He said they were "the toughest, the most fanatical, the best organised, the most determined and best armed" of the three, loosely allied Islamist groups which overran Mali's vast, northern desert region last year.
For a sixth day, French warplanes and helicopters pounded the rebels, who attempted last week to break through the relatively narrow "waist" of Mali into the fertile and populous south, where 90 per cent of the population of 14.5 million lives.
Today, a column of 30 French armoured trucks and light tanks moved into holding positions protecting Niger river crossings south of Diabaly. This freed special forces units to move forward to test Islamist resistance in the town itself.
French strategy is to hold the line until a promised 3,500-strong West African force assembles. President François Hollande said he hoped his ground troops could give way to the African contingent "within days or weeks". The first African soldiers are expected to reach Mali tomorrow but it may be months before they are ready to fight.
Meanwhile, the islamist raid in south-eastern Algeria confirms widespread fears that the Malian conflict could spread across the immense, porous national frontiers of the Sahara and Sahel region stretching from Mauritania to Libya.
Algerian press reports, quoting interior ministry sources, said the raiders initially tried to hijack a bus taking Western workers to the airport. They were fought off after they killed two people, including a Briton, it was claimed.
The Islamist ringleader: Belmokhtar 'the uncatchable'
The attack on BP's Algeria gas field is believed to be the work of one of the most elusive and blood-stained Islamists in North Africa.
Mokhtar Belmokhtar, known as "the uncatchable", was until last year a commander of al-Qa'ida in the Islamic Maghreb, the most feared of the three Islamist groups that threaten to overrun Mali. In his first-ever public appearance last month, he posted online a video in which he said he had split from Aqim and started his own movement in neighbouring Niger called "Signatories in Blood".
Belmokhtar is also known as "Bellaouar", "Khaled Abou Abass" and "the One-Eyed Man". Born in Ghardaïa, Algeria, about 50 years ago, he volunteered to fight in Afghanistan in 1991.
Since his return to North Africa in 1993, he has been implicated in a dozen or more attacks on Westerners, including the murder of four Frenchmen in Mauritania in December 2007 and the murder of two Swiss, a Briton and a German woman in January 2009.
Last July, he was said to have been killed fighting a rival Malian group which wants to create an independent, secular Tuareg state in the Sahara. The claim proved exaggerated and the other rebels have since been driven out of Mali.To finance his activities, especially arms purchases, Belmokhtar is believed to have ransomed some of his previous Western hostages for millions of pounds.
The Algerian interior ministry said yesterday that he had attacked the BP gas field with 20 militants who were "not from any neighbouring country".
How they managed to reach southern Algeria undetected from Belmokhtar's new base in Niger – 1,000km away – is a mystery.
Join our new commenting forum
Join thought-provoking conversations, follow other Independent readers and see their replies