Ebola outbreak: Liberia - a country plagued by fear
In the West African nation, a single dread dominates all daily life. People avoid each other's sweat and spit; they do not touch one another in busy streets; and they pray for deliverance from the deadly virus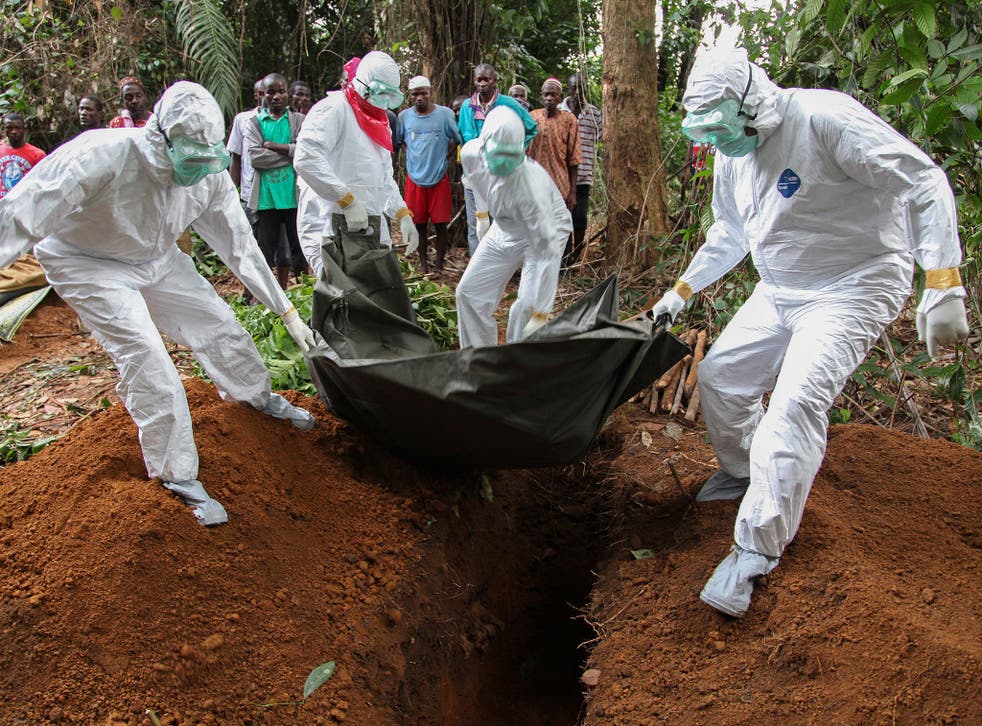 Ebola is real. This is the slogan that permeates daily life in Liberia's capital, Monrovia. It blasts constantly from car radios. It is emblazoned on billboards and a giant banner hanging outside City Corporation HQ. It is printed on A4 paper taped above colourful plastic handwashing buckets outside shops. And it is on everyone's lips.
The haemorrhagic fever has so far claimed 255 lives and prompted 468 reported cases nationwide. Many locals doubted the virus existed when cases were first reported in March. But now Ebola panic is rife. Since it is spread through bodily fluids, avoiding the sweat and spit of a fellow Monrovian has become the favoured way to survive another day.
In Washington DC on Wednesday night, President Barack Obama told a summit of African leaders that a global effort is required to combat the spread of Ebola which he blamed on weak and overwhelmed health systems in west Africa. Ebola has killed more than 900 people in Liberia, Sierra Leone and Guinea, and two cases have also been confirmed in Nigeria.
In Monrovia, on Wednesday, President Ellen Sirleaf announced a state of emergency for 90 days. The declaration follows measures that have seen the government put all non-essential officials on 30 days' compulsory leave, close schools, and create a cleaning and disinfecting holiday last Friday. The noxious odour of chlorine hangs over the city.
The country has also begun three days of fasting and prayer after religious leaders declared "God is angry with Liberia" and "Ebola is a plague". "Liberians have to pray and seek God's forgiveness," read a resolution submitted by the Liberia Council of Churches to the government.
Liberians had already been praying, packing out churches in a risky contravention of anti-Ebola measures that have restricted public gatherings. Since Wednesday, locals have shut up businesses and rolled giant sound-systems into the street. They blast devotional music. More than a hundred women and men gathered to dance and pray on Tubman Boulevard, a thoroughfare that intersects the city. "We're here to say enough is enough," says one woman, draped in a Liberian flag. The singing carried on late into the night, with the faithful sleeping on the ground on the same spot. Their demonstration mirrors another taking place every day on the opposite side of the road. Crowds of women in white T-shirts have been praying and offering handwashing services. They meet in the same field where they prayed for peace a decade ago during Liberia's bloody civil war.
As a result of the fear and enforced holidays, some parts of the city are deserted. In August the YMCA Liberia building should host up to 1,000 young people daily on IT training courses and basketball camp. It is empty. Programmes coordinator Vivien Beh says the Ebola outbreak has made the country feel like it is at war. "The YMCA is a place that never goes down – there are always young people coming in and out," she said.
The football stadia are also empty, as matches are banned.
"Wash your hands in hot water, Ebola is real it is very real, stop shaking hands," raps a singer on the radio. "Stop body contact." Everybody wants to avoid contact. In busy streets, locals tuck in elbows and shoulders as they pass. They withdraw from handshakes, laughing nervously and nodding heads knowingly.
Fear of the disease is eroding people's livelihoods. At the Paris Beauty Salon on Carey Street three hairdressers wait for customers. "Because of Ebola business is slow," says the manager. "We normally have eight customers a day, but only two today. But I'm not afraid – we wear gloves when cutting hair and have not seen any sick people."
A few roads away, the owner of a tailoring shop tells me she would close if she could afford to. Her staff are not coming to work. She also shares a rumour circulating in her community about people adding chlorine intended for handwashing to wells. "They are pouring it in the drinking water," she claims. "It will kill people." No bodies have been found.
A manager at one of the largest hotels in Monrovia, Bill Thistleton, is making contingency plans. "We were fully booked for July and three-quarters of guests cancelled – we depend on that cash flow," he says. "We have a float, so we'll be ok, but in a situation like this, the economy is fucked."
In Monrovia's slum areas, where Ebola deaths have been recorded, such preventative measures are less apparent. In Slipway there are no handwashing buckets or posters. Children run half-naked in open sewers and in and out of houses.
Despite profound changes to daily life, few people claim to have seen an Ebola victim. "Only on the net," says Garlo Williams, general secretary of the National Private Sector Health Workers Union of Liberia. He is among the "non-essential" staff on leave from the Ministry of Health. "I never saw anyone with Ebola here."
Mr Williams warns that Ebola will destroy the country if the government fails to tackle its spread in rural and mainly illiterate communities where it started. " People there don't feel it exists," he says. "Having jingles on the radio will not help – there are 16 tribes in Liberia all speaking different languages. They do not understand English – this action is not good enough."
He has one word for what Liberia's future will hold if the economy and social life continues to decline: "chaos". If shops run out of food, maintaining security rather than health will be the country's greatest challenge. "The only hope we have is that the United Nations Mission in Liberia will stay here," he says, speaking of the peacekeeping operation established to hold the 2003 ceasefire after the civil conflict.
Join our new commenting forum
Join thought-provoking conversations, follow other Independent readers and see their replies