Ebola outbreak: Survivors tell their stories as deadly virus continues to spread
Many survivors have returned home to find themselves ostracised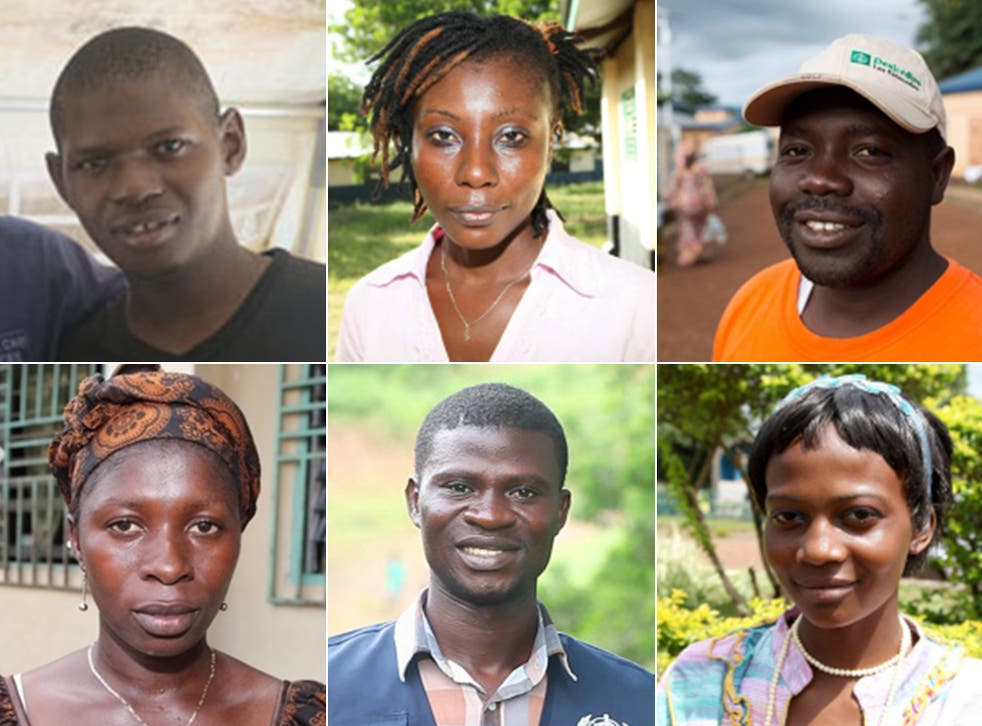 Almost a year after the Ebola outbreak started in West Africa, no cure has been found and the death toll has climbed to almost 8,000 – but survivors are giving people hope.
They are counted as the lucky ones but face a life without husbands, wives and children while being ostracised by their communities because of the stigma still surrounding the disease.
Rebecca Johnson, a nurse from Sierra Leone who recovered from Ebola, carries her hospital discharge certificate with her at all times to prove her good health.
"In my community, I am stigmatised and people talk about me," she told the World Health Organisation (WHO).
"They say 'there she is, she's the one with Ebola,' but I know I am safer than them."
The 28-year-old nurse was treating Ebola patients at the Police Training School centre in Sierra Leone's capital, Freetown, when she developed symptoms on 14 November and was treated by her colleagues.
"I was paralysed with vomiting for days, she said. "It was hard for all of us, but thank God I survived."
"I want Ebola to finish so we can get back to normal. My country is drowning - no schools, the economy is in ruins. It's not easy."
According to WHO figures, there have been a total of 19,500 cases in eight countries, mainly Guinea, Liberia and Sierra Leone – and 7,600 reported deaths.
The latest reports indicate that the spread of the disease is fluctuating in Guinea, declining in Liberia and plateauing in Sierra Leone. In those three countries, the death rate is 70 per cent.
Earlier this year, the Government committed a £230 million support package to help control and treat Ebola, including the construction of treatment facilities, military support, vaccine trials and aid flights.
Health workers have been particularly affected by the outbreak, particularly in areas where supplies of protective equipment ran low.
Austin S. Jallah, 28, is one of more than 360 Liberian health workers to be infected with the disease, which he contracted from a patient in August. In his treatment centre alone, 14 members of staff were infected and 10 died.
Fanta S, a 24-year-old teacher from the Guinean capital, Conakry, has returned home after laboratory tests showed she was no longer infected with Ebola but found people were treating her like she was already dead.
"Many people were shocked to see me alive and looked at me as if they were seeing a ghost," she said during a check-up at hospital days after her release. "My family supported me, but I closed myself up in my room and cried for two hours." She is still not sure when she will be allowed back at work.
Despite government campaigns attempting to diminish the prejudice faced by Ebola survivors in some areas, some are branded as "witches" or forced to move from their home villages after being ostracised.
For many, the faces they longed to see again while lying in the Ebola ward are no longer there – husbands, wives, children, brothers, sisters, mothers and fathers all carried off to unmarked graves by the virus.
Fatimata Gaima, from Sierra Leone, was sustained by the hope of getting home to care for her three-year-old, but was discharged from hospital to find she was already dead.
"I am learning to live a new life in the home without my husband and my two children," she told the first survivors' conference held by Unicef in Kenema.
"Now there is so much emptiness in the house especially at night."
In pictures: Ebola virus

Show all 62
The news for another survivor, Abdullah D, was better. He had to leave his wife and twins to be treated in an isolation ward in Donka, one of the biggest hospitals in Conakry, in March.
"I spent 10 days in the isolation ward," the 29-year-old told WHO. "I was convinced that I would never again see my wife and kids."
After being cared for by specialists from the Guinean Ministry of Health, Médecins Sans Frontières (MSF) and WHO, he made a full recovery.
"I felt as if I was reborn and could not wait to hug my twins," he said.
WHO and other agencies are training survivors to help others in their communities prevent the disease and train health workers.
Join our new commenting forum
Join thought-provoking conversations, follow other Independent readers and see their replies