Ebola outbreak: We know the disease is killing people, but is the panicked response killing people too?
Hospitals and health services close as panic about the disease is putting immense pressure on the resources and services that remain, while NGOs and commercial firms have pulled employees out of the region.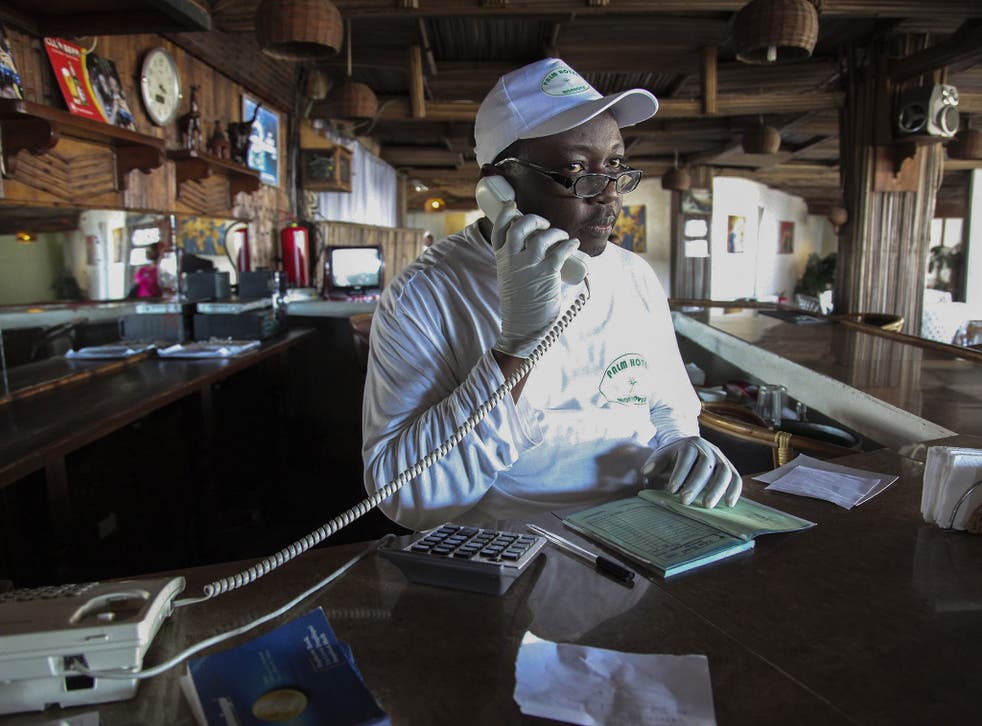 There is a new term used by doctors on the front line of the battle to control the worst Ebola outbreak the world has seen: Ebola phobia.
As panic has swept through West Africa and beyond in the wake of the lethal virus, a British doctor working in Freetown, Sierra Leone described today how fear of the disease is causing more harm than the disease itself.
Terry Gibson, former consultant physician at Guy's and St Thomas' NHS Trust who is volunteering at Connaught Hospital, the largest in Freetown, said organisations in the city had withdrawn staff, closed services and abandoned projects.
Speaking to The Independent, Dr Gibson said: " Some hospitals have closed. In one case they had a patient with suspected Ebola, it caused problems for them and they shut their doors. A women's welfare service in Freetown has shut. NGOs and commercial companies have pulled their people out. That means more pressure on us."
In pictures: Ebola virus

Show all 62
No one knows how many patients may have died because the medical care that might have saved them has been withdrawn. Connaught Hospital, which has remained open throughout the crisis, has had seven confirmed cases of Ebola and 28 suspected. The symptoms – fever, vomiting and diarrhoea – are impossible to distinguish from other tropical diseases without a blood test. All the patients were isolated and treated by medical staff in full protective gear until either confirmed or cleared. Two suspected cases are currently being monitored.
"We take a blood sample but there is only one laboratory that can test for Ebola. It can take 48 hours to get a result back – in one case I had to wait four days. During that time you can't do the usual investigations or take more blood – it is too dangerous. The patients are scared, relatives get angry and sometimes they escape. A patient in a wheelchair came in on Friday with a fever. We were pretty sure he had the virus but when he learned he was going to be put in isolation, he got out of his wheelchair and somehow managed to run away. We don't know where he is. That is very dangerous," Dr Gibson said.
Police have been called to keep patients in hospital and to trace those who had disappeared, he said. In one case a woman who had left the hospital was picked up in Freetown and persuaded to return, but she died in the ambulance. At a neighbouring hospital seven patients escaped from isolation.
"What patients don't want to hear is that they have got Ebola. They think it is a death sentence. As soon as they are isolated they know – it tells them what they have got and they run away."
There have been more than 100 deaths in Sierra Leone but the first cases in Freetown did not officially occur until June. Many more are thought to have died in rural areas and remain uncounted. Loudspeaker vans have been touring the city streets urging people with symptoms to go to hospital for treatment, and shops and businesses have been providing chlorinated water outside for people to wash their hands.
Dr Gibson said: "You can add substantially to the official figures. Ebola was relatively late to arrive in Freetown and it is going to get worse. I expect it to be around for at least six months."
Dr Oliver Johnson, who leads a programme partnering Connaught Hospital with three UK hospitals – King's College, Guy's and St Thomas', and the Maudsley – described the unique challenge the outbreak of Ebola presented.

Writing in the King's in the field blog, he said: "Many NGOs worried if one of their staff died of Ebola they might be prosecuted or have funding withdrawn. One stopped doing outreach clinics in a local urban slum – the only health service for many vulnerable patients, some of whom will certainly have died as a result. At what point do you decide it is safe to return – how many weeks, months or years do you stay away?"
Some medical organisations have evacuated international staff, he explained, while others have put restrictions on them going into clinical areas. "Is it not discriminatory to withdraw internationals whilst expecting local staff to stay at their posts and face the challenge alone?"
An official at the Ministry of Health said it felt like being back in the civil war "as NGOs packed their SUVs and abandoned their local colleagues at the first sign of danger."
With the rainy season underway there were fears of a repeat of the 2011 cholera outbreak before Ebola arrived.
Dr Johnson wrote: "We know Ebola is killing people. But is the Ebola response killing people too?"
Join our new commenting forum
Join thought-provoking conversations, follow other Independent readers and see their replies