Egypt election: Abdel Fattah al-Sisi is sworn in as President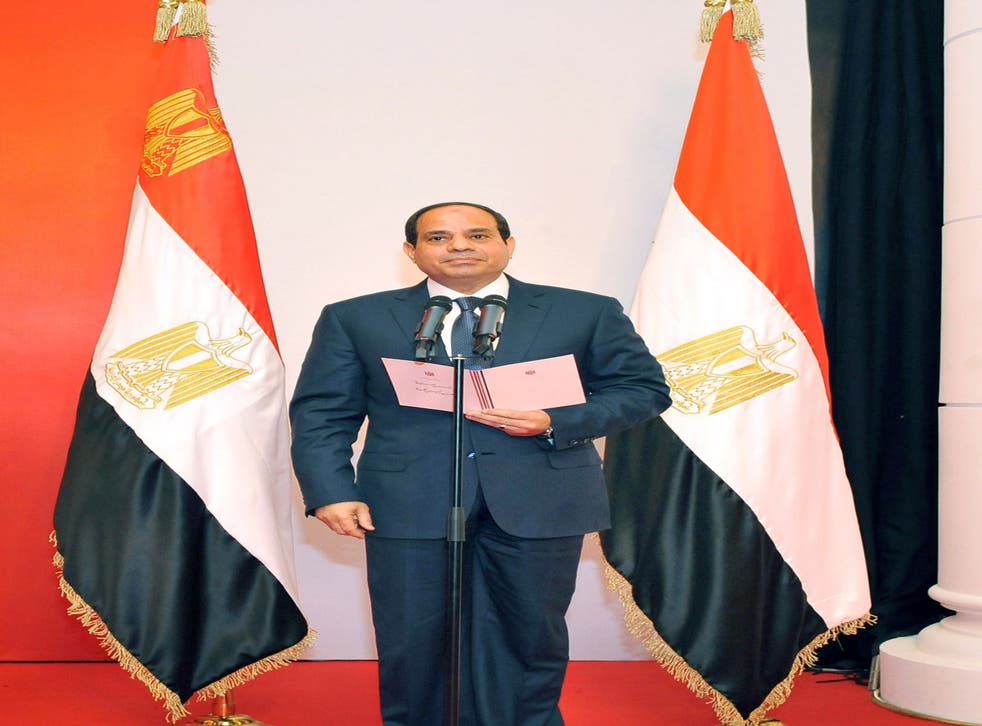 Abdel Fattah al-Sisi, the former head of Egypt's armed forces, was sworn in as President on Sunday following last month's election, which officials said Mr Sisi won with 97 per cent of the vote.
His inauguration comes after three years of upheaval following the popular uprising against Hosni Mubarak and Mr Sisi's removal of President Mohamed Morsi.
In a ceremony with low-key attendance by Western allies concerned by a crackdown on dissent, the former army chief called for hard work and the development of freedom "in a responsible framework away from chaos".
Security in Cairo was extra tight, with armoured personnel carriers and tanks positioned in strategic locations. Sisi said combating terrorism would be his top priority for the time being, a reference to Islamist foes he describes as a threat to national security.
"As for those who shed the blood of the innocents, there will be no place for them in this path," Sisi said in his first speech to the nation.
"And I say it loud and clear, there will be no soft stand with anyone who resorts to violence or whoever wants to delay our march towards the future that we want for our children."
Sisi toppled President Mohamed Mursi of the Brotherhood last July after mass protests against his rule.
Security forces then killed hundreds of Brotherhood supporters in the streets and jailed thousands of others in a crackdown that polarised the biggest Arab state, which controls the strategic Suez Canal and has a peace treaty with Israel.
In an earlier speech to foreign dignitaries, Sisi called for "an inclusive national march" in an apparent bid to heal political divisions and put an end to street protests that have hammered the economy.
Critics fear Sisi will become yet another authoritarian leader who will preserve the interests of the military and the Mubarak-era establishment, crushing the hopes of democracy.
Near Tahrir Square, the symbolic heart of the revolt against Mubarak where protesters now rarely tread, young men sold t-shirts with the image of Sisi in his trademark dark sunglasses.
Commentators on state and private media heaped praise on him, turning a blind eye to what human rights groups say are widespread abuses, in the hope that he can deliver stability and rescue state finances.
Many Egyptians share that hope, but they have limited patience, staging street demonstrations that toppled two leaders in the past three years, and the election turnout of just 47 percent shows Sisi is not as popular as when he toppled Mursi.
"Sisi has to do something in his first 100 days, people will watch closely and there might be another revolution. That's what people are like in this country," said theology student Israa Youssef, 21.
Western countries, who hoped the overthrow of Mubarak in 2011 would usher in a new era of democracy, have watched Egypt's political transition stumble.
Mursi was the country's first freely elected president, but his year in power was tarnished by accusations that he usurped power, imposed the Brotherhood's views on Islam and mismanaged the economy, allegations he denied.
Reuters
Join our new commenting forum
Join thought-provoking conversations, follow other Independent readers and see their replies