Fifteen-year-old girl faces murder charges for killing bus driver 'who tried to rape her' in Egypt
Women's rights groups call for leniency for teen who defended herself against sexual assault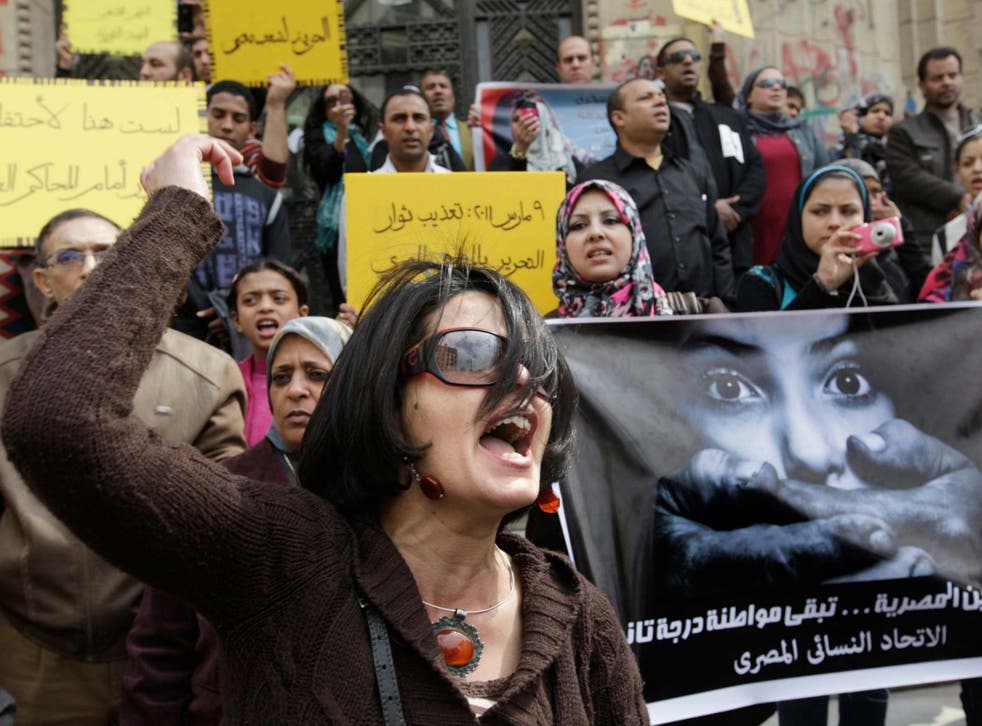 A 15-year-old girl in Egypt could face murder charges for killing a bus driver who allegedly attempted to rape her.
The prosecution of the teenager, who stabbed the man in July after he allegedly tried to rape her at knife point, has reignited concerns over the treatment of women in Egypt's legal system.
The girl said the bus driver had kidnapped her in a deserted rural area near Cairo and she was only able to get away from the alleged assailant when she took his knife and stabbed him several times.
Shortly after her arrest, the 15-year-old was required to undergo a virginity test, an invasive procedure that campaigners say in itself amounts to sexual assault.
Women's rights groups, who have offered legal assistance to the teenager, are arguing for leniency for the girl because she defended herself against a sexual attack.
World news in pictures

Show all 50
They hope that a judge's ruling in her favour could set an important legal precedent and help challenge what they view as a deep-seated misogynistic culture of blaming female victims.
Intissar Saeed, president of the Cairo Foundation for Law and Development, said: "This case reveals the dualism in Egyptian society. I myself have sympathised with her since day one.
"But when I wrote about her on my Facebook page some male lawyers attacked the girl on my page saying she was not a decent woman."
When questioned by police, the girl said she was on a date with her boyfriend before catching the bus – a statement that could undermine her credibility in Egyptian society where dating is frowned upon.
Her boyfriend is in custody pending investigations into any potential links to the crime.
After her detention, the girl was required to undergo a vaginal test which determined she was a virgin — which in the Egyptian context could be viewed as helpful to her case.
Ms Saeed, whose advocacy group is part of the teen's legal team, added: "She said (the bus driver) tried to rape her but did not so I believe there was no need for this examination."
The case highlights the culture's obsession with female virginity. In conservative areas of Egypt, relatives celebrate a new bride's loss of virginity by brandishing a bloody sheet in public.
Feminists have been campaigning for the girl's release and calling for her to face a lesser charge than murder.
However, last month the investigating judge upheld an appeal by the prosecutor against an earlier court decision to release her and ordered her detained for another 30 days.
The teen's lawyers hope she will be charged with a so-called honour killing – which are traditionally acts of vengeance committed by male family members against female family members deemed to have brought dishonour upon the family – rather than murder.
Men are more likely to receive lighter sentences if convicted of an honour killing under Egypt's penal code – a discrimination that activists have been struggling to reverse for decades.
Support free-thinking journalism and attend Independent events
Mozn Hassan, founder of Nazra for Feminist Studies, a group that provides legal and psychological support to women who had to undergo a virginity test, said: "There is a frightening misogynistic sense of solidarity in the society."
She added: "The law takes into consideration the emotional status of a man when he rises to defend his honour, which is very patriarchal. However, this (has not been) applicable to women."
The investigating magistrate is still expected to receive a detailed forensic report of the crime before deciding on the charges.
"This is the first time we have a girl that goes as far as killing the man who tried to rape her. If the court rules in her favour, it will be a historic precedent for the Egyptian judicial system," Ms Saeed added.
Additional reporting by AP
Register for free to continue reading
Registration is a free and easy way to support our truly independent journalism
By registering, you will also enjoy limited access to Premium articles, exclusive newsletters, commenting, and virtual events with our leading journalists
Already have an account? sign in