Egypt's army chief General Sisi 'to run for President'
Popular army chief tells Kuwaiti newspaper he will run for office in forthcoming elections
Thursday 06 February 2014 08:20
comments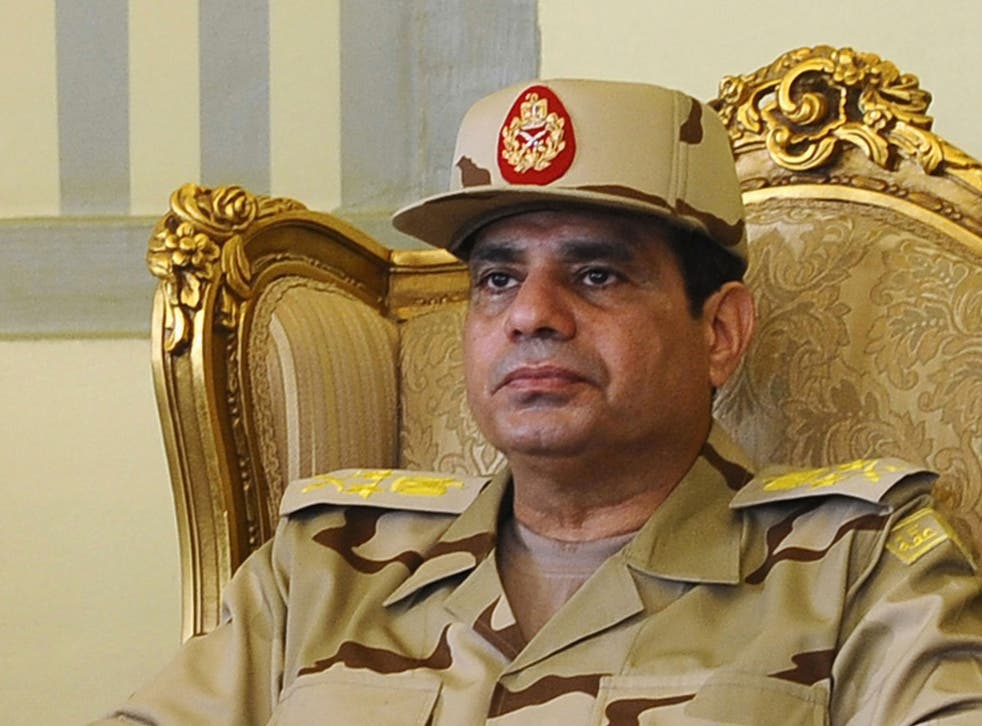 Egyptian army chief Field Marshal Abdel Fattah al-Sisi, who deposed the country's first freely elected leader, has said he will run for president, a Kuwaiti newspaper has reported.
The widely expected move is almost certain to increase political tensions and anger Islamist militants who have stepped up attacks on the state since Sisi ousted Islamist leader Mohamed Mursi in July.
It will also deepen concerns that military men will again dominate Egypt after a 2011 popular uprising raised hopes of a civilian democracy.
The newspaper, Al-Seyassah, quoted Sisi as saying in an interview that he had no alternative but to meet the wishes of the Egyptian people for him to run.
"I will not reject the demand," said Sisi, who is seen as a decisive figure that can ease political turmoil that has hit Egypt's economy hard.
"I will present this to the Egyptian people to renew confidence through free voting."
There was no official confirmation that Sisi will contest elections expected within six months.
Mursi and his Muslim Brotherhood movement accuse Sisi of staging a coup and undermining democratic gains made since a popular uprising ousted autocrat Hosni Mubarak in 2011.
After deposing Mursi, Sisi unveiled a political roadmap meant to lead to free and fair elections.
But under his watch, security forces have mounted one of the fiercest crackdowns against the Brotherhood and stifled dissent, drawing fire from human rights groups.
About 1,000 Brotherhood members have been killed in the streets, top leaders have been jailed and the group has been declared a terrorist organisation.
The Brotherhood, which says it is a peaceful organisation, has been largely driven underground. But it is resilient and is likely to keep challenging Sisi.
Al-Qai'da-inspired militant groups based in the Sinai have been waging an insurgency that has gained momentum since Sisi installed a government. Hundreds of security forces have been killed in the largely lawless peninsula.
The militants have also struck elsewhere, including Cairo.
Western diplomats say he had resisted running for president until recently, fearful that managing Egypt's multitude of problems would be a daunting task.
Saudi Arabia, the United Emirates and Kuwait, who are suspicious of the Brotherhood, showered Egypt with billions of dollars after Mursi's fall.
That aid has kept the economy afloat through political upheaval and street protests which scared away investors and tourists. But the government has yet to come up with a long-term plan to boost finances.
Sisi has become deeply popular in Egypt. There are Sisi posters, T-shirts and even chocolate bars. He is portrayed as a savior on state and private television channels.
But Sisi is aware that Egyptians, with the help of the army, ousted two presidents in three years. If he doesn't deliver, mass protests could erupt again.
"We will not play with people's dreams or tell them we have a magic wand," said Sisi in the interview with the Kuwaiti newspaper. "I will tell them let's join hands and work together to build this country of 90 million."
Join our new commenting forum
Join thought-provoking conversations, follow other Independent readers and see their replies