Egypt violence: Army general al-Sisi turns anniversary of Tahrir Square uprising into presidential rally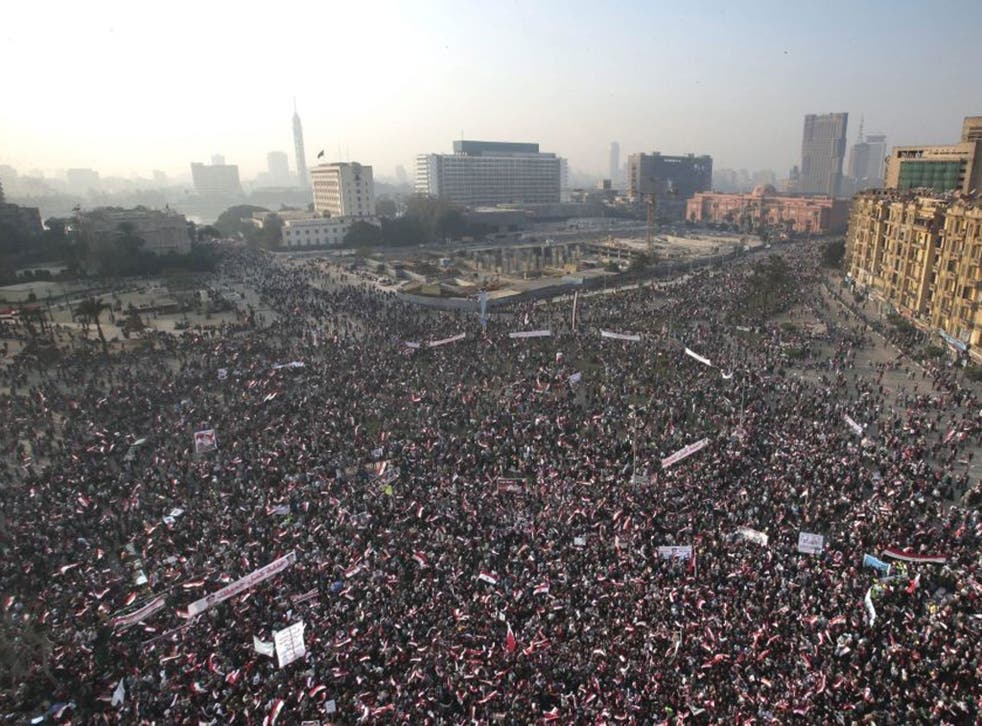 It was not supposed to be like this. Exactly three years after the Tahrir Square revolt, Egyptians are at war with each other once more.
As army helicopters hovered low over central Cairo yesterday and rioting erupted across the nation, the insurrection which toppled Hosni Mubarak in January 2011 appeared as lifeless as the hundreds who have perished in its name.
Instead, an Islamist insurgency seems to be growing, flush with the hatred of extremist militants angered by the military's ousting of Mohamed Morsi, the former Islamist President, last summer.
On the eve of yesterday's anniversary, a wave of deadly explosions reverberated across the capital – including a sophisticated car-bomb attack outside the security directorate headquarters in central Cairo. It was the first time since the fall of Morsi that militants had launched such an attack at the heart of the security establishment.
Street battles began erupting throughout Cairo and other provinces across the country yesterday, with at least 25 people dying as riot police fought with Morsi supporters. A car bomb also exploded near a police facility in Suez, according to security officials.
To top it off, General Abdel Fattah al-Sisi – the army chief expected to become the next president – has executed one of the most brilliant political conjuring tricks of modern times. As commander-in-chief he is the ultimate symbol of the security establishment – the same establishment that was the target of the Tahrir Square protests back in 2011.
In pictures: Muslim Brotherhood clash with police in January 2014

Show all 19
He seems to have convinced large numbers of Egyptians that far from being a revolutionary bête noire, he is the culmination of the insurrectionary process. In Tahrir Square on Saturday, the anniversary of Egypt's uprising was little more than an Al-Sisi presidential campaign rally. Thousands of his supporters crowded into the Downtown plaza, many carrying posters featuring the general in a variety of poses.
There was Sisi in wraparound sunglasses; Sisi in army uniform; Sisi in a suit. Street vendors sold Sisi key rings, medallions and T-shirts, while children as young as six or seven walked hand in hand with their parents chanting: "We want Sisi! We want Sisi!"
Maher Sayed, a 42-year-old engineer, said that the army chief's supporters were demanding that he run for president. "If he decides not to run," he said, "We will come to Tahrir again until he does."
In a neighbouring square, anti-government protesters dodged tear-gas canisters fired by the central security services. Many belonged to revolutionary groups who support neither the Brotherhood nor the current government.
Khaled Dawood, a journalist and political figure who has faced criticism due to his reluctance to endorse the military-backed regime, said Al-Sisi could be digging himself into a hole. "Al-Sisi and his people are increasing expectations to very high levels," he said. "I don't think this is useful at all. It's very dangerous."
He added: "He never tells us how he is going to deal with the bad economic situation, how he is going to deal with the continuing Muslim Brotherhood demonstrations or the problem of terrorism. These are things we need to know. If he cannot deal with these problems then he is not going to restore stability."
Join our new commenting forum
Join thought-provoking conversations, follow other Independent readers and see their replies