Elephant poisoned by poachers in Kruger National Park leads to death of 110 vultures
'We are remaining vigilant and we are remaining on high alert'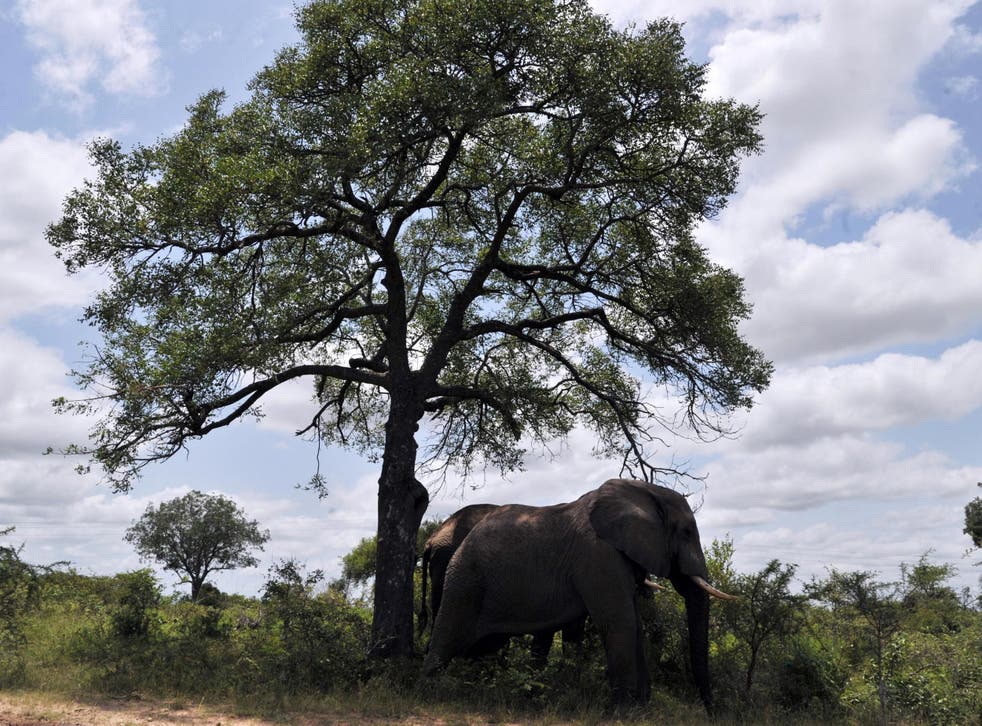 A national park in South Africa is "devastated" after finding that its wildlife was poisoned by poachers.
An elephant carcass was discovered by rangers at Kruger National Park at the end of last month, along with 110 dead white back vultures, two male lions and two black back jackals.
The carcass had gunshots to its head and was laced with poison. Its tusks had been removed.
The scavengers had been poisoned after feeding on the carcass.
Glenn Phillips, the managing executive of the park, said in a statement: "It seems poachers have resorted to wildlife poisoning in National Parks and other protected areas in South Africa and we are devastated by these latest mortalities of our wildlife.
"Wildlife poisoning is not only a threat to our biodiversity assets, but a single incident can affect hundreds of species; thus cutting their life short and diminishing their ecological role."
Reynold Thakhuli, who also works at Kruger National Park, told The Independent that they were testing the carcass to determine what type of poison had been used. No suspects have yet been arrested by the police.
"We are very devastated. This is a large number of vultures that have been killed," said Mr Thakhuli.
While there are more incidents of this nature taking place in Mozambique and Zimbabwe, this is the second incident of poisoning to occur at Kruger National Park. In December 2015, one elephant, four African lions and 46 vultures were killed.
Wild thing: The world's best wildlife photographs

Show all 12
"We are remaining vigilant and we are remaining on high alert," said Mr Thakhuli, adding that the park was calling upon anyone with any information on the poachers to get in touch.
However, he said poaching had generally "stabilised" in the park, particularly with the increased presence of rangers on the ground in the last four years.
"Whatever tactics we are applying, they are beginning to work," he said, adding that the park was also using new technology to catch poachers before they entered.
"We will win the war against poaching," he said.
A number of countries in Asia are implicated in the illegal ivory trade. And according to a park spokesman, there is a demand for vultures from healers in South Africa, AFP reported.
Prince Harry on rhino poaching
New figures released by the Convention on International Trade in Endangered Species of Wild Fauna and Flora (CITES) show that while the level of African elephant deaths has stabilised overall, it is still "unacceptably high". There were more than 14,600 deaths in 2015.
John Scanlon, the secretary-general of CITES, said: "The momentum generated over the past few years is translating into deeper and stronger efforts to fight these crimes on the front line, where it is needed most – from the rangers in the field, to police and customs at ports of entry and exit and across illicit markets.
"Governments must continue to strengthen these front line efforts, whilst the UN, other intergovernmental bodies and civil society must further enhance their much needed support, if we are to move from stabilising to reversing the devastating poaching trends of the past decade."
Join our new commenting forum
Join thought-provoking conversations, follow other Independent readers and see their replies