Father of Bardo Museum gunman: 'I feel as much sorrow for the tourists as I do for my son'
The father of one of the Bardo Museum gunmen says his son, who attended a Libyan jihadi training camp, was manipulated into carrying out the attack
Yasmine Ryan
Friday 27 March 2015 20:02 Comments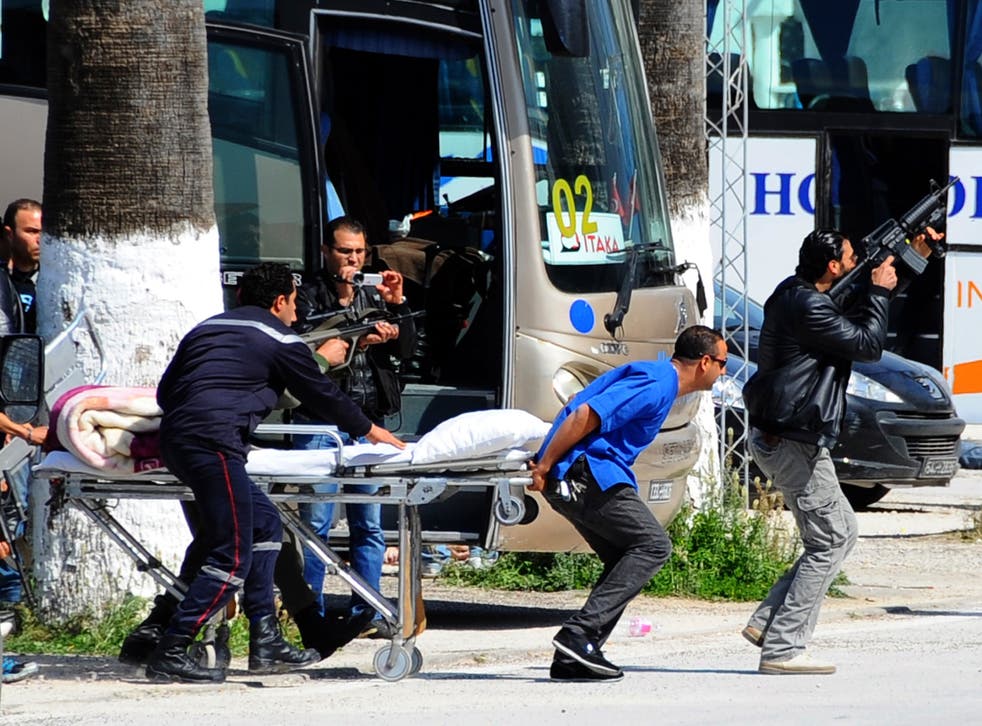 Almond and pear trees are in blossom on the drive into Ibrahim Zahar, a tiny and picturesque collection of perhaps a few dozen houses in Kasserine, one of the poorest regions of Tunisia.
A handful of mourners gathered at its hilltop cemetery this week for the funeral of a once promising young man who had hoped to study for a degree in philosophy. But most residents stayed away.
Jabeur Khachnaoui, the 20-year-old school student whose body was quietly buried on Monday, might never have been known beyond Kasserine had he and a fellow gunman not burst into the Bardo Museum in Tunis to slay as many foreign tourists as they could before the police shot them dead.
The attack was planned by the jihadist group Uqba Ibn Nafi, led by an Algerian terrrorist, Luqman Abu Sakhr, the Tunisian interior minister Mohamed Najem Gharssai said in a press conference on Thursday. Sakhr declared allegiance to the Islamic State last October, and Isis has claimed responsibility for the attack in which 20 foreigners and one Tunisian national died.
In pictures: Bardo Museum shooting

Show all 8
Amid the general disgust in Ibrahim Zahar over the Bardo massacre, the family has been largely ostracised since the news of Jabeur's involvement emerged. But they too seem like victims of a kind, puzzled and regretful at what their son has become. His father, Ezzeddine Khachnaoui, an olive farmer, welcomes us into the family's living room. The family is modest, but not poor. Several of Jabeur's uncles are teachers, and his older brother is studying for a doctorate in philosophy.
"I feel as much sorrow for the tourists as I do for my own son. They were innocent," Mr Khachnaoui says, gripping my hand tightly, his voice earnest. "My son was manipulated."
Jabeur – whose other name, Hatem, was initially used by Tunisian authorities – was born in March 1994, the youngest of five children. He used to pick apples to earn pocket money in the holidays.
The wider community here is not known for its radicalism, but Jabeur was one of a small group of local teenagers who had drifted towards the more hardline Salafist strand of Sunni Islam. He grew a beard, and handed out pamphlets urging women to wear hijab outside the nearby Sbiba High School. Across Tunisia over the past year, the government has made huge efforts to weed out imams who preached jihadi to disaffected young men. But every Friday in the months before his disappearance, Jabeur would go to Rouhia, a nearby village where, despite the authorities' efforts, the mosque is still controlled by Salafists.
He is not the only member of the Khachnaoui family with Salafist links. His 25-year-old sister, Lobna Khachnaoui, who serves us coffee, was held with her father for several days by police. She was living in Tunis at the time of the attack and was investigated for alleged involvement. The family declines to discuss these details, and she was released. She is studying Arabic at Manouba University, and was one of a group of Islamists student activists who gained nationwide attention in 2012.
Jabeur attended the school in Sbiba. Faisal Yahyaoui, the bus driver who used to take Jabeur to school, remembers him as a quiet and conservative, but friendly, young man. "He never had any contact with girls," Yahyaoui said. "Sometimes he asked for the radio to be turned off, he didn't like music." Last December, a few weeks before he was supposed to sit his final school exams, Jabeur disappeared and travelled to a jihadist training camp in eastern Libya. The first his family heard of his plans was when the police showed up. "If the police knew he was leaving Sbiba, why didn't they catch him, instead of coming here?" asked Mr Khachnaoui.
Jabeur did not have a criminal record, but he had started to attract attention. In November, he had shouted "taghut", an Arabic term commonly used by jihadists that loosely translates as non-believer, outside the local police station. He began to stay away from home for days at a time.
The family next heard from him in a phone call from a Libyan number. Jabuer appeared to have had a change of heart, asking for help to obtain a medical certificate that might allow him to resit his exams. Two weeks later came a second phone call, during which his father again begged him to come home – and then a third, in which he said he needed a passport to travel to Iraq.
After each of the calls, Mr Khachnaoui visited the local police to update them. But, he says, "the police didn't take it seriously."
The other gunman in the museum attack, Yassine Laabidi, also travelled to Libya at around the same time. Tunisian authorities say there are training camps for aspiring Tunisian jihadists in three Libyan towns, Derna, Benghazi and Sabratha.
Some 23 Tunisians suspected of complicity in the attack were arrested on Thursday, though Maher Ben Mouldi Gaidi, who is thought to have set up the attack, is on the run, along with two Algerians and a Moroccan suspect.
In Sbiba, Jabeur's teachers are also deeply saddened by the trajectory of their former student. "Everyone who knew him was shocked," said Abdessamad Daoudi, who taught him English. He had been a good student, they said, but appeared to have lost motivation about a year ago. His marks dropped, and he had to repeat a year. He switched from computer science to literature. The lack of prospects for young Tunisians could have been a factor that led the young man down such an unexpected path. "Students don't expect much from their studies, because even with degrees they will still be unemployed," Daoudi said.
How he was recruited remains unclear, but his teachers pointed to the amount of idle time school students have in a town where there are no sports fields, cinemas or swimming pools. After school, bored young men from the countryside wander the streets and cafes, going to the mosque or wasting hours online. "They turn to the internet to understand their religion, and fall prey to extremists," said the teacher.
There are troubling questions over how Jabeur, who did not have a passport, got into Libya. The interior ministry has warned of the danger of an attack by returnees, yet corruption and smuggling in the Libyan border region remains rife. Mohamed Salah, a journalist in Kasserine, said that Jabeur's ability to travel proves there was a well-organised network behind him.
Prime Minister Habib Essid has sacked the police chief in charge of security in Tunis for neglect. But, as the Khachnaoui family would be first to admit, there are also serious questions to be asked in rural Tunisia.
Register for free to continue reading
Registration is a free and easy way to support our truly independent journalism
By registering, you will also enjoy limited access to Premium articles, exclusive newsletters, commenting, and virtual events with our leading journalists
Already have an account? sign in
Join our new commenting forum
Join thought-provoking conversations, follow other Independent readers and see their replies