First Chibok girl rescued from Boko Haram says other captives are 'alive and well'
Six of the 219 girls held by Boko Haram have died since their capture two years ago, Amina Ali Nkeki says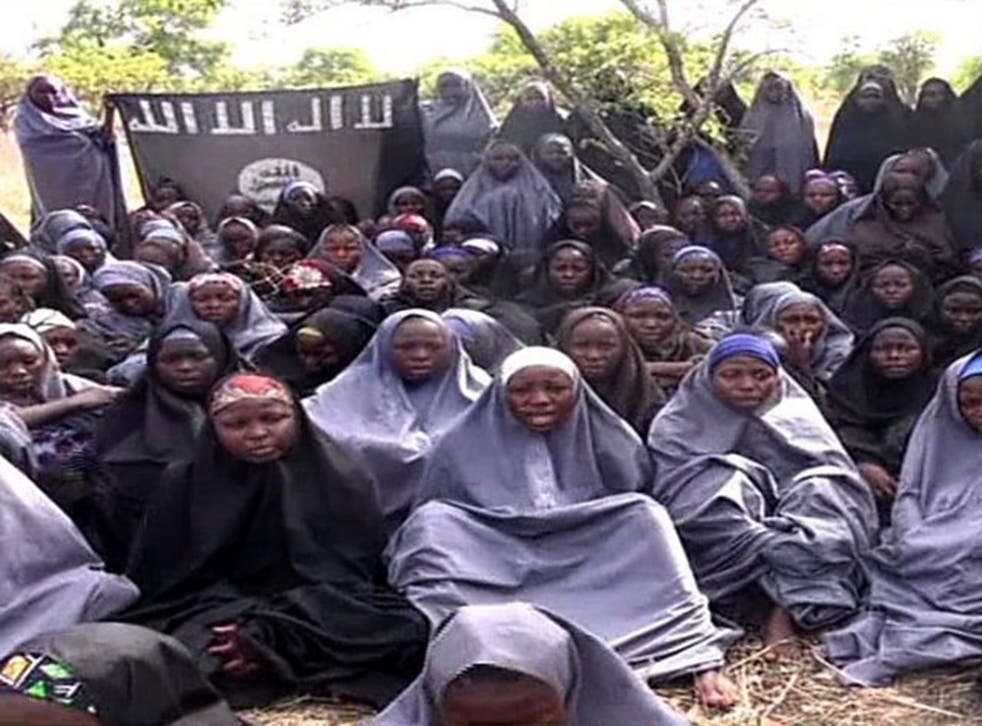 The first one of the Chibok girls to be rescued after more than two years as a captive of Boko Haram says the vast majority of her fellow classmates are still "alive and well".
Amina Ali Nkeki was found by a vigilante patrol on Tuesday in the Sambisa Forest, where the jihadist group has hidden the girls since they were taken in a raid on a school in April 2014.
Six of the 219 girls have died during the long period of captivity, activists quoted Amina as saying, but the rest are still being held at a "heavily guarded" Boko Haram outpost in the forest.
Activists with the Bring Back Our Girls campaign said Amina, who is now 19 years old, was found with a one-year-old baby and taken to a military facility in Borno state to be debriefed.
Olatunji Olarewanju, a representative for the campaign in Nigeria, said Amina's identity was confirmed by her mother.
He told Sky News she was "traumatised, and will need a lot of support".
Beyond Chibok: Report shows alarming trends in countries affected by Boko Haram

Show all 16
"The rest of the girls are alive and well, and are holed up in Sambisa Forest under Boko Haram fortification," he said.
Amina's uncle, Yakubu Nkeki, said she had been brought to Chibok on Tuesday night after she was found, and had been reunited with her mother. Her father died while she was held captive.
Soldiers then took her away to the military camp in the town of Damboa, he said. It is understood she will later be transferred to the Borno state capital of Maiduguri, where she will be put through a deradicalisation process.
The capture of the Chibok girls on the night of the 14 April 2014 sparked an international reaction, with people around the world uniting behind the #BringBackOurGirls cause.
Militants raided a school in the middle of the night, loading 276 girls into trucks and driving away into the forest.
Dozens managed to escape in the first few hours after their kidnap, some by jumping off the moving lorries. With the information provided by Amina, it appears there are now 212 girls still alive in Boko Haram captivity.
As time passed, focus drifted away from#BringBackOurGirls. What started as a call to action soon turned to recriminations against the Nigerian government, accused of not doing enough to tackle Boko Haram in its heartlands.
At the end of last year, the Nigerian president Muhammadu Buhari sparked controversy by claiming the militant group was "technically defeated", though the Chibok girls were still missing.
Terror attacks claimed by the jihadists continued, however, and Mr Buhari was forced to defend his statement. In February, he claimed he had meant Boko Haram "can no longer mobilise enough forces to attack police and army barracks and destroy aircraft like they used to".
Earlier this month, CNN broadcast a video which appeared to show a group of the schoolgirls still alive. Reportedly shot by militants on Christmas Day 2015, its veracity was confirmed by a number of the 15 girls' parents.
Register for free to continue reading
Registration is a free and easy way to support our truly independent journalism
By registering, you will also enjoy limited access to Premium articles, exclusive newsletters, commenting, and virtual events with our leading journalists
Already have an account? sign in
Register for free to continue reading
Registration is a free and easy way to support our truly independent journalism
By registering, you will also enjoy limited access to Premium articles, exclusive newsletters, commenting, and virtual events with our leading journalists
Already have an account? sign in
Join our new commenting forum
Join thought-provoking conversations, follow other Independent readers and see their replies