French soldiers killed in helicopter crash during 'dangerous operations' in Libya
They are the first confirmed French military deaths since it became known earlier this year that special forces were operating on the ground in Libya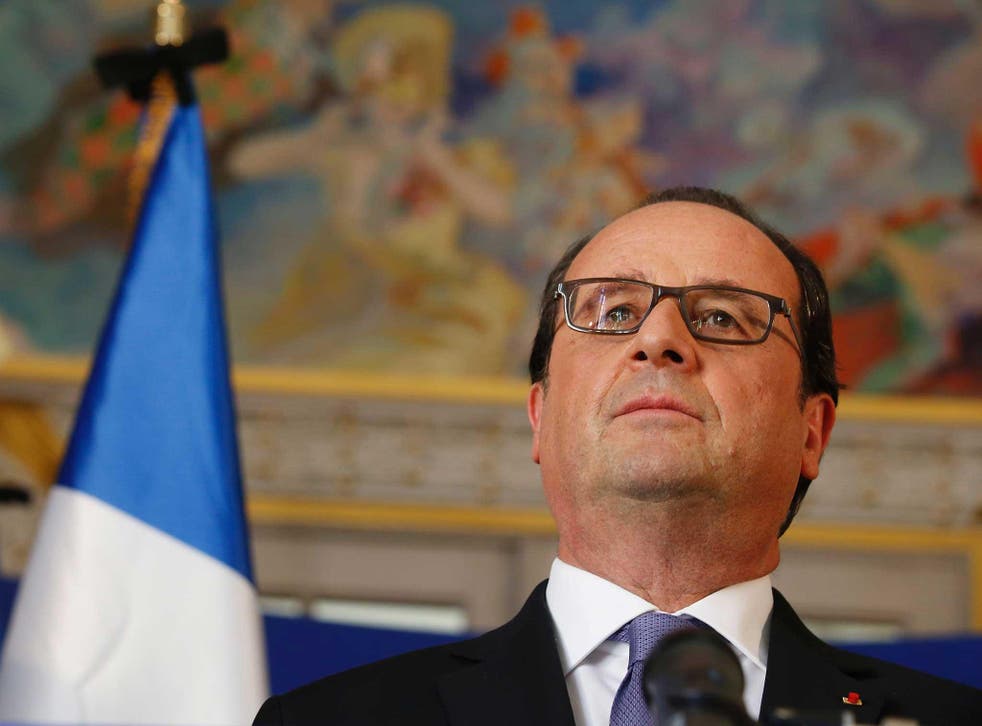 President François Hollande has said that three French soldiers have been killed in a helicopter accident in Libya during an intelligence-gathering mission.
The announcement of the deaths is the first official confirmation that French special forces are operating on the ground in Libya.
"At this moment we are carrying out dangerous intelligence operations [in Libya]," Mr Hollande said in a speech. "Three of our soldiers, who were involved in these operations, have been killed in a helicopter accident."
French defence minister Jean-Yves Le Drian said he "deplores the loss of three soldiers".
Paris took a leading role in the Nato air campaign that helped rebels overthrow autocratic leader Muammar Gaddafi in 2011.
French special forces in conjunction with Britain and the United States have been advising forces loyal to eastern Libyan commander Khalifa Haftar, which have been battling Islamists and groups with affiliation to Isis in Benghazi for more than two years. French aircraft have been conducting reconnaissance flights since December.
A spokesman for Mr Haftar's forces, Ahmed Masmari, said a helicopter carrying three Libyans – a pilot and two technicians – as well as the three French, had crashed on Sunday in the Magrun area about 47 miles south of Benghazi.
Libyan officials had earlier said four people died in the crash, all of them Libyan. Mr Masmari said the French had been gathering intelligence on fighters from Boko Haram, after some Malian militants loyal to the group had arrived in the area.
"It was probably a technical problem but the investigation has not finished yet," Mr Masmari said.
However, the Benghazi Defence Brigades (BDB), a recently formed force of Islamists and other fighters, claimed after the helicopter crash that it had shot the aircraft down, killing four people, according to a statement posted on social media accounts close to the group. Pictures purporting to show the wreckage of the helicopter were also posted by the group.
The BDB includes fighters pushed out of Benghazi by Mr Haftar's forces. The group launched a fresh campaign last month, south of the eastern city, to regain lost ground.
Western powers have been backing Libya's unity government, hoping it will seek foreign support to confront Isis, deal with migrant flows from Libya to Europe and restore oil production to shore up the Libyan economy.
The news came as defence and foreign ministers from more than 30 nations gathered on Wednesday to plan the next steps in the fight against Isis. US Defence Secretary Ash Carter met with his counterparts to discuss how they can accelerate the campaign and build on some of the momentum, particularly in Iraq.
On Thursday, US Secretary of State John Kerry will host a joint meeting of defence and foreign ministers in the anti-Isis coalition. They are expected to talk about the coordination of political and military efforts, including counter-terrorist financing, combating the flow of foreign fighters, and the stabilisation of cities and towns that have been freed from Isis control around Syria and Iraq.
"We are succeeding on the ground in Iraq and Syria but we have a lot of work to do," said Brett McGurk, US President Barack Obama's special representative to the anti-Isis coalition. "This is an enormous challenge that will be with us for years to come."
He told reporters that the situation in Libya and a rise in the number of foreign fighters there will be one major focus of the meeting on Thursday.
"Libya is incredibly complicated to say the least," he said, noting that until six months ago the country was without a functioning central government. "We have some momentum, the discussion will be how to build on this momentum."
Reuters and Associated Press
Join our new commenting forum
Join thought-provoking conversations, follow other Independent readers and see their replies