Giraffe killed after hitting head on bridge while being transported in South Africa
An animal cruelty organisation is investigating the incident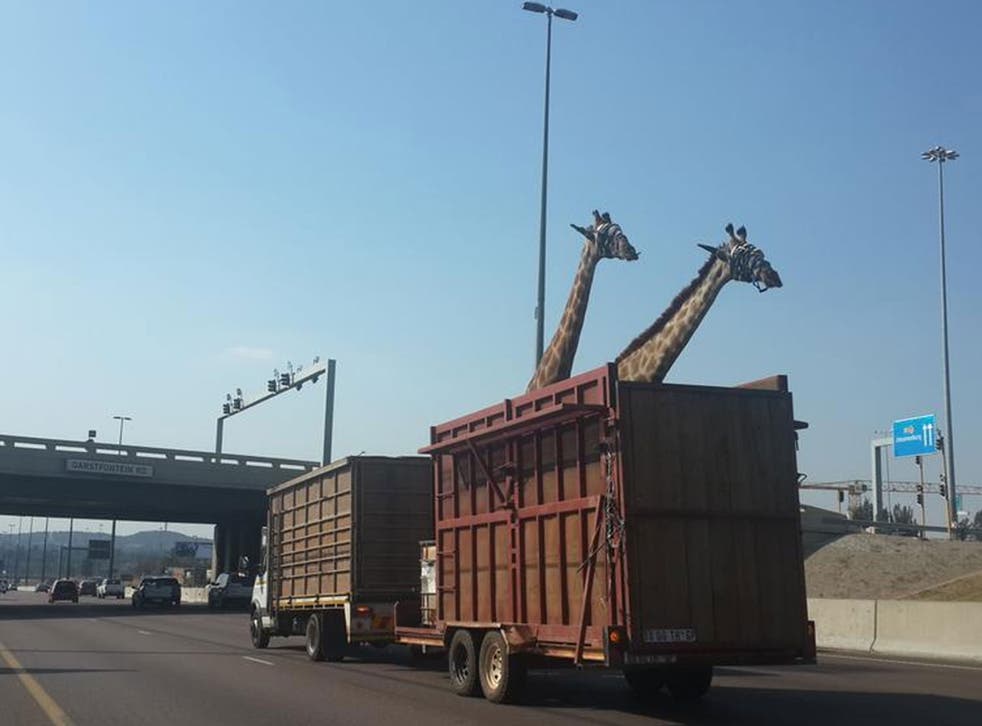 A giraffe suffered severe head trauma and died in South Africa on Thursday, after its owner drove the towering creature underneath a bridge on a highway.
On Wednesday morning, two eyewitnesses tweeted photos showing two giraffes being transported in an open lorry container. They reported that one of the animals had hit its head as it travelled under a bridge on Garsfontein Road in Pretoria, South Africa.
"Saw two giraffes being transported to Pretoria on the highway today," TV and radio presenter Pabi Moloi, wrote alongside a photo she posted on Instagram.
"Not sure what the regulations are but as they were going under a normal highway bridge, I saw one of the giraffes hit its head.
"It was so terrible to see. Hope they got wherever they were going okay."
After the giraffe collided with the monument, the vehicle broke down and the animals were stranded on the freeway, Eye Witness News reported.
Rick Allan, from the South African Society for the Prevention of Cruelty to Animals, said, "All we can ascertain at this stage is severe head trauma. We are continuing our investigation with the view to possibly lay criminal charges against those responsible."
He later told eNews Channel Africa that the truck did not comply with South African Bureau of Standards (SABS) and that it driver had ignored the agency's codes for transporting animals.
"When you are transporting giraffes on an open road, their heads should be covered by a structure which is a specially designed container that looks like a crate," he said.
The giraffe's owner confirmed it had died, according to a reporter from The Citizen.
"We went through lots of other bridges," he said, adding he believed the animal had died because it had craned its neck.
Join our new commenting forum
Join thought-provoking conversations, follow other Independent readers and see their replies