Guilty – of watching a film on the Arab Spring in Mugabe's Zimbabwe
Six activists fear long jail sentences for alleged attempt to inspire uprising. Alex Duval Smith reports in Harare
Guilty – of watching a film on the Arab Spring in Mugabe's Zimbabwe

Show all 3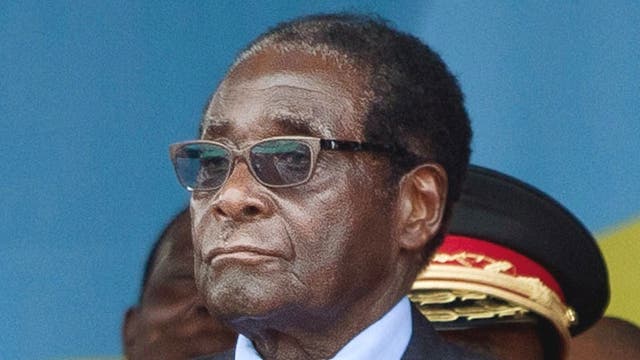 Zimbabwe issued a tough warning yesterday that opposition to President Robert Mugabe's 32-year rule will not be tolerated when six political activists who screened a film about the Arab Spring were found guilty of conspiring to commit public violence.
The five men and one woman – who include students and trade union leaders – will be sentenced after a mitigation hearing today at Rotten Row magistrates' court in the capital, Harare. They face up to a decade in prison.
After the guilty verdict, the lead accused Munyaradzi Gwisai, a 44-year-old university professor, said: "The judiciary is being used by the regime to persecute and intimidate the opposition and civic society, to keep them confined by court cases that drag on, even if there is no case against them."
The group was charged with treason in February last year after they and 40 others were arrested at a trade union office, at which a film consisting of television news clips of the rebellions in Tunisia and Egypt were shown.
The six say they were tortured in custody – by being beaten with planks of wood – until they confessed to plotting to overthrow President Mugabe, 88. The 40 others were released and, in a case that has lasted more than a year, the charges against the six were eventually downgraded from treason, which carries the death penalty.
In his judgment, which he read from handwritten notes in a packed courtroom with intermittent electricity, magistrate Kudakwashe Jarabini rejected the group's claim that the meeting, held in an office on 19 February last year, was "innocent and academic".
More than 160 people had flocked to the tiny courtroom, including trade union leaders, diplomats, human rights activists and politicians from the opposition Movement for Democratic Change (MDC). The judgment had been postponed yesterday and when it resumed, riot police were in position outside the court.
The magistrate, whose mother-in-law is the sister of the President's wife Grace Mugabe, quoted tortuous interpretations of the law: "Watching a video like the one in question is not a crime. But the manner of watching had no good intention. The video was meant to arouse feelings of hostility among those watching."
The prosecution had claimed that the six had been plotting an uprising which "had gone beyond the planning stage" and was to start on Africa Unity Square in Harare on 1 March last year.
After the verdict, the six were close to tears and some were unable to bring themselves to speak. Edson Chakuma, 38, a trade union leader, said: "After going through torture and persecution and such a long court case, I am devastated. This sends the signal that we are no longer free to express ourselves."
A supporter at the court, Raymond Majongwe, secretary general of the Progressive Teachers Union of Zimbabwe, said: "The government uses a dipstick. Every time it sees how far it can go. Now people are being arrested for watching a video. How much more repressive can they get?"
The MDC, which since September 2009 has been part of a coalition government with Mr Mugabe's Zanu-PF, denounced the conviction: "The six are innocent victims of a barbaric and senseless Zanu-PF dictatorship. It is beyond belief for the state to assume that people can topple a government by simply viewing old video footage of events from Tunisia and Egypt."
More than 200 MDC activists are believed to have been killed in the run-up to elections in 2008. In recent months, President Mugabe hinted that new elections are imminent, even though an agreed constitution-making process is not yet complete.
Torture claims: 'We were beaten with planks'
Munyaradzi Gwisai, the lead accused, is one of the harshest critics of the political parties governing Zimbabwe.
In an interview with The Independent before yesterday's verdict, the 44-year-old law lecturer at the University of Zimbabwe accused both the MDC and Zanu-PF of favouring market interests at the expense of the poor.
"Zimbabwe is under the boot of crony capitalism, run by an ageing leader who employs populist rhetoric as well as partial nationalist reforms – indigenisation, land reform – while at the same time running an elite, class-based society. The MDC is favouring other interests but not those of workers or of the poor," he said.
The six people convicted yesterday claim they were tortured after their arrest. Gwisai said: "They needed us to admit to having said 'abasha Mugabe' – down with Mugabe – and I would say 'no, I never did. So they put you on the floor and beat you five or ten times with a plank, then ask the same question. They did this with each of us – I lasted three or four rounds – until we finally confessed."
Join our new commenting forum
Join thought-provoking conversations, follow other Independent readers and see their replies