On the home stretch: Egypt is divided over ousted dictator Hosni Mubarak's release
Freeing the jailed leader symbolises 'return to the practices of the old state'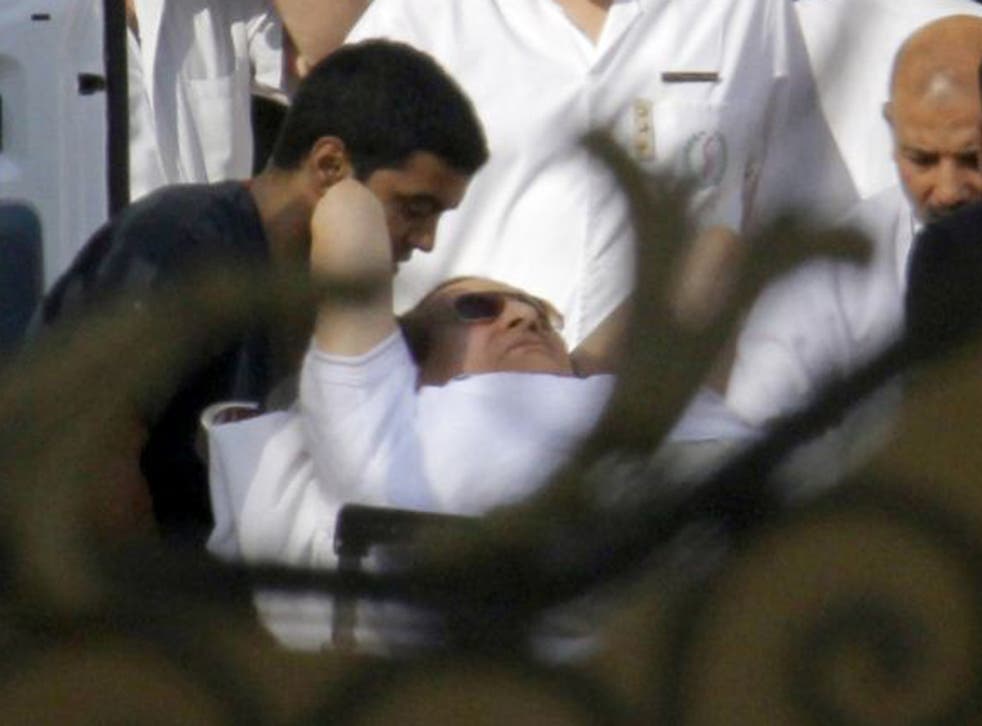 As Hosni Mubarak was released from prison today and whisked away by helicopter, he was caught on camera flashing a smile.
Some Egyptians, exhausted by years of continual unrest, will have welcomed today's development. But for others, the ex-dictator's grin would have been a cruel indictment of the sacrifices made to secure his ouster in 2011.
After days of speculation about the fate of Egypt's former president, he was finally freed from prison and transported to a military hospital near the banks of the Nile.
Local TV stations showed footage of the 85-year-old being carried in the helicopter and then landing at the military hospital.
"I'm very sad," said Hazem Bassiouni, an activist who has been involved in numerous street clashes against the police and army since Mr Mubarak was toppled, said: "He has been released and we have achieved nothing."
Last year Mr Mubarak was sentenced to life in prison for his role in the killing of protesters during the January 2011 uprising. But earlier this year a court accepted an appeal by his lawyers and ordered a retrial in the case.
By April this year, the former Egyptian leader had already served the maximum pretrial detention period behind bars and was being held in connection with a separate corruption case.
This week, two court rulings removed the last legal justification for his detention – a decision which led to the toppled autocrat being released from prison. He is still being retried on charges related to the killing of protesters.
According to Emad Shahin, a Cairo-based political expert, the developments marked a victory for Egypt's "counter-revolutionary" forces: "The release of Hosni Mubarak symbolises a return to the practices of the old state," he said.
Since 3 July, when Egypt's military mounted a popular coup against President Mohamed Morsi, on the back of huge nationwide protests, the country has been sinking into a bloody mire of state-sponsored massacres and anti-Christian reprisal attacks.
Several hundred people have been killed since last week, including scores of police and soldiers, while churches and homes owned by Christians have been torched and attacked.
In response, Egypt's security services have rounded up hundreds of Islamists and a night-time curfew has been declared in Cairo.
All the while a toxic sense of polarisation has seeped into the national debate. To criticise the state's conduct is now to invite accusations of treachery, while to express dismay at the bloodshed is to risk accusations of naivety.
Khaled Dawoud, a former spokesman for the National Salvation Front – the leading liberal political coalition – quit his position recently after being asked to read a statement that supported the police's conduct during last week's massacre of Islamists in eastern Cairo.
Dr Hisham Hellyer, an Egypt expert at the Washington-based Brookings Institution, told The Independent: "If Mohamed Morsi had still been in charge today, he would probably be doing the same".
Dr Hellyer also noted that Mr Mubarak's release was in accordance with Egyptian law. "Symbolically it's a mess," he said. "But honestly, it's just a bad coincidence."
Join our new commenting forum
Join thought-provoking conversations, follow other Independent readers and see their replies