Ivory Coast shooting: European death count rises as France confirms four of citizens killed
At least 15 civilians and three soldiers have been killed in the terror attack on the resort town of Grand Bassam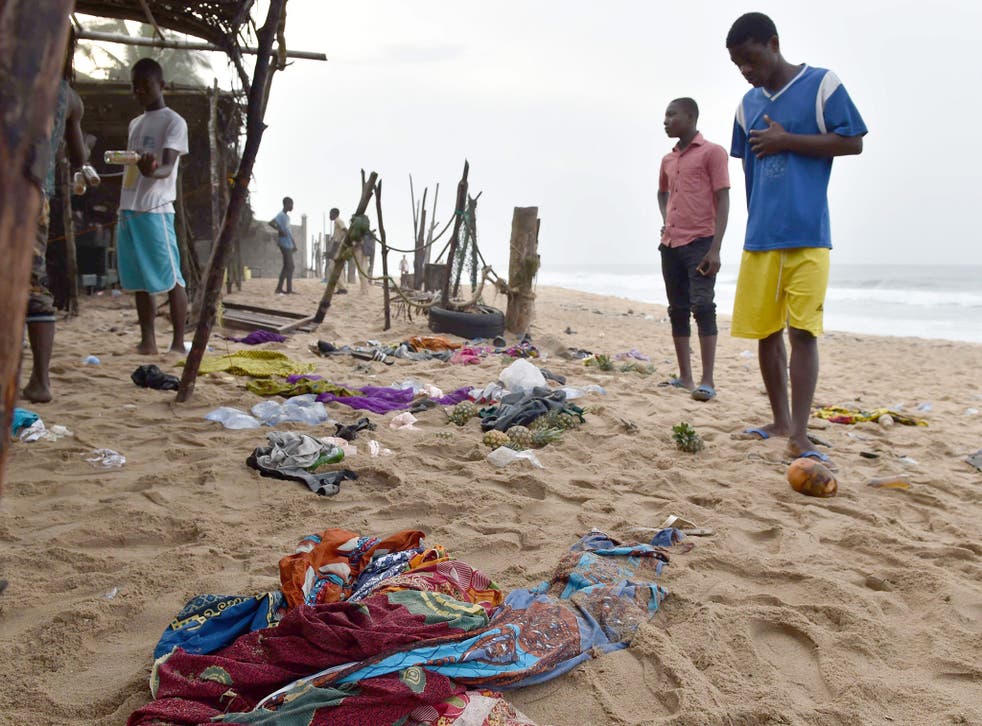 The number of Europeans killed in the terror attack on a Ivory Coast beach resort has risen to five after French officials confirmed four of their citizens have died along with one German.
Islamist militants opened fire on a beach in the resort town of Grand Bassam on the country's south coast killing at least 15 civilians and three soldiers. Three of the militants were also shot dead.
Those killed in the Sunday attack included people from Burkina Faso, Cameroon, France, Germany and Mali as well as several Ivorians.
According to German press agency dpa, the German victim has been named as Henrike Grohs who has been the director of the Goethe Institute in the Ivory Coast since 2013.
A statement from Elysee Palace said that France's Foreign Minister Jean-Marc Ayrault and Interior Minister Bernard Cazeneuve will go to Ivory Coast Tuesday in a show of solidarity.
It said that France will support Ivory Coast's counter-terrorism measures and affirmed that "co-operation between all states menaced by terrorist groups, notably in West Africa, must intensify more than ever."
The attack - which has been claimed by the terror group al-Qaeda in the Maghreb - was the first Islamist extremist attack on Ivorian soil and has left the country reeling just a few years after its civil war ended in 2011.
President Alassane Ouattara's government began work on Monday to tighten security and prevent more violence.
Deadly attack on resort in Ivory Coast
The country has served as a logistical base for French forces who are currently carrying out counter-terror operations in the region - including their offensive against militants in Mali who carried out a terror attack on a Raddisson Blu hotel in the capital Bamako in November.
Ivorian officials are said to have been bracing themselves for an assault following the attack in Bamako and a similar hotel siege in Burkina Faso's capital Ouagadougou in January which left 29 people dead.
Many witnesses said they at first suspected the gunshots were fireworks being set off by holidaymakers. Only when victims began crumpling to the ground did they realize the beach was being targeted in an assault.
The gunmen entered the beach from multiple directions, witnesses said.
Frenchman Charles-Philippe d'Orleans said he was at the beach with a friend when he heard the first shot and he thought it was a firecracker; then he heard another, louder one.
A security guard told beachgoers not to worry, that some youths had tried to enter the paid-access beach and that another guard had fired his weapon into the air, Mr d'Orleans told French radio station RTL.
More shooting then broke out so he and others hid behind a wall. Gunmen were "to the right, to the left, toward the road and toward the beach," Mr d'Orleans said. He said that when the gunfire receded he and his friend sped away in a car.
"Afterward we said 'Wow, we actually escaped something big,"' he said. ​
Those who make a living off tourism believed the attack on three hotels would deal the sector a huge blow.
World news in pictures

Show all 50
"They've really ruined it for us. With all that has happened, I don't think that the clients are going to come back now," local security guard François Tanon said.
Security forces on Monday patrolled Grand-Bassam's beaches, which were otherwise largely deserted. Soldiers checked the trunks of cars approaching the beach. Authorities briefly closed a section of beach in front of La Nouvelle Paillote hotel after receiving reports that explosives had been found there.
Ivorian newspapers on Monday morning featured graphic photos of dead bodies sprawled on the beach. The headline for one paper, Le Patriote, proclaimed: "We are Grand-Bassam!"
Additional reporting by AP
Join our new commenting forum
Join thought-provoking conversations, follow other Independent readers and see their replies