Joice Mujuru: Zimbabwe's former vice-president forms new party to challenge Robert Mugabe's Zanu-PF
Woman who once described herself as like Mr Mugabe's 'daughter' willing to forge alliances with other opposition groups as she bids to take on the 92-year-old ruler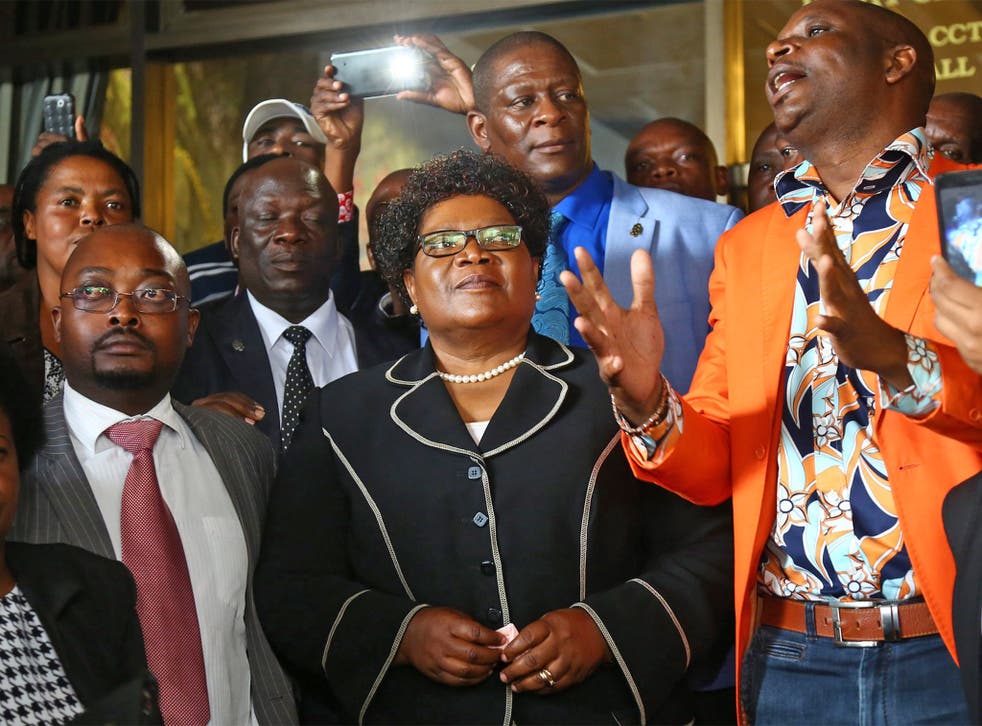 The woman once seen as Robert Mugabe's preferred natural successor has challenged Zimbabwe's President by launching her own political party.
Former Vice-President Joice Mujuru announced the formation of Zimbabwe People First (ZPF) with a promise to revive Zimbabwe's toxic economy by repairing ties severed with the West, as infighting threatens to consume the nation's political elite.
The President's former protégée, who once described herself as like Mr Mugabe's "daughter", will lead the rival party to his ruling Zanu-PF. At the Harare hotel where she made the announcement Ms Mujuru – known as "Spill Blood" during Zimbabwe's war for independence from white-ruled Rhodesia – was joined by former Zanu-PF Speaker, Didymus Mutasa, and former Economy Minister, Rugare Gumbo.
Outside, Ms Mujuru's supporters danced in the streets. Ms Mujuru, 60, served as Mr Mugabe's deputy for a decade of his 35-year rule, and once was seen as his likeliest successor until she was sacked in 2014 on charges, instigated by Mr Mugabe's wife, Grace, that she had led a plot to oust and even kill the President. "Today is a historic day," said Ms Mujuru. "This is a day of significance in our country's political history."
Mugabe's $1m 92nd birthday
The widow of General Solomon Mujuru, a veteran of the liberation war who was killed in a house fire in 2011, was quick to address Mrs Mugabe's claims that she had plotted against the President. "I am now swearing before you that I am neither a witch nor an assassin," she said.
She suggested her party would seek to overturn existing employment laws should it be elected in 2018. Its manifesto calls for a review of the so-called "indigenisation" legislation which has blocked foreign investment for a decade. "All persons who call Zimbabwe home shall be entitled to access land and participate in its sustainable utilisation," the manifesto says. No white person can legally own farmland in Zimbabwe at present.
The nation is struggling to emerge from a recession that shrunk its economy by half during the decade to 2008. It also faces its worst drought in years.
Zanu-PF has nominated Mr Mugabe, 92, for re-election. Mrs Mugabe and Vice-President Emmerson Mnangagwa, who took over after Ms Mujuru's expulsion, are rumoured to be contesting the position.
Ms Mujuru said she was willing to forge alliances with other opposition groups. She was rumoured to be due to hold talks with Morgan Tsvangirai, leader of the Movement for Democratic Change who was Prime Minister for four years under a power-sharing agreement.
Join our new commenting forum
Join thought-provoking conversations, follow other Independent readers and see their replies