Kenya Garissa University attack: Al-Shabaab vows to make Kenya 'run red with blood'
At least 148 people were killed by militants at Garissa University College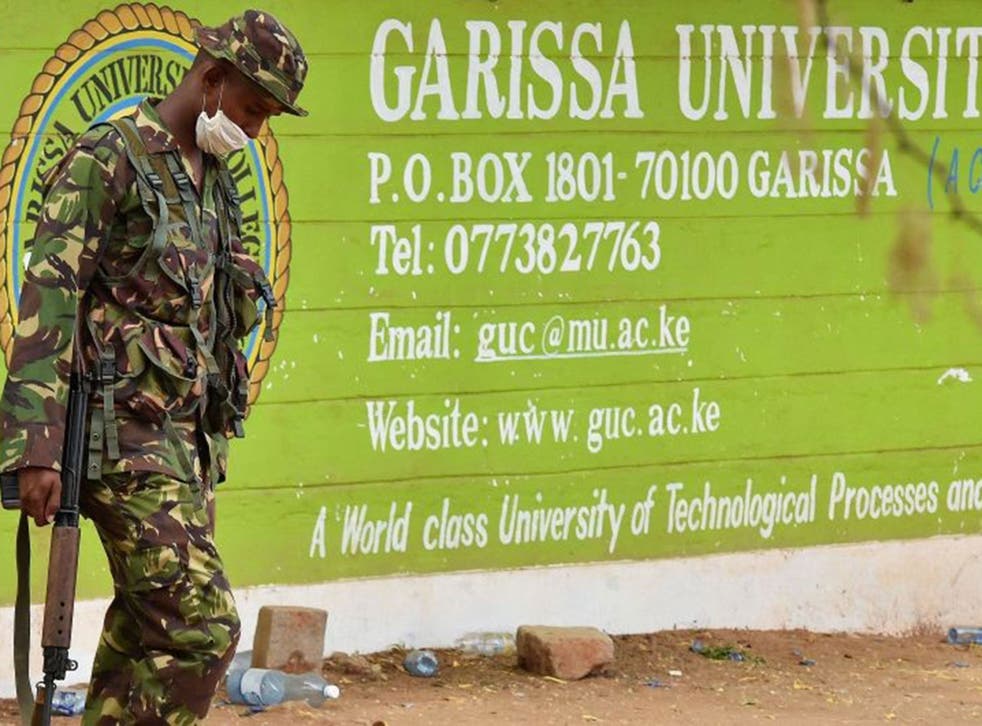 The terrorist group that massacred almost 150 people at a university have threatened to make the streets of Kenya "run red with blood".
The attack on Garissa University College was the first of many to come, al-Shabaab has claimed, saying that nothing will stop its atrocities.
"No amount of precaution or safety measures will be able to guarantee your safety, thwart another attack or prevent another bloodbath from occurring in your cities," the statement said.
In the message, directed at the Kenyan public, al-Shabaab vowed a long and gruesome campaign of violence that will make Kenya's cities "run red with blood".
Four masked militants from the group stormed the Garissa university campus as students slept at around 5.30am local time on Thursday, going from dormitory to dormitory to hunt down Christians.
One student who survived heard militants opening doors and asking those hiding inside if they were Muslim or Christian.
"If you were a Christian you were shot on the spot," he said. "With each blast of the gun I thought I was going to die."
Another survivor said: "All I could hear were footsteps and gunshots. Nobody was screaming because they thought this would lead the gunmen to know where they are.
"The gunmen were saying, 'Sisi ni al-Shabaab,'" — Swahili for "We are al-Shabaab."
In pictures: Kenya Garissa University shooting

Show all 10
The language suggests the militants may have been Kenyan and not from Somalia, where al-Shabaab is based.
The al-Qaeda affiliated group, which is known to recruit in Kenya, claimed the attack was retribution for Kenya's operations against it in Somalia and mistreatment of Muslims.
The death toll from the siege has risen to 148, Interior Minister Joseph Nkaissery said on Friday.
Police killed the four suspected militants who carried out the massacre after cornering them 15 hours after the siege started but five more people suspected of involvement have been arrested.
Witnesses described the horrifying aftermath in the dormitories, with floors littered with blood, bullet casings, shattered glass and the bodies of victims. Some had been shot and others beheaded.
The killing spree was the most deadly attack on Kenya since 1998, when al-Qaeda bombed the US embassy in the capital, Nairobi, and killed more than 200 people.
Al-Shabaab has made bloody incursions over the border into Kenya before, including the 2013 Westgate shopping mall attack in Nairobi, where more than 60 people were mowed down by jihadist gunmen.
In that massacre and others by Al-Shabaab, militants have spared Muslims and murdered anyone judged to be Christian or unable to recite verses from the Koran.
The group fighting the Somali government, reinforced by Kenyan and African Union troops, to re-gain control of towns and cities lost during a crackdown on its insurgency.
It still dominates vast rural areas of Somalia, where militants impose a violent interpretation of Sharia law according to their Wahhabist ideaology.
Additional reporting by Reuters
Join our new commenting forum
Join thought-provoking conversations, follow other Independent readers and see their replies