Kenya shopping mall attack: Stories of the heroes and the victims - From a boy who took on terrorists to the off-duty SAS soldier
Extraordinary stories of the lives caught in a horrific siege that left at least 72 dead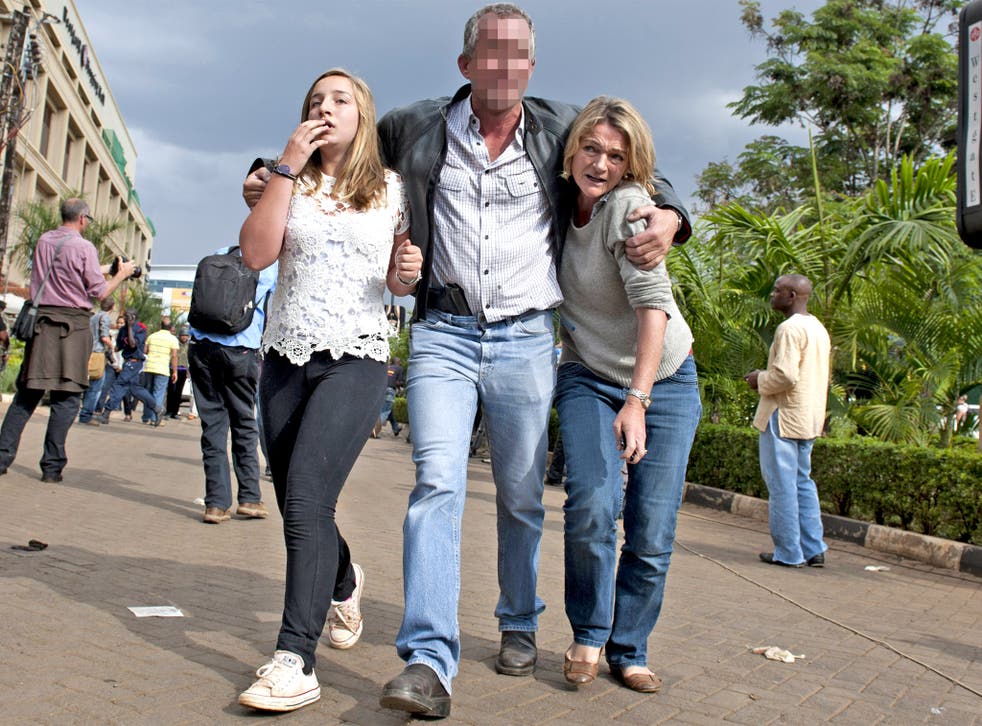 For every story of a life randomly extinguished in the Westland shopping mall massacre there was another of selfless bravery, compassion and human solidarity in the face of unimaginable terror.
THE SOLDIER
Among the crowds was a member of the British Special Air Service who was having a cup of coffee at one of the complex's cafes when Islamist extremists from Al Shabaab attacked on Saturday.
The off-duty soldier, a hand gun planted firmly in the waistband of his jeans, is credited with rescuing 100 people from the mayhem of the Nairobi complex. The serviceman cannot be identified for security reasons but his photograph has been published across the world showing him shepherding two terrified women to safety as the shots continued to ring out from inside the mall.
A friend described how the man returned a dozen times to collect survivors and usher them to safety. "He went back in 12 times and saved 100 people. Imagine going back in when you knew what was going on inside," the friend said. The British Special Forces regularly train and operate out of Kenya, and have been involved in tracking UK citizens involved with Islamic extremists in Somalia and Yemen. Former members work with both the UK and Kenyan governments and security firms across East Africa.
THE LITTLE BOY
It was at the height of the killing that multi-national terror force offered their terrified captives an extraordinary deal. Whilst many lay among the corpses pretending to be dead, or cowered behind shelves waiting for a safe moment to escape the gunmen, they were told that children would be offered safe passage out of the mall.
Four-year-old Elliot Prior, from Windsor in Berkshire, came out of hiding and told one of the militants that he was a "very bad man" as he protected his mother, Amber, who had been shot in the leg, and six-year-old sister Amelie.
In a bizarre twist, the gunman took pity on the family and handed the children Mars bars before telling them: "Please forgive me, we are not monsters." Amber, a film producer, had been queuing with her children to buy milk when the terrorists struck.
She lay on top of her children under a cold meat counter in the Nakumatt supermarket for an hour-and-a-half before terrorists finally found them and shot her in the thigh. Elliot's uncle, Alex Coutts, said: "They had a lucky escape. The terrorists said if any of the kids were alive in the supermarket they could leave. "Amber made the decision to stand up and say "yes". "Then Elliot started arguing with them and called them bad men. He was very brave." The terrorists dispensed the chocolate before the family fled with two other children, including a 12-year-old boy who had at first refused to leave his dead mother. The fate of 20 others who had taken refuge under the meat counter is unknown.
THE COUPLE
Architect Ross Langdon and his Dutch partner Dr Elif Yavuz were expecting their first child in just two weeks. They had chosen to come to Nairobi because the Kenyan capital boasts the best medical facilities in East Africa. Mr Langdon, 33, who had dual British and Australian citizenship, had built an HIV-Aids hospital in the region for free.
Dr Yavuz, 33, a Harvard graduate worked for the Clinton Foundation on HIV-Aids projects having devoted her life to fighting the disease in the developing world. Former US President Bill Clinton described her as "brilliant, dedicated, and deeply admired by her colleagues, who will miss her terribly."
The couple had been having lunch together when they were killed. Their bodies were found cuddled together - Mr Langdon's arm draped protectively across the couple's unborn child. Friend Peter Adams said: "They symbolised to me what everybody would want in their life - a good relationship, good work, a good sense of confidence about who they are. They had all three."
THE HUSBAND
When shooting began at the Nairobi mall British banker Peter Churchman dived for cover with his young niece. As they hid in the Art Caffe on the ground floor of the complex amid the sounds of approaching violence, automatic weapons and grenades, the senior executive feared desperately for his wife's safety. Eva, originally from the Philippines, had been elsewhere in the complex and he could not find her.
After three hours Mr Churchman and his niece made a break for freedom but outside the mall they were greeted with scenes of pandemonium and confusion. No one had seen Eva, the banker's phone was out of power. There was no way of knowing whether she was alive or dead.
Returning home to find a charger some time later he was delighted to find Eva waiting anxiously for news of him. She had managed to flee and been taken home by a volunteer from a community centre. Mr Churchman said: "It was an extraordinary reunion … a huge relief."
THE FAMILY
Lynsey Khatau thought the commotion was nothing more than one of the city's routine power cuts. But when the back-up generators failed to switch the lights back on she knew something was seriously wrong. The 23-year-old who divides her time between Pontllanfraith in South Wales and the Kenyan capital was shopping with husband Max and Caiz, four.
"The first thing that happened was that a grenade went off under a car or something outside - that was the first thing that we heard," she told BBC Wales. Then there was shooting, maybe 20 rounds, in less than a minute. We came out - I just ran, we just ran out. When we came out of the supermarket they were already inside the mall and we just ran. They were already shooting inside. It was really horrific. My son is really traumatised. We were going to die - that was the only thing I was thinking, we're going to die. There were people just falling everywhere."
Her mother, Sue Mathias, said the entire family was left traumatised by their ordeal. "The little boy is fine, it's the emotional stress of it as well. They haven't slept, they haven't wept. I just need them home so I know I can look after them." She said she found watching news coverage of the atrocity deeply upsetting. Every time I watch it I'm crying," she added. "That can't have been my little girl, that can't have been my grandson."
THE DIRECTOR
Samir Bhamra's family had been taking part in the recording of Superchef Junior a junior cooking competition on the roof of the Westgate shopping centre. Originally from Nairobi and now an internationally acclaimed artistic director with a Midlands' dance organisation, four of his relatives died in the killing.
"They were young people who were taking part in a cookery contest in the centre. Unfortunately they have all passed away," he said. "An aunt - my dad's cousin - is critical in hospital."
Writing on Twitter, Mr Bhamra, who was born in Nairobi, added: "May those who fall into shadow rest in peace and those responsible burn in hell."
Join our new commenting forum
Join thought-provoking conversations, follow other Independent readers and see their replies