At least four dead as violence erupts in Egypt and clerics warn of civil war
At least four dead as anti-Morsi protesters set fire to Muslim Brotherhood headquarters and 200,000 attend Cairo rally
At least four dead as violence erupts in Egypt and clerics warn of civil war

Show all 11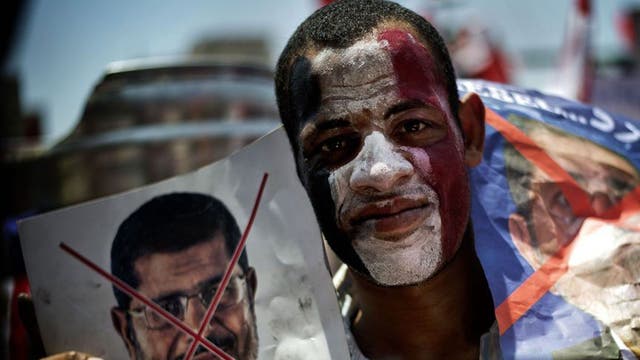 Gun battles and street fighting left at least four people dead and more than 200 injured as the anti-government insurrection called by Egypt's opposition began to take hold.
In Cairo protesters torched the headquarters of the Muslim Brotherhood, the group to which President Mohamed Morsi swears allegiance. Demonstrators exchanged gunfire with guards inside the flaming building. Clerics have warned of civil war and activists are steeling themselves for further violence – yet nobody in Egypt appears to know quite what forces have now been unleashed.
Last night's deaths – which occurred south of Cairo in the towns of Beni Suef and Assiut – came as tens of thousands of protesters surrounded the palace of President Mohamed Morsi in the east of the capital. Meanwhile in Tahrir Square, the crucible of the 2011 revolt, an estimated 200,000 protesters gathered to chant for an end to Mr Morsi's rule.
Many streets in Cairo were eerily calm as families stayed at home in anticipation of widespread chaos. Metalworkers, meanwhile, have seen a sharp increase in demand for home-made handguns.
"I don't want Egypt to be the next Iran," said 21-year-old Hussein Ahmad, among the sea of protesters outside Heliopolis Palace, Mr Morsi's presidential seat. "That is what the Muslim Brotherhood wants."
Nearby in Nasr City, a suburb, Mr Morsi's supporters had massed. Many wore home-made body armour and were carrying shields and clubs – protection, they said, against threats of violence. The Muslim Brotherhood's Islamist allies are angry at what they see as an attempt to subvert the democratic will.
For Mr Morsi and his supporters, the stakes over the next few days could not be higher. A recent article in a liberal newspaper provided an overview of George Orwell's anti-totalitarian satire Animal Farm. A tongue-in-cheek disclaimer told readers that any similarities were purely co-incidental.
In the minds of many of his opponents, Morsi the would-be revolutionary has become Morsi the despot. The President, who famously stood in Tahrir Square following last year's election and bared his chest to prove he was not wearing a bulletproof vest, has become the unbearable bête noire of many Egyptians, who see him as the embodiment of a country gone to seed.
After coming to power on the back of a broken Brotherhood promise not to field any presidential candidates, he initially won plaudits for his diplomatic interventions between Israel and the Palestinians.
Yet shortly afterwards he proceeded to alienate the nation's secular political factions. In November he issued a disputed decree shielding his decisions from the judicial oversight. The decree was later rescinded, but soon afterwards Mr Morsi approved a referendum on a divisive constitution which had been forced through an Islamist-dominated assembly. It was this move that convinced many of the President's critics that the Muslim Brotherhood was not interested in compromise. On the back of a sliding economy, the anger of Egyptians who can barely put food on the table is growing.
The Brotherhood argues that many of its actions have been a result of contending with a hostile judiciary and unhelpful elements from the previous regime. Now Mr Morsi finds himself faced with a popular insurrection reminiscent of that which toppled his predecessor, Hosni Mubarak.
Many analysts and opposition politicians believe that the only way the President will step down is if he is forced to by the military – a re-run of February 2011, when Mr Mubarak was left unsupported by his generals. Yet Egypt's commanders may intervene only if serious unrest develops. "The army doesn't want to rule directly," said Cairo-based political expert Dr Ashraf el-Sherif. " The only way they will intervene is if the country is out of control."
It leaves the opposition in a political bind. Officially their leading lights renounce violent protest and the prospect of a soft coup. Yet privately many accept that it is a military intervention which will defeat Mr Morsi – and such an outcome may only be secured by the violent deaths of protesters.
Video: Egypt protests continue
Join our new commenting forum
Join thought-provoking conversations, follow other Independent readers and see their replies