Libya: African refugees being sold at 'regular public slave auctions'
Survivor says kidnappers beat them while they called home so family members could hear torture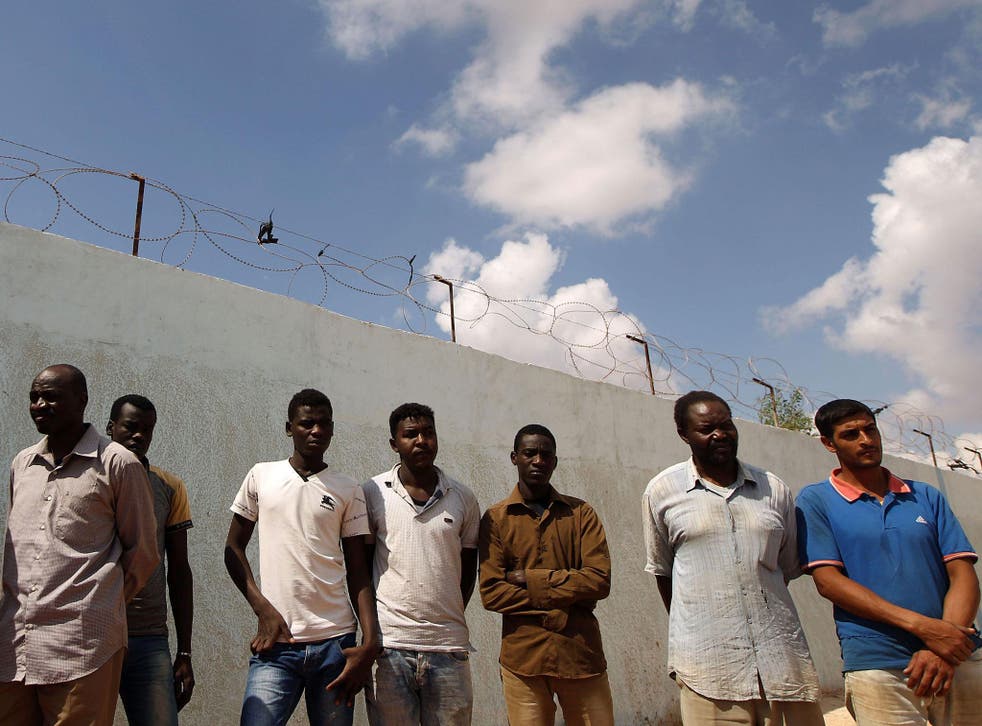 Refugees and migrants are being sold at modern-day public slave markets in Libya, the UN's migration agency has said.
International Organisation for Migration staff found hundreds of young African men are being traded in public in what they described as slave markets.
"The situation is dire," Mohammed Abdiker, IOM's Director of Operation and Emergencies, warned.
"The more IOM engages inside Libya, the more we learn that it is a vale of tears for many migrants. Some reports are truly horrifying and the latest reports of 'slave markets' for migrants can be added to a long list of outrages."
Previous reports found refugees and migrants are being forced into "modern slavery" by people traffickers.
Italian coastguard rescues thousands of refugees off coast of Libya
One survivor, a Senegalese migrant, said he was taken to a parking area in Sabha, southwestern Libya, after crossing through the desert from Niger in a pick-up truck organised by traffickers.
As the truck reached Sabha, the driver insisted he hadn't been paid by the people smugglers and took his passengers to what the Senegalese man described as a slave market.
"Sub-Saharan migrants were being sold and bought by Libyans, with the support of Ghanaians and Nigerians who work for them," IOM Niger staff reported.
The survivor described being "bought" and then sent to a "prison," a private home where more than 100 refugees were held as hostages.
He said the captors forced them to phone home and said they were often beaten while on the phone so their family members could hear them being tortured.
His captors asked for 300,000 west African francs (£390), which he couldn't raise, then sold him to a bigger house where a new 600,000 west African francs (£780) demand was made.
To avoid further beatings, he worked as an interpreter for the kidnappers and described dreadful conditions with food offered only once a day.
He said some migrants who couldn't pay were killed or left to starve to death.
If a captive died or was released, the survivor said the kidnappers returned to the market to "buy" more to replace them.
Refugee crisis - in pictures

Show all 27
"Migrants who go to Libya while trying to get to Europe, have no idea of the torture archipelago that awaits them just over the border," said IOM spokesman Leonard Doyle. "There they become commodities to be bought, sold and discarded when they have no more value."
He added:"Tragically the most credible messengers are migrants returning home with IOM help. Too often they are broken, brutalised and have been abused, often sexually. Their voices carry more weight than anyone else's."
Join our new commenting forum
Join thought-provoking conversations, follow other Independent readers and see their replies