Licence plate to kill: Film FX expert hunted for Bond-style murder plot on Czech businessman Radovan Krejcir
Radovan Krejcir was the subject of an attack involving 12 remote-controlled shotguns hidden behind a car numberplate
Nastasya Tay
Thursday 25 July 2013 20:37 Comments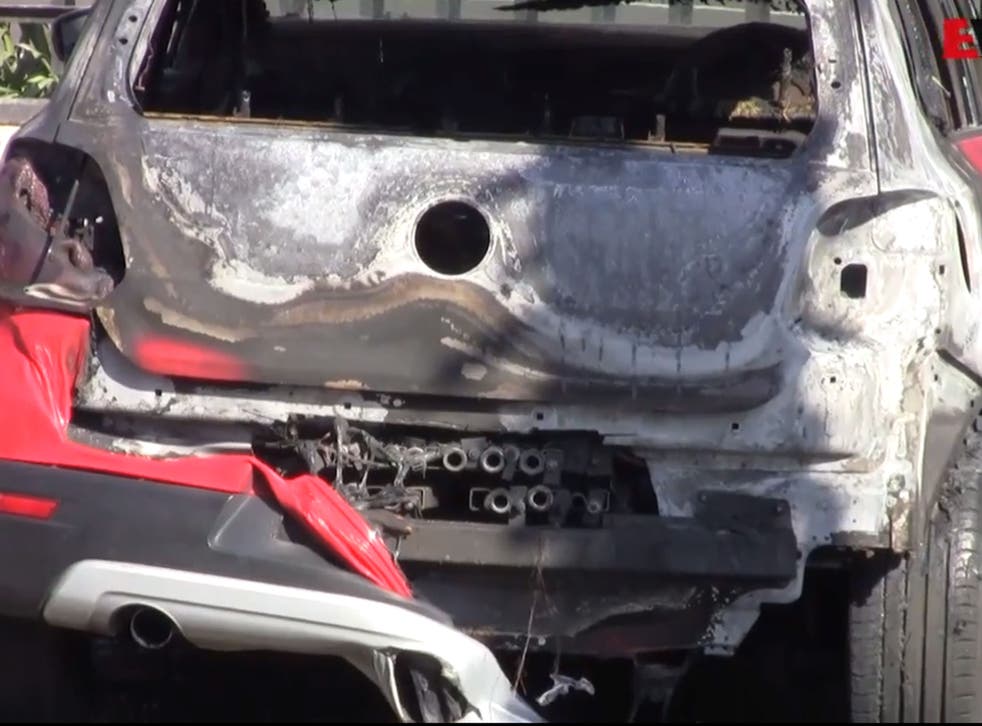 11.30am, Wednesday 24 July – a matte black Mercedes Benz coupé, its windows dark with bulletproof tinting, slides into a car park in Bedfordview, south of Johannesburg, stopping in its regular spot. A broad-shouldered man with thinning hair emerges from the driver's door. Talking on his phone, he saunters towards the front entrance of his offices, a gold and diamond exchange.
He hears a bang, followed by a series of pops "like firecrackers", he later says. It is only when he notices his car is riddled with bullet holes that he realises an attempt has been made on his life. As he runs for cover, a nearby car explodes into flames.
When police examined the charred chassis of the red Volkswagen Polo, what seemed like the plot from a James Bond film became even more astonishing.
Hidden behind the car's rear numberplate were a dozen homemade shotgun barrels aimed at the driver's seat in the Mercedes. Police believe the exploding car was empty all along, suggesting that the attack was launched via remote control.
This bizarre series of events is made all the more fantastic by the subject of the apparent attack, Czech businessman Radovan Krejcir.
No stranger to South Africa's police service, he arrived from the Seychelles in 2007 on a false passport declaring his name to be Egbert Jules Savy. He was identified from an Interpol red notice, despite his reportedly flimsy disguise. Mr Krejcir was tried in absentia in the Czech Republic last year and sentenced to 11 years in jail for tax fraud. He denies the charges, saying that he is being persecuted for his political opinions by the Czech government, which has sought his extradition. Mr Krejcir is currently still awaiting the outcome of his application for political asylum in South Africa.
During his time in Johannesburg, Mr Krejcir has been linked to several underworld figures, including a strip-club owner, Lolly Jackson, who was shot dead in 2010. Last year, he appeared in court in South Africa for a series of crimes including armed robbery.
Despite his colourful history, Mr Krejcir's lawyer, Eddie Classen, says this is the first time his client has been the target of an assassination attempt. "It has an appearance of a thing from a spy novel," he said.
South African police have confirmed that the exploding car was reported stolen in April.
"At this stage we are not sure who or what detonated the device as well as who parked the vehicle on the premises," said a police spokesman, Lungelo Dlamini. "No one has been arrested yet and the motive for an attempted murder is being investigated," he added.
Mr Krejcir – who was unharmed – told a local radio station in the hours after the explosion that he was a "lucky man". But his lawyer told The Independent that his client was shaken by the attack. "He's in shock, he's had a close shave. Who wouldn't be? Given the way in which this attack was carried out, with such professional knowhow and detail, he [Mr Krejcir] has some concern that this person has a serious intention to kill him," Mr Classen said.
Despite the circumstances, Mr Krejcir returned to work – and the scene of the crime – the next day, Mr Classen confirmed.
"He's an impressive character – he's got some charisma."
"All my life is like James Bond stuff," Mr Krejcir told a local news broadcaster EyeWitness News, "So it's usual stuff for me … It's how I live my life."
Register for free to continue reading
Registration is a free and easy way to support our truly independent journalism
By registering, you will also enjoy limited access to Premium articles, exclusive newsletters, commenting, and virtual events with our leading journalists
Already have an account? sign in
Join our new commenting forum
Join thought-provoking conversations, follow other Independent readers and see their replies