Mali rebels warn France that its war 'will be worse than Afghanistan'
Islamic groups threaten to take conflict to 'the heart of France'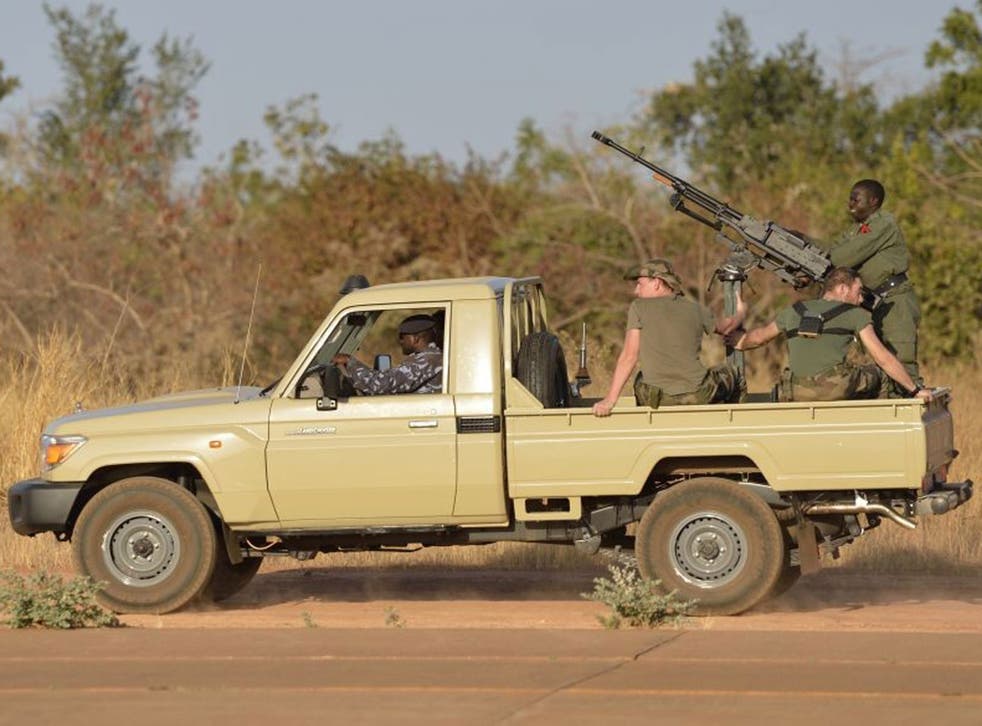 Islamist rebels defied French air raids on Mali by capturing a small town and threatening to embroil France in a war "more dangerous than Afghanistan".
Despite the setback, the French government insisted its four-day-old campaign was going well. Foreign Minister Laurent Fabius predicted Paris might be able to relinquish most of the fighting to a West African force within "a few weeks".
The French military is, nonetheless, planning to quadruple its 600-strong ground force in Mali to 2,500 men in the next few days, according to Le Monde.
Other French government sources spoke of preparing forces on the ground – and public opinion at home – for a "lengthy campaign".
Paris admitted that a heavily armed force of Islamist fighters had routed Malian government troops and captured Diabaly, a small town in government-held territory close to the Mali-Mauratania border.
Mirage and Rafale fighter-bombers were diverted from attacks on Islamist desert bases further north to try to prevent the rebels advancing towards the capital, Bamako. France told its citizens to leave the town of Ségou, 50 miles to the south.
Despite reports of an air strike killing as many as 100 rebel fighters near Gao, leaders of the loose alliance of extreme Islamic groups that have taken control of northern Mali remained defiant. One rebel statement threatened to take the war to "the heart of France".
In a telephone interview with French radio, Omar Ould Hamahar of the Movement for Oneness and Jihad in West Africa (Mujao) said: "France has opened the gates of hell ... it has fallen into a trap much more dangerous than Iraq, Afghanistan or Somalia."
Islamist militants in Somalia, 5,000 miles to the east, also taunted France by publishing a photograph of a soldier killed during a failed attempt to release a French hostage on Saturday. Three images posted on Twitter by the al-Shabaab rebels showed a dead white man in military uniform with a crucifix around his neck.
"A return of the crusades, but the cross could not save him from the sword," the message said. The group claimed that the dead man was the "leader" of the French commandos who attacked its base in southern Somalia on Saturday. They said the officer had been captured and died of his wounds in hospital. Another French soldier died in the raid. The hostage, a French intelligence agent, is believed to have been executed.
Officially, French strategy in Mali is to use air power to halt the offensive by Islamist groups before the ground fighting is turned over to a promised multinational task force from the West African co-operation area, Ecowas.
According to Le Monde, however, France is also preparing to beef up its ground forces in case the Malian army is unable to resist the rebels until the West African force is in place.
According to Defence Minister Jean-Yves Le Drian half of the two-pronged rebel attack on the populous south of Mali has already been forced back since French air strikes began on Friday. The town of Konna, which was captured on Thursday prompting the French intervention, is back in government hands.
But the rebels sprang a surprise by capturing Diabaly. Intensive French air raids were said to be in progress last night to prevent the rebels advancing any further. On Sunday, four French Rafale fighter-bombers flew 2,000 miles from France over Algerian airspace to pound rebel bases.
A British RAF C-17 transport plane left Evreux in Normandy for Mali with supplies and troops. The plane – one of two promised by David Cameron to help the French action – was delayed for several hours in France after developing a technical fault.
Join our new commenting forum
Join thought-provoking conversations, follow other Independent readers and see their replies