Meriam Ibrahim: Sudan apostasy woman speaks for first time after death sentence is overturned
Ms Ibrahim was released from custody on Thursday and sought refuge at the US embassy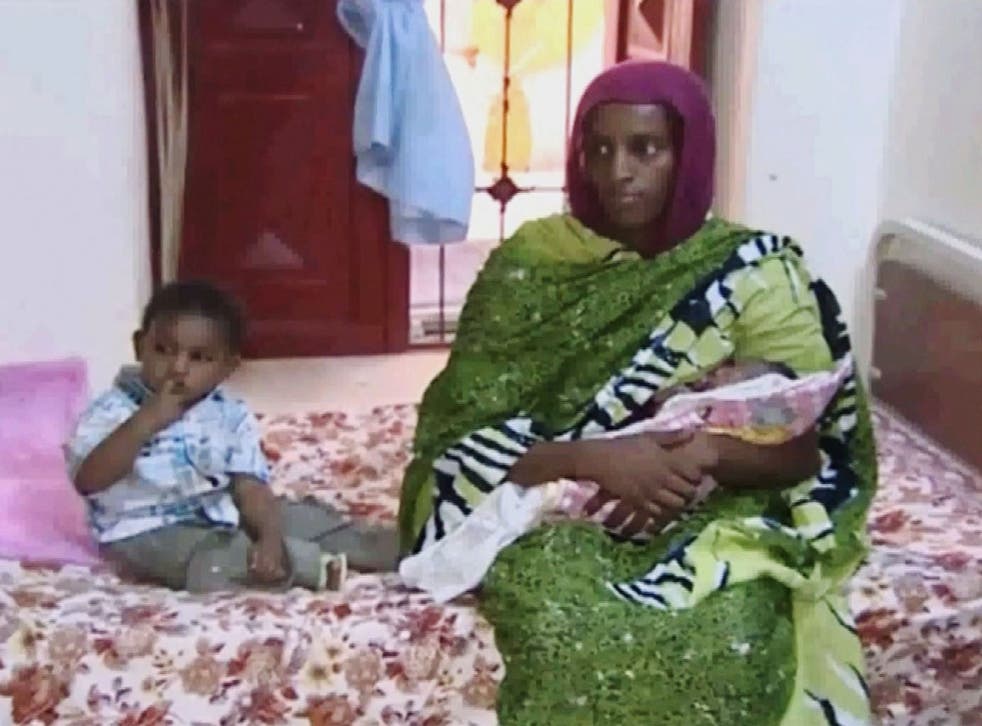 Meriam Ibrahim has spoken for the first time since her death sentence for apostasy was overturned by the Sudanese government as she travelled to seek refuge in the US embassy.
Ms Ibrahim spoke just after she was allowed to leave a police station following her arrest at Khartoum airport.
On Tuesday, the 27-year-old was detained along with her Christian-American husband Daniel Wani and two young children at Khartoum airport in Sudan for trying to use documents issued by the South Sudanese embassy to flee the country.
South Sudan's embassy in Khartoum say the documents are genuine but officials argue Ms Ibrahim should have used a Sudan-issued passport instead and have charged her with attempting to forge documents and providing false information.
She was released from prison on 23 June when her conviction for apostasy was lifted by an appeals court.
Speaking to the BBC from outside the embassy, she said: "I would like to thank the Sudanese people and the Sudanese police, I'm really grateful to all of them. I'd like to thank those who stood beside me.
When asked if she considered herself a Christian, she replied: "Not only was it me but it was the court who released me." Of her plans, she said: "I'll leave it to God. I didn't even have a chance to see my family after I got out of prison."
Ms Ibrahim was released on the condition she remains in Sudan, her lawyer told the Reuters news agency.
On Thursday, State Department spokeswoman Marie Harf said: "We are in communication with the Sudanese foreign ministry to ensure that she and her family will be free to travel as quickly as possible.
"From our perspective, Miriam has all of the documents she needs to travel to and enter the United States. It is up to the government of Sudan to allow her to exit the country."
Ms Ibrahim, whose father was Muslim but who was raised by her Orthodox Christian mother, was convicted of apostasy for marrying a Christian and refusing to renounce her Christian faith during a four-day grace period.
She was sentenced to death while eight months pregnant and gave birth in prison with her legs chained in February. Her sentence sparked an international outcry and led to campaigns headed by Amnesty International calling for her release.
Join our new commenting forum
Join thought-provoking conversations, follow other Independent readers and see their replies