Mogadishu hotel attack: At least 15 dead after al-Shabaab launch bomb and shooting assault in Somalia
Local reports said militants had stormed the hotel and were feared to have taken hostages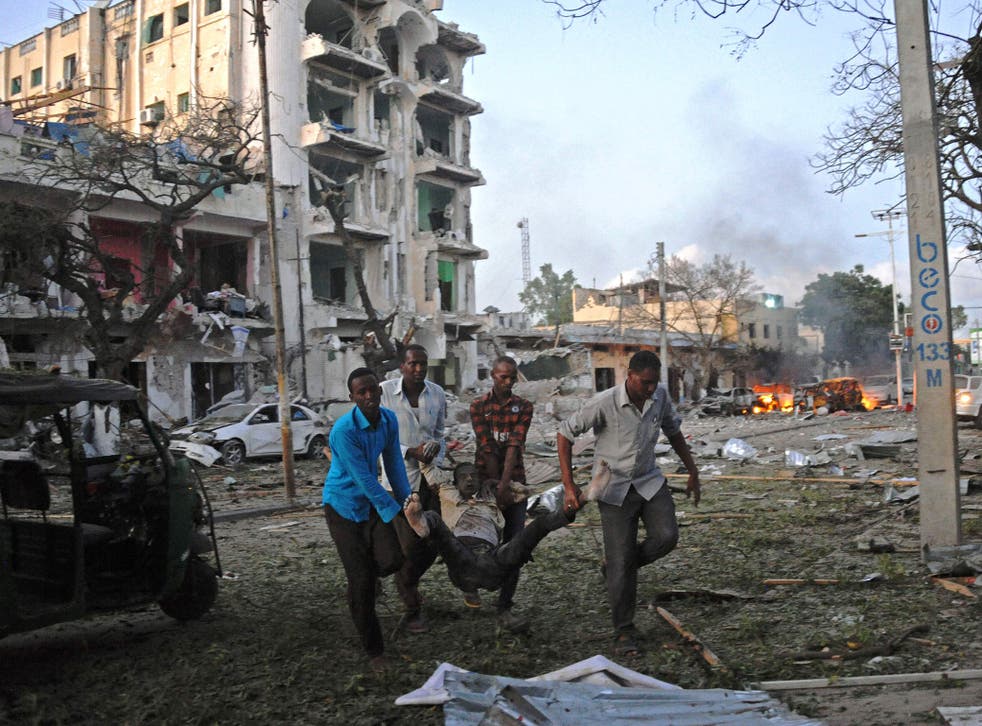 At least 15 people have been killed in a terror attack at a hotel in the Somali capital of Mogadishu.
Witnesses said they heard at least one large explosion followed by gunfire on Wednesday, when militants detonated a car bomb at the gates of the Ambassador Hotel before storming inside.
A huge plume of smoke could be seen rising from the area as the siege continued.
The al-Qaeda-linked terrorist group al-Shabaab swiftly claimed responsibility for the attack, saying it had detonated a car bomb.
The assault is continuing and some al-Shabab fighters remain in the Ambassador Hotel, Police Captain Mohamed Hussein said, adding "At least two gunmen are still holed up inside the building now."
The hotel is frequented by government officials and business executives and according to Captain Hussein two members of parliament are among the dead.
"So far we know 10 people, mostly pedestrians and passengers on the road, died and over a dozen were injured," Major Ibrahim Hassan, a police officer, told Reuters.
"The death toll is sure to rise. We suspect the militants are inside the hotel because we do not see occupants coming out of it."
Somalia's National Intelligence and Security Agency said special forces had concluded rescue operations by 7.15pm local time (5.15pm BST).
In a series of tweets, it said floors of the hotel had been cleared one by one and advised people to stay away from parked cars in case of further explosions.
A spokesperson said three militants had been involved in the attack, with one dying at the gate and two "suiciders" entering and taking hostages. At least 10 people have been rescued.
It follows a previous attack in March last year, when al-Shabaab militants stormed the Makka al-Mukarama hotel, starting a hostage crisis that lasted for several hours and left more than 20 people dead.
The Ambassador Hotel lies around a mile along the same road, which runs towards the presidential palace and is lined with hotels, restaurants and banks in the heart of the capital.
The attack came days before an expected visit from the Turkish President Recep Tayyip Erdogan, who was fprecast to make an unannounced stopever in Somalia during a tour of Kenya and Uganda.
World news in pictures

Show all 50
There have been several attacks on hotels in Somalia and other countries in Africa where Islamist groups are active, particularly targeting those known to host foreign tourists, politicians and diplomats.
In Mogadishu, the Somali Youth League (SYL) hotel was targeted in February, a restaurant on Lido beach in January and the Jazeera Palace hotel in July 2015.
Somali security forces are launching multiple operations against al-Shabaab fighters, announcing the deaths of 17 militants including the head of their intelligence unit and a Mohamud Ali Dulyadeyn, also known as Mohamed Mohamud, who was suspected of orchestrating an attack on Kenya's Garissa university on Wednesday.
A US air strike had also targeted Abdullahi Haji Da'ud, a senior military commander for al-Shabaab, on Friday.
The Pentagon press secretary, Peter Cook, said Da'ud was one of al-Shabaab's most senior military planners and served as a principal co-ordinator of its a attacks in Somalia, Kenya, and Uganda, as well as leading the group's security and intelligence branch.
Al-Shabaab, which is fighting an insurgency aiming to topple Somalia's government, was driven out of Mogadishu by the African Union force Amisom in 2011, and was ousted from strongholds elsewhere in the south last year.
Join our new commenting forum
Join thought-provoking conversations, follow other Independent readers and see their replies