Navy frees four out of five suspected Somali pirates
Britain criticised for 'particularly poor record' in international crackdown on Indian Ocean piracy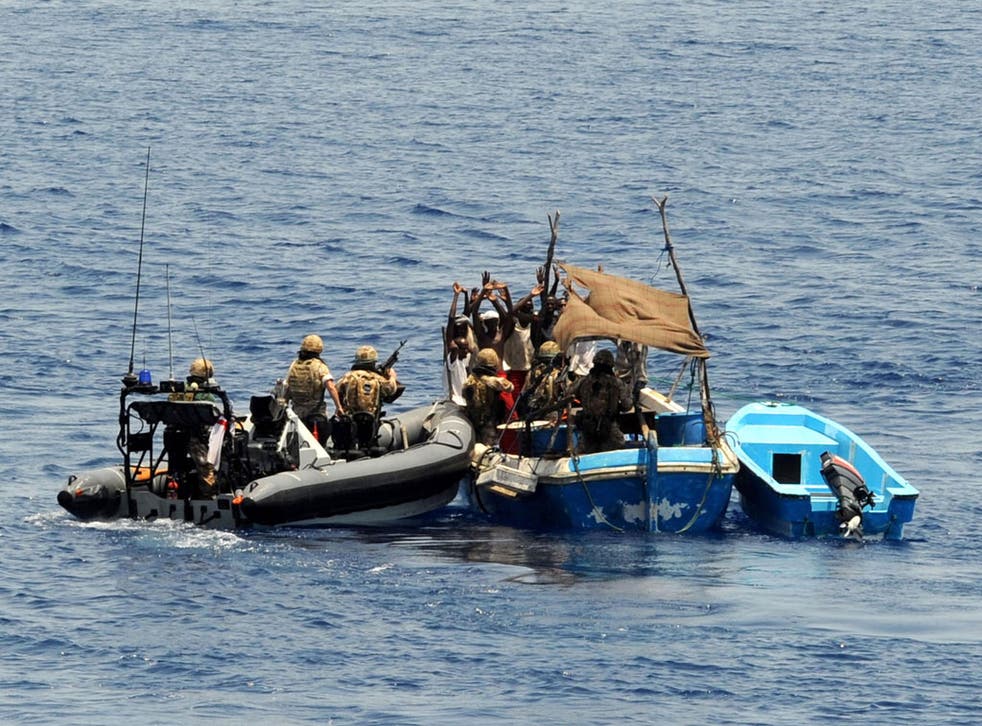 Hundreds of suspected pirates arrested by the Royal Navy off the coast of East Africa have been immediately set free – to continue threatening merchant vessels in one of the world's busiest shipping lanes. Fewer than one in every five suspects picked up around the Horn of Africa over the past four years have been prosecuted for piracy-related offences, the Ministry of Defence has admitted. The figures will fuel growing criticism of Britain's involvement in the anti-piracy operation.
Official MoD figures obtained by The Independent on Sunday show the Royal Navy has boarded 34 vessels suspected of piracy in the Indian Ocean since volunteering to lead Operation Atalanta, the EU's first naval mission, in 2008. However, on all but six occasions, the gangs rounded up were taken to the nearest beach and released – despite often being caught with equipment including guns and ladders. A list of boardings since November 2008 shows that the navy has detained a total of 279 likely pirates but allowed 229 of them to go free, some in groups of up to 17 at a time. Fifty more were sent on for prosecution in Kenya, the Seychelles or Italy.
The Government has acknowledged the "catch and release" strategy is often an "unsatisfactory outcome", although ministers also maintain it helps to disrupt pirate networks.
But the shipping industry also condemned the Government's failure to prosecute pirates caught "red-handed" attempting to grab a slice of an illicit trade believed to cost global commerce more than £7bn a year.
MPs have condemned the number of releases, which one British diplomat warned had given pirates "a sense of invulnerability".
A report from the Foreign Affairs Select Committee complained that "gathering evidence to secure a successful prosecution for piracy is clearly challenging, but when pirates are observed in boats with guns, ladders and even hostages, it beggars belief that they cannot be prosecuted". The MPs also insisted the strategy did not threaten the crucial "mother ships" from which gangs on smaller vessels operated.
The MoD figures are the most comprehensive account of the navy's performance since Atalanta was launched amid escalating concerns over the hundreds of hijacks in the waters around Somalia.
Foreign Office advisers warned ministers that trying pirates in UK courts was "not desirable", stating that "releasing the pirates on to a Somali beach after destruction of pirate boats/weapons/equipment is not attractive either in deterrence or presentational terms".
European governments have spent the past few years attempting to encourage neighbouring states to try and imprison suspects. Kenya and the Seychelles in particular have received tens of millions of pounds to bolster their legal and prison systems. Britain has spent £9m - a quarter of all UN Indian Ocean counter-piracy funds – on improving prison facilities and legal expertise in the Seychelles, Somalia and Kenya. A British-built jail in the Seychelles currently houses almost 100 convicted pirates, guarded by British prison officers.
An international conference on Somalia, hosted by the UK earlier this year, identified the need "to bring suspects to trial in countries away from Somalia" as a key element of efforts to "crack down on piracy". Ministers also sanctioned plans to allow ships to carry armed "sea marshals".
A Foreign Office spokesman said last night: "We are also leading in establishing a maritime intelligence fusion centre for the Indian Ocean in the Seychelles, bringing together law enforcement officers to share information and develop action against pirate financiers and leaders."
But the Baltic Exchange claimed the UK had "a particularly poor record" in handling suspects. A statement to the Foreign Affairs Select Committee inquiry declared: "The UK has gained a degree of notoriety within the international shipping community for its failure to prosecute those caught red-handed in the act of piracy.
"Once captured, pirates caught by UK forces are widely perceived simply to receive sustenance and medical assistance before being returned to the mainland unmolested."
Join our new commenting forum
Join thought-provoking conversations, follow other Independent readers and see their replies