Nigeria election: Opposition candidate Muhammadu Buhari wins presidential poll as Goodluck Jonathan pays price for failure to tackle Boko Haram threat
Three decades after seizing power in a military coup, Mr Buhari has become the first Nigerian to oust a president through the ballot box – putting him in charge of Africa's biggest economy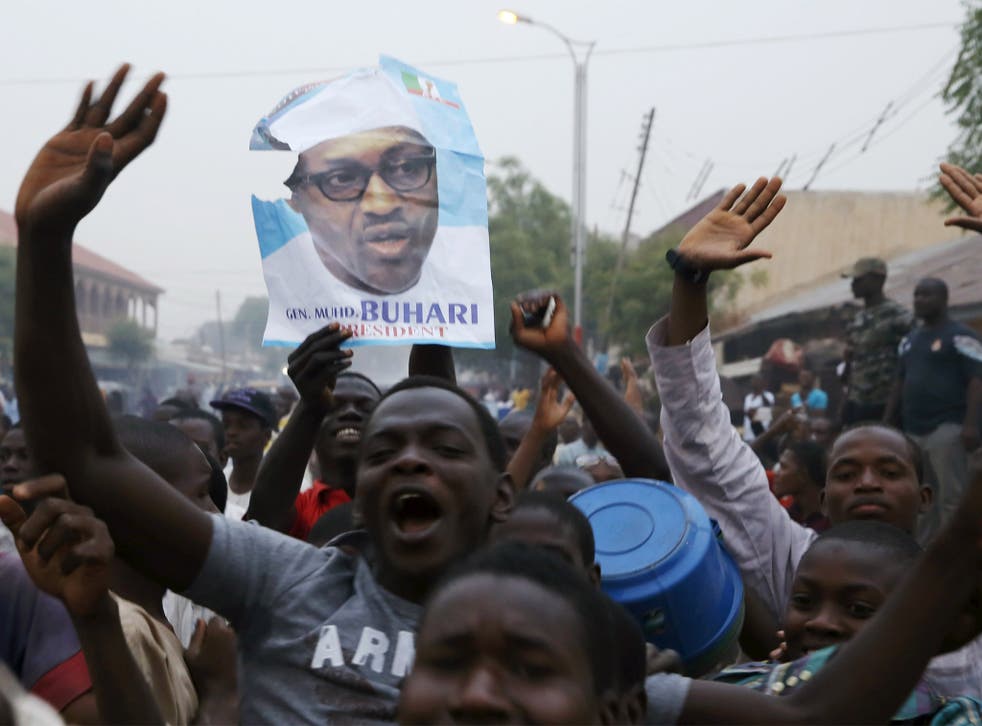 Opposition leader Muhammadu Buhari has swept to victory in Nigeria's presidential election, a historic moment in the country's turbulent democracy as an incumbent leader was dispatched at the ballot box for the first time.
In an event that is set to shape the future of Africa's biggest democracy, 72-year old retired general Mr Buhari and his All Progressives Congress Party (APC) came out on top against President Goodluck Jonathan and his People's Democratic Party (PDP) after a hard fought election campaign
Northern Borno became the final state to declare an APC win, giving Mr Buhari overall victory by more than two million votes after more than 28 million had been cast. But bitter recriminations and legal challenges could ensue before the new President is inaugurated on 29 May.
It is not Mr Buhari's first stint in power, having led the country as part of a military dictatorship around 30 years ago, when he became known for his draconian "war against indiscipline". Thus, he does not stand without marks from Nigeria's tempestuous election history – although he has hailed himself as a born-again democrat and it is this that has helped propel him towards presidency at his fourth attempt.
In a nation split along religious and ethnic lines – Mr Buhari is a Muslim, Mr Jonathan a Christian – there have been fears of possible violence following the election result. In 2011, more than 800 people were killed in a wave of violence after Mr Buhari lost.
However, in a sign that there could be a peaceful transfer of power, Mr Jonathan called Mr Buhari to congratulate him on his win. "At about five minutes to five, President Jonathan called General Muhammadu Buhari, the winner of the elections, to congratulate him," APC spokesman Lai Mohammed told reporters at the party's headquarters in Abuja. "There had always been this fear that he might not want to concede but he will remain a hero for this move," he added.
In the religiously mixed northern city of Kaduna, which saw the majority of the violence after the 2011 elections, Mr Buhari's supporters streamed onto the streets, waving flags, dancing and singing in celebration.
Spontaneous celebrations sprang up in Kano, the nation's second city. Young men on motor scooters performed wheelies as hundreds of youths chanted: "Change! Change! Change!".
Supports of the APC were also out in force in Lagos and Abuja, with flags waving and car horns blaring.
Earlier, with curfews in place and many streets deserted, Nigerians remained transfixed to their televisions and radios as results came in from Abuja, the federal capital.
The most intensely fought election in Africa's history was too much for some.
A PDP official, Godsday Orubebe, disrupted the result announcements accusing the electoral commission chairman, Attahiru Jega, of being biased against the PDP. Mr Orubebe grabbed a microphone and for 30 minutes loudly objected to the electoral commission (INEC) investigating complaints from Mr Buhari's APC in Rivers state, and not those of the PDP in Kaduna, Kano and Katsina.
It was one of the more dramatic moments on a day expertly managed by Mr Jega – having faced accusations of rigging in various states.
His calmness has been much needed in the last few days which have seen attacks by the militant Islamist group Boko Haram – who are waging an insurgency in the north of the country – killing over 30, and sporadic street protests today threatening to mar what's being seen as credible elections by international observers. An observer mission from the European Union said that although there were technical glitches and communication problems in the vote at the weekend, there was no evidence of systematic manipulation of the process.
As the results came in, many PDP supporters in Lagos struggled to make sense of what they were witnessing. The party has held power since 1999 when decades of military rule came to an end. Two days earlier, with voting still in progress, some PDP supporters drank Champagne in a local bar celebrating what they thought would be a certain victory. "It's impossible for us to lose," one supporter said.
Mr Jonathan will now face pressure to honour his commitment to hand over power to his rival in the event of defeat. He will also be needed to quell expected unrest in the oil-rich Niger Delta. Militants in the region have previously threatened to cut oil supply and cause unrest in the event Mr Jonathan's not re-elected. If oversees a calm handover, he can achieve a lasting legacy.
The new President will face many challenges – with Mr Jonathan seemingly paying the price for what many see as a slow response to the escalation of the six-year Boko Haram insurgency that has killed thousands and displaced 1.5 million. Mr Buhari has said he is the man to deal with Boko Haram.
The APC is also seen by many opponents as being Muslim dominated. Despite this, many Christians voted for him in the hopes he can become the reconciliation President. APC supporters believe he is also the leader to stop the endemic corruption seemingly blighting Nigeria – the economy was a key election issue, with nearly half the population living below the poverty line.
When Mr Buhari was last President between 1983 and 1985 – before being ousted and jailed – he implemented a no tolerance policy for corrupt politicians. As cheers of 'Sai Buhari' ("Only Buhari") erupted when Lagos state was announced for the APC, one supporter said "Buhari will kill corruption now! Nigeria can become great again".
The next few weeks will be critical. But if these elections result in a new government, then Africa's most-populous nation will have entered a new era.
Join our new commenting forum
Join thought-provoking conversations, follow other Independent readers and see their replies