Oscar Pistorius: Trial to be televised with restrictions
Small, unmanned cameras will be allowed in the courtroom for the entire trial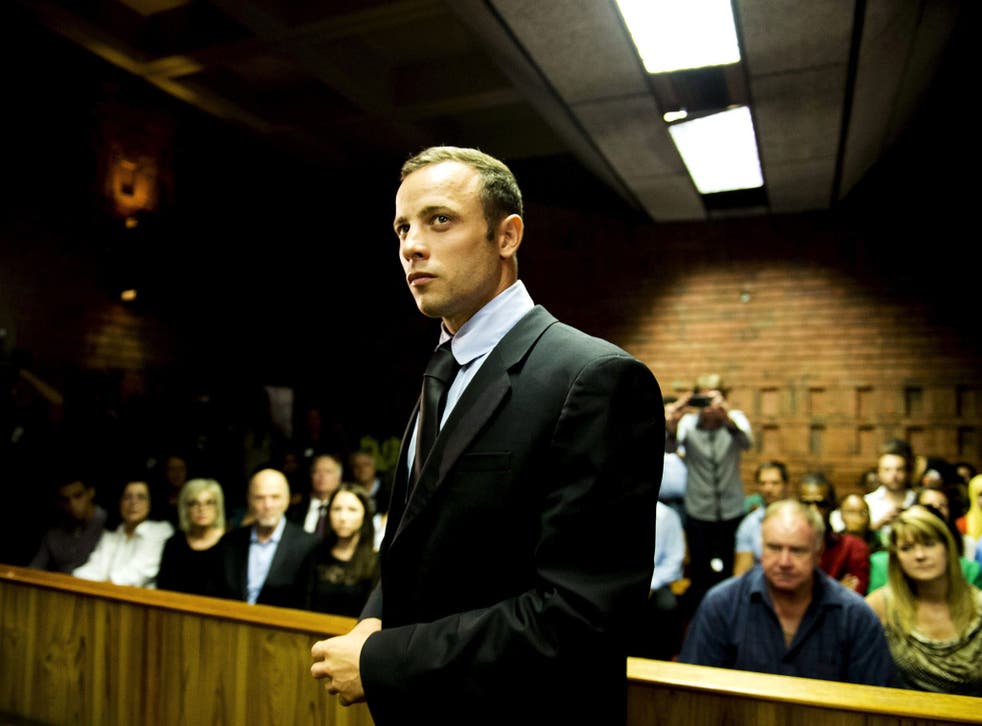 The world will watch the murder trial of the athlete Oscar Pistorius when it starts next Monday, after South African judges reached a landmark agreement to televise the trial live from Pretoria's High Court.
In the first ruling of its kind in the country, judge Dunstan Mlambo has said that three small, unmanned cameras will broadcast live part of the murder trial of Mr Pistorius, the South African paralympian, accused of shooting his girlfriend Reeva Steenkamp.
The broadcast, agreed to following requests from South African media groups, will include a live audio recording of the trial, as well as video footage of the lawyers' opening and closing arguments, the evidence of experts and the fateful final judgment and any subsequent sentencing.
But Mr Pistorius's testimony and that of witnesses will not be televised and the cameras will not be allowed to record close-up images of anyone in the court.
Oscar Pistorius: Career in pictures

Show all 34
Prosecutors had backed calls to televise the trial on the grounds that it is in the public interest but the athlete's legal team says that it denies Mr Pistorius's right to a fair trial. 
Judge Mlambo insisted that the broadcast will help dispel " negative and unfounded perceptions" about the country's legal system, which he claims is "still perceived as treating the rich and famous with kid gloves".
The application to broadcast the trial was brought by Eyewitness News, eNCA and MultiChoice, which has announced plans to launch a 24-hour TV channel dedicated to Pistorius starting Sunday. 
Prosecutors claim that Mr Pistorius intentionally shot his girlfriend, Reeva Steenkamp, 29, three times through his bathroom door following a row last year. If convicted of premeditated murder, he could face a life in prison. Mr Pistorius denies the charges, and insists that he shot her in a case of mistaken identity.
Earlier this month, the athlete broke his silence to reveal he is "consumed" with "pain and sadness" in a statement released to mark the first anniversary of Steenkamp's death.
He said: "No words can adequately capture my feelings about the devastating accident that has caused such heartache for everyone who truly loved - and continues to love Reeva.
"The pain and sadness – especially for Reeva's parents, family and friends consumes me with sorrow. The loss of Reeva and the complete trauma of that day, I will carry with me for the rest of my life."
Steenkamp's parents, June and Barry, said the family is looking for closure ahead of the trial and confirmed the model's mother will attend the trial in Pretoria next Monday.
In a statement, they said: "All we are looking for is closure and to know that our daughter did not suffer on that tragic Valentine's Day."
More than 100 witnesses are expected to appear in court; including Pistorius' sister, Aimee, former girlfriends Melissa Rom and Samantha Taylor, residents of gated community Silver Woods in Pretoria and a team of medical, ballistic and forensic experts.
The trial is due to start 3 March.
Join our new commenting forum
Join thought-provoking conversations, follow other Independent readers and see their replies