Oscar Pistorius trial: Prosecutor Gerrie Nel launches intensive cross-examination
It was the most damning day yet of cross-examination in the Pistorius trial as the prosecutor landed a series of blows on the defendant. Little wonder the Paralympian's lawyer was showing the strain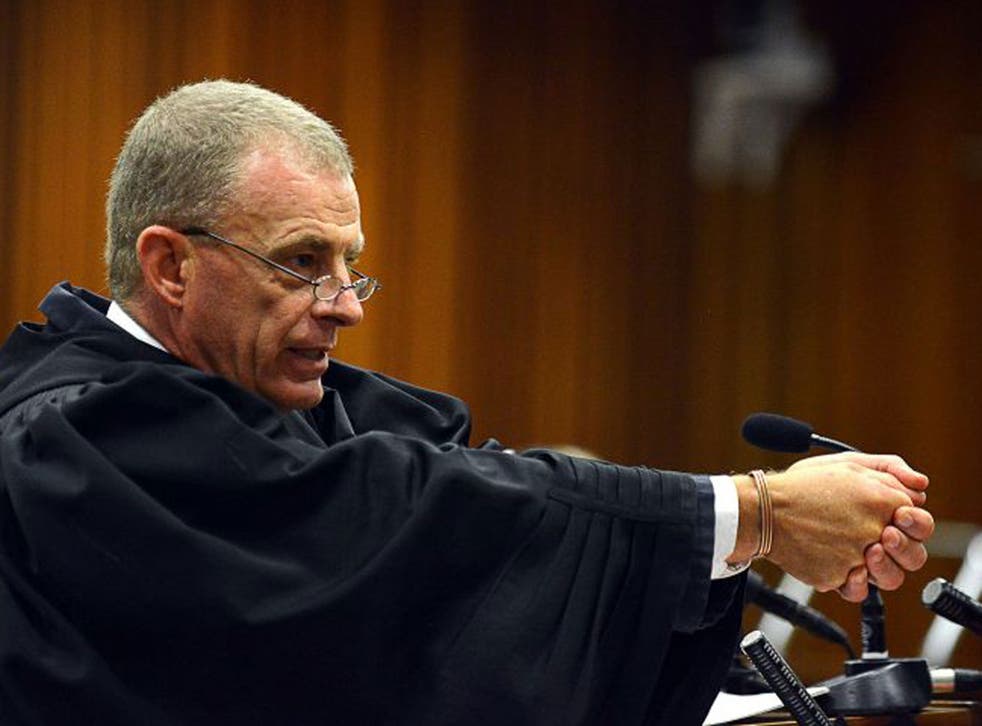 His right leg cocked and rested on a chair, his voice loud and resolute, the arm of his tiny spectacles repeatedly jabbing in the direction of the witness box, State Prosecutor Gerrie Nel looked Oscar Pistorius in his reddened eyes, and dismantled almost every aspect of how the Olympic sprinter claims he shot and killed his girlfriend.
Piece by piece, the picture painted by Pistorius, of a tragic accident in which he mistook Reeva for an intruder locked in his toilet, was pulled apart, accompanied by a quiet and repetitive chorus from the witness box of, "It's not true, my lady", "I'm not sure, my lady," and "I don't remember."
It wasn't the most dramatic day of the trial, that came when Ms Steenkamp's catastrophic injuries were shown to the court and Pistorius refused to look at them, but it was the most damning.
Breaking down, Pistorius told the court how he had screamed at the imagined intruders to "get the f*** out of my house".
Oscar Pistorius: Crime scene evidence revealed

Show all 8
"Get the f*** out of my house, that's what you shouted at Reeva," Mr Nel countered, before showing a picture of the blood stained cubicle, taken from above. Police forensics officers had used thin rigid poles to show the trajectory of the four bullets through the door.
The first bullet, bullet A is aimed at the toilet. It is this one that experts from both sides say struck Reeva in the hip, causing her to fall. The next two are fired in the direction of a magazine rack, around a foot away. "You were shooting at Reeva," Mr Nel said. "You heard Reeva fall and you changed your aim."
Warning: The following video contains strong language
"It's not true, my lady," the athlete replied.
Then there were Reeva's jeans, found on the floor, when all her other clothes were neatly packed away.
"The jeans were out because she wanted to leave," Nel demanded.
"It's not true, my lady."
When asked about the contents of Ms Steenkamp's stomach in her autopsy, that appear to indicate she was highly likely to have eaten within two hours of her death at 3am - significantly later than the 7pm, the athlete has claimed, Pistorius could offer no explanation.
"I don't know why," he said.
"This particular point I put to you is devastating," Nel said. "She cannot have gone down and ate because the alarm would have gone off."
Most damning of all was the noise Pistorius has claimed to have heard, of the toilet door slamming, but which was not mentioned either in his bail application last year, or his plea explanation this time round. It is a crucial noise. It is that which convinced Pistorius an intruder was in his toilet.
At his bail application, Pistorius claimed: "I saw the bathroom door was closed and I thought someone could be in there."
"There's not a single word of that door closing in your bail application. Why?" Nel asked him.
"I'm not sure, my lady," Pistorius replied.
"It's not in your plea explanation either, why is that?"
"I'm not sure, my lady."
"If you said it to [your own defence] counsel? Why did they not put it in?"
Again, the reply was the same. "I'm not sure, my lady."
The court was also shown blood spatter on the floor of Pistorius's bedroom, and on the duvet on the floor, which he claims had been on the bed, and police officers had put there.
On the blue light on Pistorius's amplifier, which the athlete claims he had been about to cover with Ms Steenkamp's jeans when he heard what he believed to be an intruder, it was put to him that the amplifier has many lights when switched on.
"You have to create time, in your version," Nel said. "You have to build a time gap for Reeva to get to the bathroom. That's why you invented the blue light."
"I'm not trying to create time," Pistorius said. "The state is trying to create time in its case. [Ex-girlfriend and state witness] Samantha Taylor said it takes four minutes for me to put my legs on. I did it in court. It takes 30 seconds."
At one point, it appeared the athlete was seeking to change his defence, that shooting through the door had been an "involuntary action", rather than "putative self-defence", but Mr Nel wouldn't allow him.
He had, he said, been completely in control of the situation, when he picked up his gun, when he moved shouting down the passage for Reeva to phone the police, and yet when he fired his gun, he claims he did so "without thinking".
Why, he asked, had Reeva gone to the toilet in the dark, not switched any lights on. She had, Pistorius claimed, probably used the light from her cellphone. But in the pitch darkness, why had he not seen this light, if the tiny light from the amplifier was bothering him so much?
He said the light had had been "behind him", but the geographical layout of the room is unconvincing on this point. It is a 90-degree turn from where he claims he had been bringing in two fans from his balcony.
Why, when he ran back to the bedroom, did he not see if Reeva had exited through the bedroom door, and downstairs to safety. Pistorius said he had already come to fear that it had been Reeva in the toilet by this point, and that it would have been a "waste of time".
To convict him of murder, the state must show an intent to kill. If they do so, Pistorius will receive a mandatory life sentence with a minimum tariff of 25 years, unless mitigating factors such as his disability are brought into consideration.
At the end of the day, he was driven away in his silver Land Rover, his face held visibly in his hands behind the frosted glass.
His cross examination is expected to last perhaps another two full days, which will make it more than a week. Then the defence will begin to call their witnesses.