Oscar Pistorius trial: Forensic analyst says athlete 'was on his stumps' when he smashed locked toilet door with a bat
Bullet-marked toilet door displayed in courtroom on eighth day of murder trial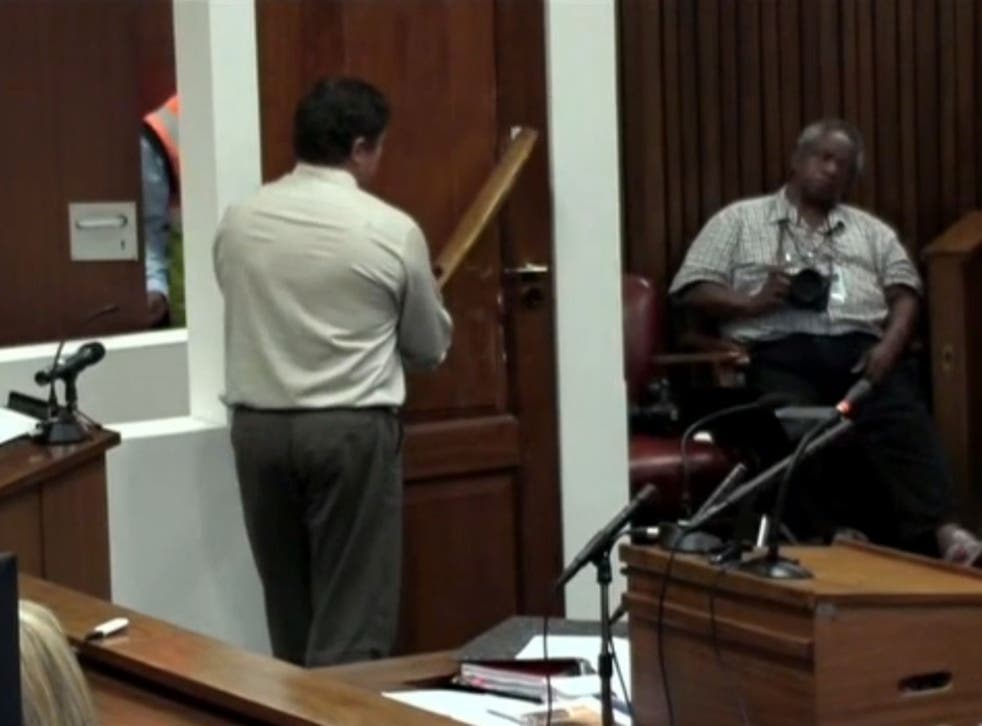 Oscar Pistorius was 'on his stumps' when he tried to smash down his locked toilet door with a cricket bat to reach girlfriend Reeva Steenkamp, his murder trial heard.
Police Colonel Johannes Vermeulen told the court the marks made on the toilet door through which Ms Steenkamp was shot are consistent with a person swinging a cricket bat from a lower height.
"The marks on the door are actually consistent with him not having his legs on and I suspect they must be similar to the height that he was when he fired the shots," Lt Col Vermeulen, a forensics expert, told Pretoria's High Court.
This appears to contradict Pistorius's bail application, where he claimed that, after shooting through the cubicle door, he "rushed back into the bedroom, screamed for help, and put on" his prosthetic legs.
He returned to the bathroom and struck it with the bat after he realised the 29-year-old model and law graduate was locked inside.
During cross-examination, defence counsel Barry Roux argued that Pistorius struck the door with a "bent back" and the lower marks are consistent with his position.
Lt Col Vermeulen insisted it was an "unnatural and uncomfortable" position.
Mr Roux countered: "That's an unnatural position for you."
Mr Roux asked Lt Col Vermeulen to get down on his knees and lift his feet- causing him to lose his balance. Mr Roux argued Pistorius would have not been able to maintain his balance on his stumps and hit the door at the same time.
Lt Col Vermeulen claimed that, if Pistorius managed to shoot through the door without his prosthetic legs on, he could have smashed the door on his stumps. He insisted that the marks were made by someone much shorter than him.
The athlete's defence argued that a mark on the bottom of the door showed Pistorius tried to kick open the door using his prosthetic legs. Lt Col Vermeulen said it was plausible.
Mr Roux also accused the police of contaminating crucial evidence, and painted a picture of a sloppily conducted investigation, suggesting the crime scene had been contaminated.
The court heard that police left footprints on the shattered door and then wiped them off, and that the pieces of the door that had broken off had gone missing.
Lt Col Vermeulen said his investigations didn't look into whether Pistorius had first kicked the door, before striking it with the cricket bat.
Mr Roux said that his own forensics team had found fibres from the sock Pistorius was wearing still embedded in it.
"It doesn't make sense to me – we all know about the importance of the door – to leave pieces behind," Mr Roux added.
The door has been viewed as crucial evidence in the case, and was removed from the athlete's home in the hours after he shoot Ms Steenkamp. The marks on the door could determine the angle and height from which Pistorius fired.
The athlete's defence argues Pistorius was on "his stumps" when he shot through the locked lavatory door fearing there was an intruder in the house.
State prosecutors claim Pistorius deliberately shot through the door knowing Ms Steenkmap was inside following a domestic dispute.
Earlier, Darren Fresco, a one-time friend of Pistorius who was identified by two witnesses as being with the athlete on two occasions when a gun was fired in public, painted a picture of a man with a passion for guns and speed.
The IT engineer claimed that, in one occasion, Pistorius was driving at 200 km/h and that he had taken a picture of the speedometer to prove it. The athlete's defence argued Mr Fresco was driving the car and, therefore, was fabricating evidence in court.
Yesterday, Mr Fresco told the court he asked the athlete if he "was f***ing mad" after Pistorius fired a shot out of the sunroof of a car following an altercation with traffic police.
In pictures: Oscar Pistorius trial

Show all 90
During cross-examination, Mr Roux questioned his version of events arguing Samantha Taylor, Pistorius' former girlfriend, who was also in the car that day, told the court both Mr Fresco and Pistorius said they wanted to "shoot a robot" and laughed.
Mr Fresco said he could not remember saying that.
Mr Fresco also told the court Pistorius asked him to take the blame after his gun, a Glock 27 .40 calibre pistol, went off under a table at a Johannesburg restaurant in a separate incident in early 2013.
Mr Fresco said he told the sprinter he was "one up"- meaning there was a bullet loaded into the chamber of the gun - before passing him the gun. He said he knew of Pistorius' "big love' for guns and assumed he "had competency with it".
Last week, Pistorius pleaded not guilty of murdering Ms Steenkamp, claiming he shot her in a case of mistaken identity thinking she was an intruder.
Prosecutors argue he intentionally shot and killed his girlfriend following a domestic dispute. If convicted of murder he will almost certainly receive a life sentence, with a minimum term of 25 years.
The case continues.