Police guard Ebola centre in Sierra Leone after protesters demand release of patients
The demonstration happened as an eminent Liberian doctor succumbed to the disease, contracting it from an infected patient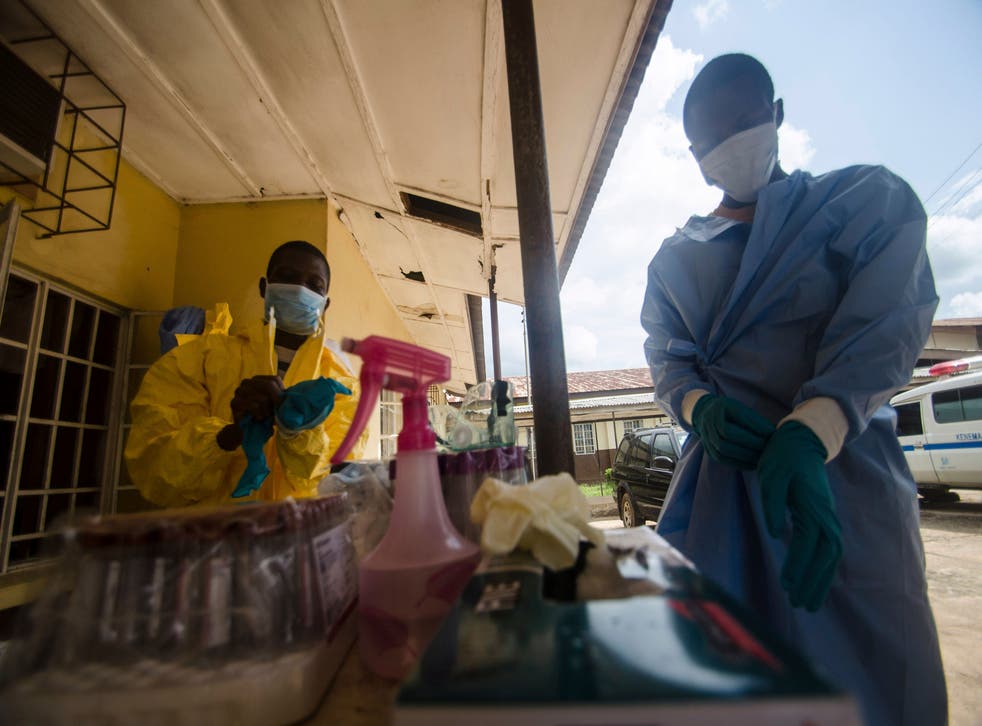 An Ebola treatment clinic in Sierra Leone is under police guard after thousands descended on the centre wanting an answer to a claim that it is secretly masking "cannibalism."
Crowds gathered at the hospital in Kenema on Friday, threatening to burn it down and free the patients, Reuters reports.
According to eye witnesses, police fired tear gas at the protesters and a 9-year-old boy was shot in the leg by a police bullet.
The group were galvanised by an allegation from a former nurse, who told a crowd that "Ebola was unreal and a gimmick aimed at carrying out cannibalistic rituals."
The deadly virus has so far killed 672 people in western Africa since it struck Sierra Leone, Liberia and Guinea.
A high-profile doctor in Liberia died this weekend after contracting the virulent disease.
Dr Samuel Brisbane is the first Liberian doctor to die – a Ugandan doctor died earlier this month while working in the country.
Tolbert Nyenswah, an assistant Health Minister, said the situation "is getting more and more scary."
Dr Brisbane, who once served as a medical adviser to former Liberian President Charles Taylor, fell ill while working as a consultant at the John F Kennedy Centre in Monrovia.
His death has further highlighted the risks taken by Ebola health workers.
An American doctor in Liberia has also been infected with the disease but is responding well to treatment and is in a stable condition.
Health professional Dr Kent Brantly, 33, had been working with humanitarian organisation Samaritan's Purse in Liberia since October 2013.
The outbreak of the Ebola virus disease (EVD) is the largest ever recorded, the World Health Organisation (WHO) says. There is no cure or vaccine for it.
Authorities are monitoring the spread of the virus closely, with the epidemic trend remaining "precarious with community and health-facility transmissions of infection still taking place," the WHO said.
Twelve deaths in the three countries were recorded between 21 and 23 July alone.
"A surge in the number of new EVD cases in Guinea after weeks of low viral activity demonstrates that undetected chains of transmission existed in the community," the WHO added.
"This phenomenon is retrogressive to the control of the EVD outbreak; and calls for stepping up outbreak containment measures, especially effective contact tracing."
The virus has since spread to Nigeria after a Liberian man boarded a plane to Lagos and died on arrival.
The 40-year-old, believed to be a governmental official within the finance ministry, had been moved to an isolation ward amid fears that whoever he came into contact with may also now be carrying the virus.
The WHO says that Ebola has a fatality rate of 90 per cent and is transmitted to humans through contact with the blood, organs, secretions or other bodily fluids of infected people.
Officials are now trying to raise awareness and educate citizens on how to avoid contracting or passing on the disease.
Join our new commenting forum
Join thought-provoking conversations, follow other Independent readers and see their replies