President Barack Obama and George W Bush in rare meeting as they attend Tanzania memorial
No words are exchanged as both attend a service at the US embassy in Tanzania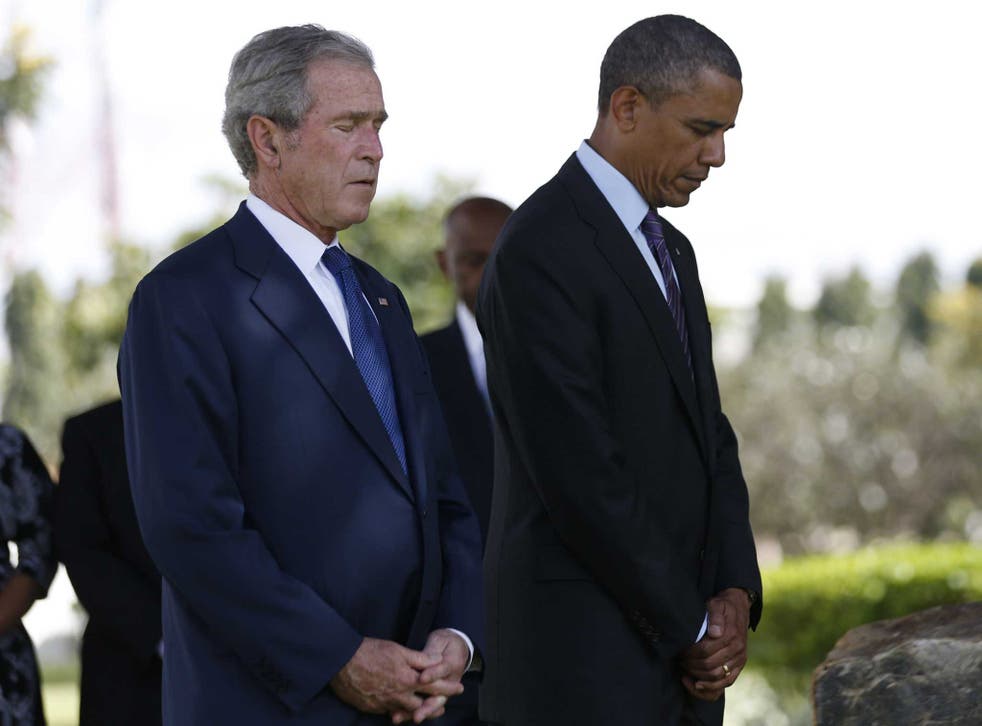 US President Barack Obama and former president George W Bush met in a rare chance encounter to honour Americans killed in the 1998 terrorist bombing of the embassy in Tanzania.
The Democrat and Republic stood side by side and bowed their heads as a US Marine placed a wreath at a memorial in Dar Es Salaam. Neither spoke publicly, but they shook hands afterwards and walked back to the embassy together.
Their wives Michelle Obama and Laura Bush were both scheduled to attend a two-day summit on African women organised by the Bush institute.
Their husbands were not originally supposed to meet, and Ms Obama joked to her predecessor as First Lady that: "They're learning from us."
Ms Obama and Ms Bush spoke at the summit to encourage women in Africa to fight for positive change in their countries, discussing the role to be played by an eminent first lady.
They jokingly compared elements of their lives to being like a "prison with a chef", and Ms Obama said it was "therapeutic to share the challenges of their roles".
The primary focus of the Obamas' trip is on building economic partnerships between the US and African countries, while the President has also praised George W Bush for helping save millions of lives by funding Aids treatment.
Obama said: "We are looking at a new model that's based not just on aid and assistance, but on trade and partnership.
"Ultimately, the goal here is for Africa to build Africa for Africans," Obama said. "And our job is to be a partner in that process."
Join our new commenting forum
Join thought-provoking conversations, follow other Independent readers and see their replies