Rap revolution: Voices of dissent in Senegal
A hip-hop protest movement has hit the streets in response to stagnation and broken government promises
Rap revolution: Voices of dissent in Senegal

Show all 2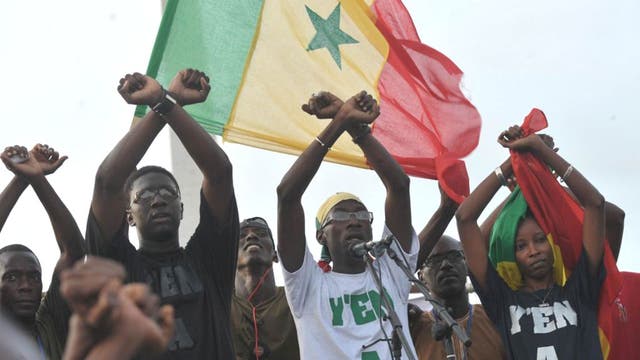 It was an idea born in the darkness of one of Dakar's epic blackouts, the kind measured in days rather than hours. With no electricity to record their music, the conversation among some of Senegal's new generation of rappers turned to politics and the broken promise of development that everyone in this stable but economically stagnant West African nation had grown up with.
An answer of sorts was always more likely to come from Senegal's vibrant music scene – where acts like Youssou N'Dour and Didier Awadi have earned international acclaim – than its ossified politics.
A new breed of hip hop artists with names like Kilifeu, Fou Malade ("Crazy Sick Guy") and Thiat ("Junior"), whose lyrics address the corruption, poverty and inequality that Senegalese live with every day, were nudged by a local journalist to do something about the malaise.
"They were writing about it, we were rapping about it, so it got time for us to do something about it," said Djily, one of the first artists to get involved.
Hip hop had always had a political flavour in Senegal, but the time had come, he said, to take that activism out of the studio and on to the street. The movement needed a name, so it was labelled with the mood of the musicians: "Y'En a Marre", which is translated as either "fed up" or "enough is enough".
The former French colony is poor but peaceful with an economy built on groundnuts rather than crude oil and a proud history of stability devoid of the coups and civil wars which have blighted much of the rest of West Africa. But a country defined by what it didn't have – wars or coups – rather than what it did have has found it harder to satisfy the aspirations of a young and growing population.
"You look from the outside and you see Senegal is a peaceful place," said Djily. "You have these laidback Senegalese who think that Christ or some prophet is going to come and solve our problems." The rappers realised what was needed was a "new type Senegalese". These "NTS" would be ready, he said, to do something about "the inequality, the people being exploited and the leaders stealing money from the pockets of the poor".
What began as a pressure group speaking out over the electricity shortages then staged its own highly effective voter registration drive. In the capital's burgeoning slums like Grand Dakar, volunteers set up units under the Y'En a Marre banner to make sure the activist gospel was being spread.
"This is the beginning of something," said Didier Awadi, whose brand of socially-aware rap made him one of Senegal's most successful music exports and who now sees himself as an elder statesman of hip hop. "Senegal is an old democracy and Y'En a Marre are doing a nice job to stop this regime from breaking it."
President Abdoulaye Wade, who has looked almost complacent in his control of an uninspired opposition, suddenly looks out of place leading a country where the average age is just 19. In office for 12 years, he has reneged on the two-term limit he wrote into the constitution and will run again in elections scheduled for this Sunday. The rappers have emerged as one of his biggest obstacles. They have managed to bring some of the tumult of the Arab Spring to the southern side of the Sahara, scoring a notable victory over the octogenarian president who backed away from more changes to the constitution that would have practically guaranteed him a third term.
The news that the constitutional court – stuffed with men appointed by the president – had rejected appeals by the opposition to block Mr Wade's candidacy was met with fury. A wave of protests followed, ranging from peaceful sit-ins to running street battles with riot police which have so far left five people dead. The rappers' response was a compilation album titled "You can't force it" with songs including Free the People. A video to go with the song, which has hundreds of thousands of hits on YouTube, shows crowds of young Dakarois pouring out of shacks and crumbling tenements to join the rappers and form a line, crossing their arms to make an X to say no to Mr Wade.
That gesture is being repeated every day in street protests. The president has responded to the rap revolutionaries by banning all rallies and sending out water cannon and riot police armed with rubber bullets and tear gas.
In their determination not to allow a Tahrir Square in Dakar, authorities have flooded the streets around the city's Place de L'Independence with security forces. But in what is fast becoming a daily ritual, lines of protesters – sometimes a few dozen, sometimes hundreds – appear from the sidestreets and form the X with their arms, chanting "Nadem", which means "leave" in Senegal's dominant language, Wolof.
Gathered on the corner across from the central police station in Senegal's seaside capital, the rap rebels look much like any other hip hop crew: outsized clothes, loud colours and hooded tops, a little less bling and a few more dreads. On Saturday the vigil was being kept for two of the group's leading artists, Kilifeu and Simon, arrested at a peaceful demonstration last week and released only after authorities had used up all of the 48 hours they are allowed before they must charge or release them.
The hip hop collective has ruled out fielding its own candidates in the elections, vowing not to become "ministers or mayors". They won't even endorse any of the dozen men running for the presidency.
Fou Malade, who raps with a crew called the Armoured Battalion, has come out as one of the loudest voices denouncing the politicians as "robbers of cash" and "liars".
"Wade doesn't want the Senegalese to know the truth about politics. We're going to tell everything," he says, quoting the title of his most popular song. "We are ready to give our lives to defend the constitution. We are ready to die to get Senegal's democracy to grow up."
Unpopular favourite: President Wade
President Abdoulaye Wade's bombshell that he was not going to honour his promise not to stand for a third term was dismissed by the premier with an old saying from his native Wolof language: "I've said it and now I am unsaying it".
With that decision, a leader whose popularity had sunk amid big-budget vanity projects like the £22m African Renaissance Monument and private jet purchases, found himself facing popular unrest. The 85-year-old remains the favourite to win Sunday's elections because of the paucity of opposition, but his determination to hold on has shaken Senegal.
Join our new commenting forum
Join thought-provoking conversations, follow other Independent readers and see their replies