Tens of thousands take to the streets to call for Robert Mugabe's resignation as 'day of rage' turns into celebration
Protesters carry placards saying 'Mugabe just go', 'Mugabe leave Zimbabwe now'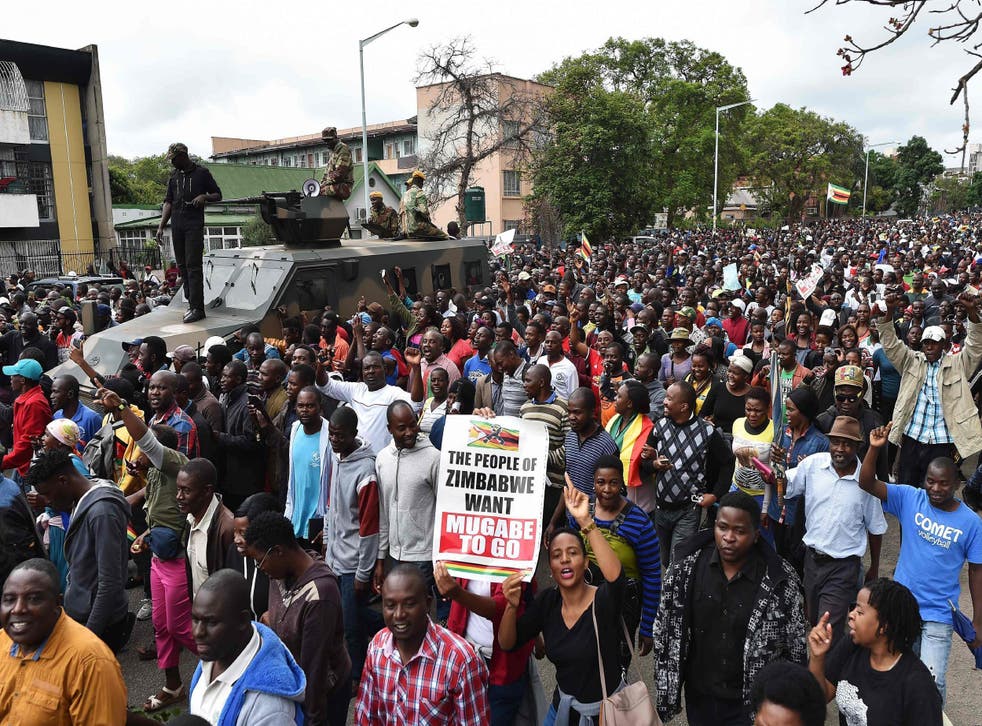 There had been calls for a "day of rage", but the overwhelming mood of the hundreds of thousands who poured into the streets of Harare today was one of celebration at what they are convinced is deliverance at last from the rule of Robert Mugabe.
The course of Zimbabwe's slow-motion coup has been difficult to chart, with Africa's longest-serving head of state seemingly determined to cling on to power despite the military taking over and branches of his own ruling party passing motions of no confidence. But the vast turnout in the capital was a resounding popular vote marking what looks like a point of no return for the 93-year-old president.
Women and men, the young and elderly, sang, danced, chanted slogans and waved the national flag. They carried placards saying "Mugabe just go", "Mugabe leave Zimbabwe now", "People v Robert Mugabe", "Red card for Mugabe", and, at a place where they avidly follow English Premier League football, "Mugabe worse than Moyes", evidently from a West Ham fan disgruntled by the new manager the club has appointed. And, perhaps inevitably, one saying "Wenger must go".
"It's like Independence Day and Christmas in one", was among the phrases heard. Laughing as she savoured the words, 27-year-old Joyce Mangezi added: "I think to myself that this man has been president for 10 years longer than I have been alive. And all that time our country has suffered. I haven't got a job, my brother and sister haven't got jobs, most of my friends haven't got jobs. But this man wants to stay in his job until he dies."
The police were noticeable by their absence. People remembered how they had cracked heads in previous demonstrations and are viewed as siding with Mr Mugabe even after the military takeover earlier this week. The original plan had been for demonstrators to gather at the city's Freedom Square, but soldiers asked them to go on to the far bigger Zimbabwe Grounds stadium at the outskirts of the city.
It was a far bigger venue, but also symbolic. This was the place where another huge crowd had gathered 37 years ago to welcome Mr Mugabe on his return from exile following the end of white minority rule.
Later the crowd marched towards State House, the president's official residence in the capital, but were stopped by the army at the gate. Selfies were taken at the gate, but, for the first time, there were signs of annoyance. "Don't stop us dealing with Bob and Grace," people began to shout. There were also some calls for retribution – "thieves must be punished" came the cry.
The anthems of that war of liberation were being belted out on the streets, reminders of the sacrifices made to gain independence, and the disillusionment which had followed as what should have become one of the continent's most affluent lands turned into an economic basket case under the rule of Mr Mugabe and his cohort. People had brought out notes of the old currency, handing them to passers-by with the jocular greeting: "I need to have change".
The protest marches had been called on Friday by veterans of the war. Chris Mutsvangwa, the secretary-general of the Zimbabwe National Liberation War Veterans Association, declared they were needed to ensure Mr Mugabe's removal. "We want to restore our pride and this is the day, we can finish the job the army started. There is no going back for Mugabe. He must leave, if he doesn't leave, we will settle scores."
Mugabe's first public appearance since Zimbabwe military takeover

Show all 9
Some former fighters, however, still remember the young Mugabe, the firebrand in the struggle against racist rule, and wanted to temper talk of vengeance. Wilson Tshabangu stressed: "We don't want him to end like Gaddafi. We don't even think that he should face trial. He should go, and take his wife with him. Mugabe did serve his country once, we should remember that."
Grace Mugabe, with epithets of "Gucci Grace" and "DisGrace" given to her by her many critics for, among other things, lavish spending on luxuries while hardship spread in the country, is believed to be at "Blue Roof", a presidential mansion under house arrest.
Chris Mutsvangwa has described Mr Mugabe as "senile old man who has lost control of his wife". An immunity of prosecution for Grace Mugabe is another one of the President's demands in negotiations with the military about his departure. Mr Tshabangu's companion Kenneth Mzizi, a member of ruling Zanu-PF, held that should be given. "I can't see him leaving without her and so she should be allowed to go. He will go, because our party has said it no longer wants him. But neither should be allowed to come back to Zimbabwe."
Zimbabwe's 'military takeover' explained
One of the more surreal episodes of the last few days of drama had been the sight of Mr Mugabe, supposedly under house arrest, attending a a university graduation ceremony just as he had done in years. The President, in blue and gold gown and mortar board, took his place over a red carpet while surprised-looking students clapped and a band played. One of the students on whom the President conferred a degree was Marry Chiwenga, the wife of General Constantino Chiwenga, who detained Mr Mugabe on Tuesday as tanks began rolling through the streets.
Some of the students who had been present at the ceremony turned up at the rally in their mortar and gowns. "We thought it was very strange, him being there, also a bit funny" said Victor Kwaremba, "but the comedy is now over, he must go."
Join our new commenting forum
Join thought-provoking conversations, follow other Independent readers and see their replies