Roger Gower: Five arrested in Tanzania after helicopter pilot shot dead while tracking poachers
Mr Gower was shot through the floor of his aircraft by a poacher with an AK-47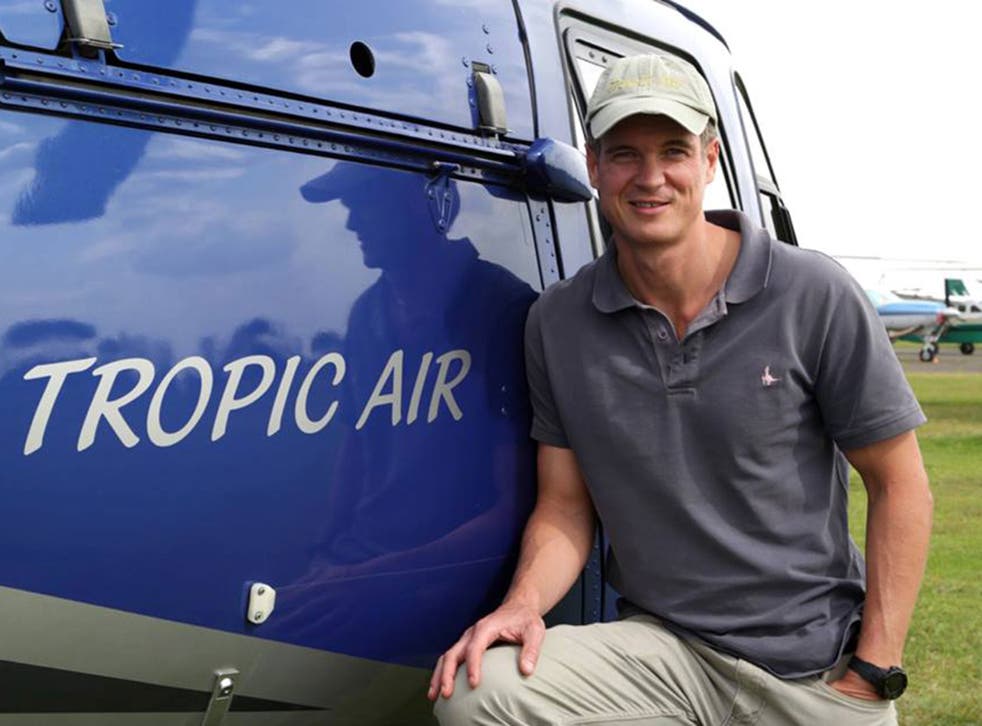 Five people have been arrested in Tanzania during the hunt for elephant poachers who shot and killed a British helicopter pilot tracking their movements from the air.
Roger Gower, 37, was shot through the floor of his aircraft by a poacher with an AK-47, who broke cover as the pilot flew close to a dead elephant that had been slaughtered for its ivory.
Conservationists said that extreme violence was a common feature of poachers who were often allied to terrorist groups such as al-Shabaab and Boko Haram, who used the funds from ivory sales to fund their operations.
Mr Gower had been scrambled to support ground teams investigating gunshots in the Maswa Game Reserve, a hotspot of elephant poaching in a country where the animals are in steep decline.
He had spotted three dead elephants and was circling after spotting a suspected cache of ivory when one of the poachers "jumped out of the bush" and fired on his helicopter, according to Pratik Patel, a colleague at the Friedkin Conservation Fund.
A second man was able to land the helicopter, which was left badly damaged, but Mr Gower was dead before any help arrived. Pictures of the crash showed the badly damaged remains of the helicopter including a bullet hole in the pilot's seat. The survivor was being treated for minor injuries and shock following the attack, according to the Tanzanian government.
Mr Gower, a former accountant who qualified as a pilot in 2004, moved to Africa around two years later and worked with a helicopter safari company. He also helped the British Army on exercises in the country, according to his former employer.
Government officials said that five people had been arrested during the hunt for the killer. They included the person who supplied the ammunition and a person who provided accommodation for the poachers in the reserve near Serengeti National Park in the country's north, according to Mr Patel.
He said that Mr Gower had been keen to make a difference in a country where the elephant population had dwindled from 110,000 in 2009 to a little over 43,000 in 2014.
"Roger was very, very active. He was very passionate about Africa. He loved Tanzania," said Mr Patel. "He was very keen on making a difference and helping and combating the poaching crisis."
Mr Patel compared poaching operations to blood diamonds – the term coined for the mining and sale of diamonds in conflict zones that have funded wars and insurgencies in Africa – and cited a number of insurgent groups involved in the ivory trade.
"Poachers have become very, very sophisticated," Mr Patel told Sky News. "They raise money to buy ammunition and weapons for their cause."
The Friedkin Conservation Fund was working with the Tanzanian government to respond to what was described as an explosion of an "industrial scale" in poaching in recent years, driven by demand from Asia and particularly Asia. Last October, Tanzania brought charges against a prominent Chinese businesswoman Yang Feng Glan, 66, dubbed the "Ivory Queen", for running a network that smuggled out tusks from 350 elephants.
"We are committed to honouring Roger and his work," Dan Friedkin, the chairman of the fund, said in a statement. "We are also committed to ensuring that those responsible for this attack are found and brought to justice.
"We believe that Roger can best be honoured by redoubling our commitment to protect elephants and our priceless wildlife heritage.
"This tragic event again highlights the appalling risk and cost of protecting Tanzania's wildlife."
Ramo Makani, deputy tourism minister, told Reuters that five suspects had been arrested since Mr Gower's death and that the operation was continuing for other suspects.
Join our new commenting forum
Join thought-provoking conversations, follow other Independent readers and see their replies