Russian plane crash: UK investigators believe 'bomb was planted in baggage hold' prior to flight's departure
217 passengers and seven members of crew were killed in the crash in the Sinai Peninsula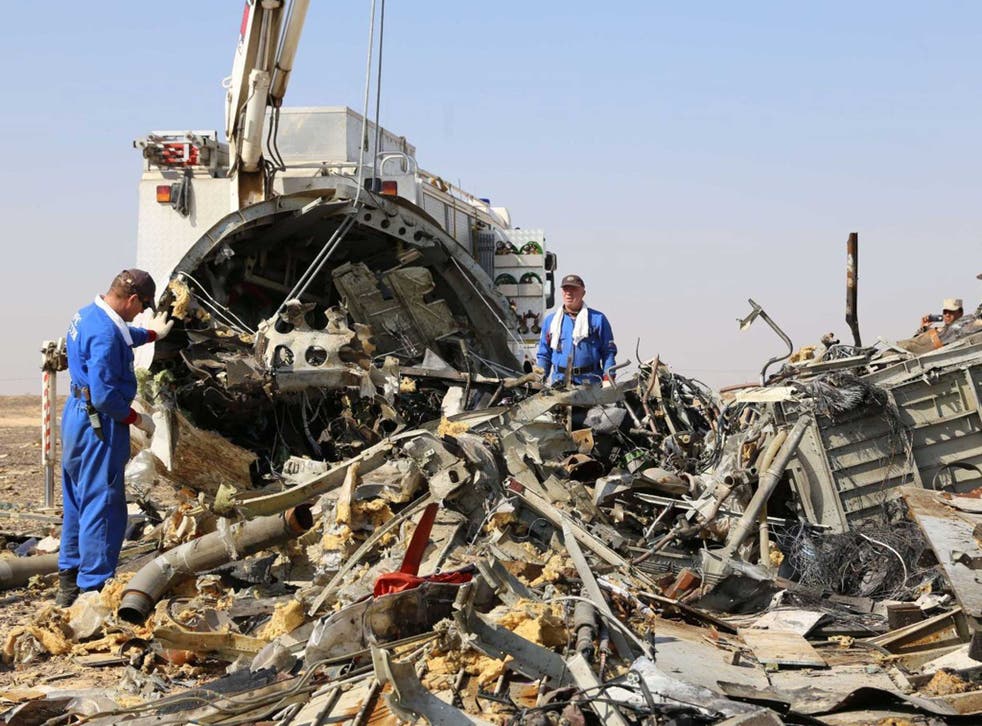 UK investigators believe a bomb was placed in the baggage hold of downed Airbus A321 before the flight left the Egyptian airport of Sharm el-Sheikh.
The investigators' calls echo those of US president Barack Obama who on Thursday said he believed there was a "possibility" an explosive device may have been planted on the commercial flight.
The flight, en route to St Petersburg, came down just 23 minutes after departing Sharm el-Sheikh airport on Saturday in Egypt's Sinai Peninsula, killing all 217 passengers and seven crew on board. The majority of the victims were Russian.
Investigators believe someone at the airport may have planted an explosive device in the aircraft's baggage compartment, either inside or on top of luggage, prior to the flight's departure, the BBC reported.
Meanwhile, it has been reported the Prime Minister was persuaded by a piece of "signals intelligence" - such as eavesdropped conversation - picked up by GCHQ and led to the decision to suspend flights from the airport, ITV understands.
British authorties suspended all flights to and from the airport two days ago. Although some flights have now resumed, UK officials warned passengers will only be allowed to take hand luggage.
McLouglin, the Transport Secretary, confirmed the UK had received "evidence that it could well have been a bomb."
He told the Good Morning Britain authorities were waiting the full results of the investigation.
In the aftermath of the crash, Isis militants operating in the area were quick to claim responsibility for the plane's crash but both Egyptian and Russian authorities have urged caution over "speculation" on the possible causes of the incident, in criticism of their western counterparts.
On Thursday Russian leader Vladimir Putin told David Cameron UK investigators needed to wait for Russian and Egyptian authorities to complete their investigation.
Additional reporting by Reuters.
Join our new commenting forum
Join thought-provoking conversations, follow other Independent readers and see their replies