Signs of retreat by Morsi after thousands protest against vote
Both sides have been accused of using firearms during protests that left six dead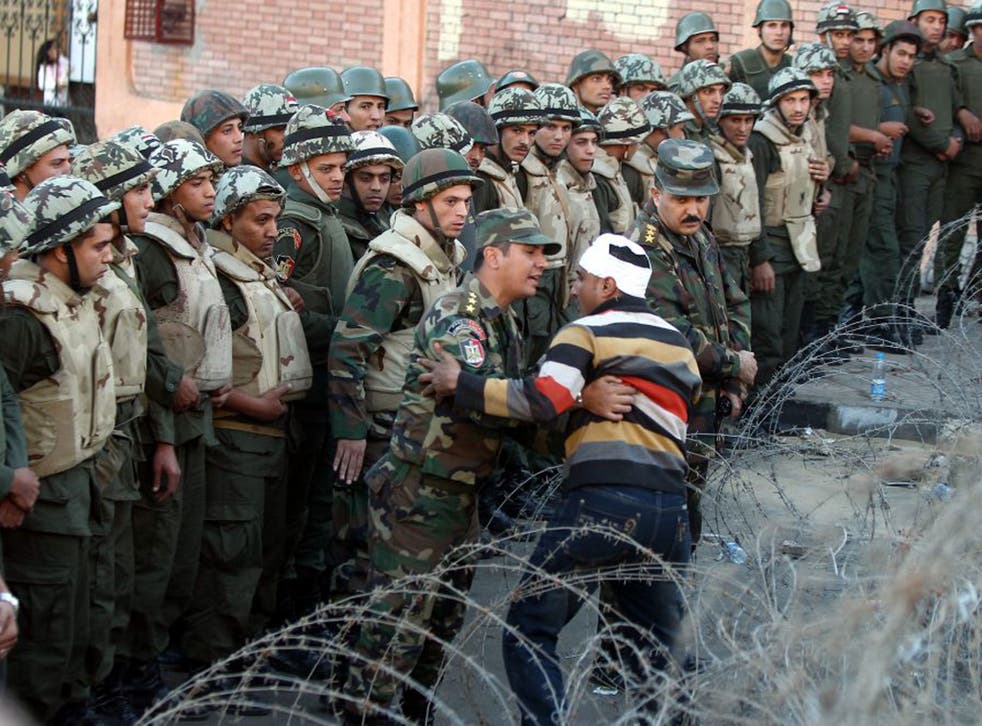 The first signs emerged last night that President Mohamed Morsi's resolve to change the constitution could be cracking as aides hinted that the referendum could be cancelled.
Early voting on the draft constitution was postponed in a surprise move by election committee head Ismail Hamdi, and presidential aides raised the possibility of cancelling next week's poll as they urged protesters to show "self-restraint".
The prospect was raised after another day of protest in which protesters breached the gates of President Morsi's palace and opposition leaders rejected his call for talks.
Guards moved to secure the door of the palace after its barricade of barbed wire was cut by demonstrators who swarmed into the compound, after marching up to eight miles in numbers approaching 10,000.
In a potentially calamitous game of brinkmanship developing between the nation's rival factions, opposition groups are planning to call for labour strikes should Mr Morsi continue to ignore their demands to suspend a vote on the country's new constitution.
Mohamed ElBaradei, the Nobel Peace Prize laureate who is now coordinator of the National Salvation Front, was among those saying they would defy Mr Morsi's request for talks over the referendum due to be held on 15 December.
The crisis has spurred the opposition to unite under the Front's liberal coalition after months of nursing often petty divisions. As several thousand protesters marched for hours in a huge procession across the capital, descending on the president's east Cairo headquarters, Mr ElBaradei said "national forces" should treat Mr Morsi's offer as an exercise in "arm-twisting and imposition of a fait accompli".
One member of the coalition, Shaheer George, told The Independent: "It's impossible for the referendum to happen now. The judiciary have said they will not supervise it and there is also the potential for violence. It is not just a political concern any more, but a security concern."
As a dangerous impasse develops, opposition parties are aware that ordinary Egyptians provide their primary leverage, and yesterday's demonstrators included members of all the country's leading liberal political parties. Opposition groups continue to demand that the president opens an independent investigation into Wednesday night's violence, in which six people were killed and more than 600 injured.
Many have accused the Muslim Brotherhood of escalating the trouble by using firearms against their opponents, although video footage suggested that weapons were also being used by anti-Morsi protesters.
"We consider the violence an act of war," said Ahmed Khair of the liberal Free Egyptians Party. "The people are calling for the removal of the regime."
Join our new commenting forum
Join thought-provoking conversations, follow other Independent readers and see their replies