Somalia food crisis at 'tipping point' with country heading towards famine in matter of weeks
Intensifying emergency in the Horn of Africa has put 12 million people at risk, with 50,000 children in Somalia alone facing death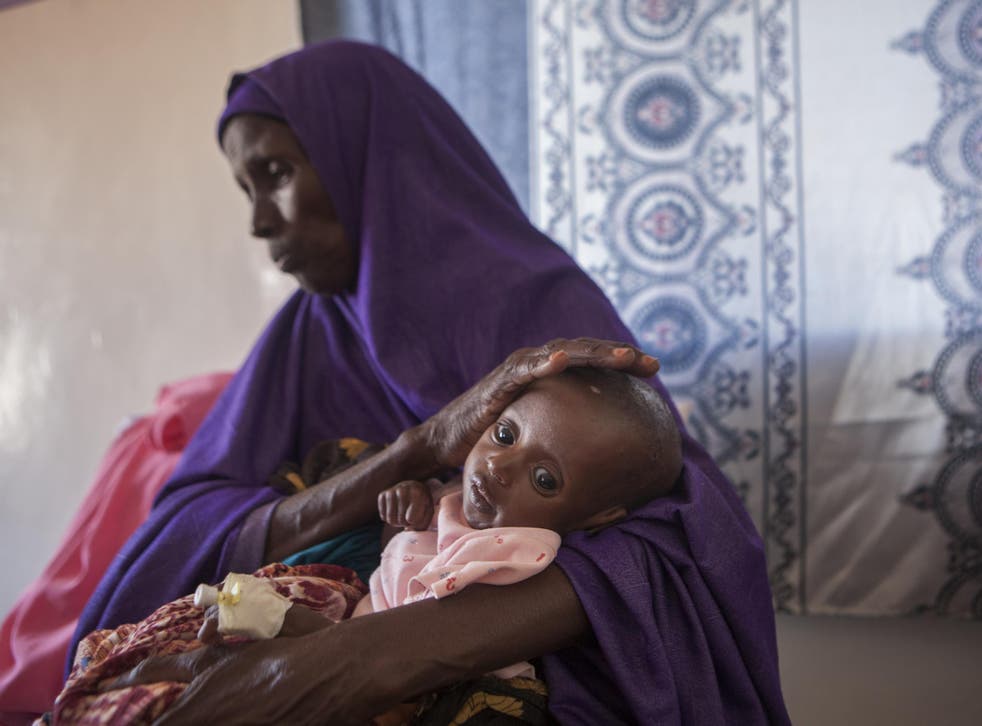 Somalia is at "tipping point" and a famine could be declared in a matter of weeks, Save the Children has warned.
An intensifying food crisis in the Horn of Africa is on track to become "far worse" than the 2011 famine that claimed 260,000 lives, with 12 million people in the area likely to be affected and 50,000 children in Somalia alone facing death.
But the region is in danger of being forgotten as donors are pulled in too many different directions, a spokeswoman for the charity told The Independent.
The warning comes after the UN declared an official famine in parts of South Sudan on Monday, and follows a report earlier this month suggesting that four African countries – South Sudan, Nigeria, Yemen and Somalia – could be heading towards severe food insecurity later this year.
But Save the Children has suggested the situation in the Horn of Africa is even worse than earlier reports indicated, and fear crises elsewhere mean the developing catastrophe could be overlooked until it is too late.
"What we're seeing on the ground suggests we're at a tipping point – a significant worsening of malnutrition cases tells us a famine isn't far off," said Hassan Saadi Noor, Save the Children's country director in Somalia.
Aid organisations have a "tiny window" in which to intervene "to divert a really disastrous humanitarian crisis", Tom Arup, a member of staff deployed to the country told The Independent.
A spokeswoman for Save the Children said the Horn of Africa region is one of only two places worldwide currently identified as a "category one emergency" by the organisation – the other being war-torn Syria – due to the sheer number of lives in danger there.
Workers at Save the Children-supported health clinics and hospitals in Puntland – one of the areas hardest hit by drought in Somalia – have reported a significant increase in severe malnutrition cases among children coming through their doors.
An estimated 363,000 children are already suffering from malnutrition in Somalia, 71,000 of them severe cases. The Somalia Nutrition Cluster is predicting this number could rise to 944,000 cases in 2017, 185,000 of them severe, unless urgent aid is provided to the severely drought-stricken country. The United Nations has warned that more than 50,000 children are now facing death.
The country is currently in the midst of its worst drought since 1950, with parts of the Somalia not having seen rain for two years. Four successive crops have failed, making the scale of the looming crisis almost unprecedented.
"This drought is exceptional in that it is affecting all parts of the country," Mr Arup said. "In 2011 in Somalia you had a drought that led to a famine that ended up killing over a quarter of a million people. It hit a couple of areas of the country really badly, but this time the entire country is in drought conditions. People in all parts of the country are facing some level of food insecurity".
He added that some places are worse affected than others, but "there's no respite, there are no parts of Somalia you can move to that aren't affected".
If this year's rains do not arrive in a couple of months, he said, it will be "truly catastrophic" for the majority of the population, who rely on the land to survive.
He added that as the internal capacity of the Somali government is "very, very limited", it is up to humanitarian organisations to step in before it is too late.
"There's a very dangerous situation here at the moment. We really are at a tipping point, in many regions in Somalia the situation is deteriorating really quickly. All the indicators that point towards a famine are intensifying very quickly," he said.
Reports from the hardest-hit areas of the country suggest some people are now going days without food and are resorting to feeding livestock with cardboard in a desperate attempt to keep their remaining animals alive.
In the Puntland village of Yaka, Iftin Yusuf Mohamed, a nurse working at the local maternal and child health clinic, told Save the Children the situation was getting worse every day.
She added that a massive influx of people into the region looking for greener pasture had led to high levels of malnutrition and hunger, and the assistance available was not enough to keep up with the need.
"There is a real shortage of food, medication and of water supplies, and if we don't get it now then it could be a human tragedy with high mortality rates," she said.
In the regional capital of Garowe, Save the Children interviewed Mohamed, a man who had taken his child, Abdifatax, to a specialist clinic at the local hospital where he was treated for severe malnutrition. His condition was so severe that he is now being treated through a feeding tube.
"My son was sick for 20 days. This illness worried me a lot. After about two weeks of being ill, my son looked severely malnourished, he was vomiting and had diarrhoea," said Mohamed.
"But he has received a lot of nourishing treatment these past three days, thank God."
Mohamed and his relatives travel between the countryside and Garowe to tend to livestock, but he said most of the animals have now died.
"In normal times, people use livestock to nourish themselves but now the opposite is happening, where cardboard and beans are sent from the city to feed the animals in the countryside."
Surviving Somalia: Photographer Ed Ou visits a food project as famine strikes in the East African nation

Show all 11
The UN's Office for the Coordination of Humanitarian Affairs is calling on the international community to provide £692.5m in emergency funds to help Somalia.
Currently, Mr Arup said, Save the Children is short of funding and is unable to assist everyone in the country.
"You ask if we're meeting the need, the short answer is no," Mr Arup said. "The money is coming in far too slowly for us to meet the need at this point".
Gareth Owen, Save the Children's Humanitarian Director, said: "Aid agencies' resources are hugely stretched currently as we respond to food crises around the world.
"To avert an even bigger crisis, we need investment from donors to ensure that we have the food stocks and malnutrition support in place to stop a famine in the Horn of Africa."
Join our new commenting forum
Join thought-provoking conversations, follow other Independent readers and see their replies