South Africa's Obama: Mmusi Maimane set to lead challenge to ANC's rule
South Africa's opposition elects its leader on 10 May, reports Erin Conway-Smith in Port Elizabeth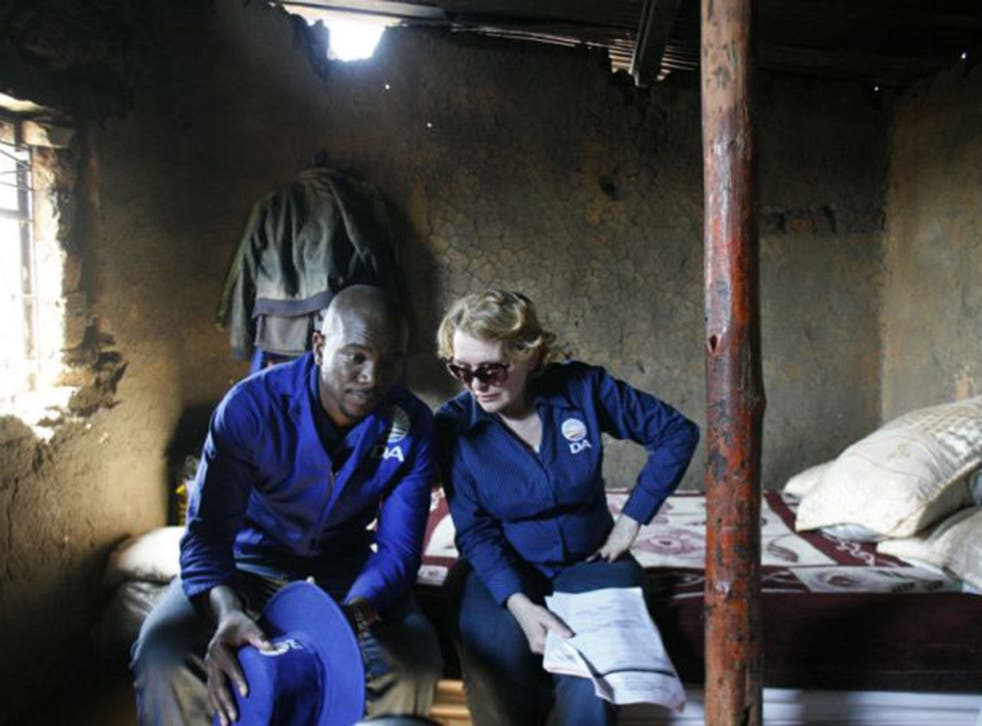 A part-time pastor is the man tipped to become the first black leader of South Africa's biggest opposition party on 10 May and take the fight to the African National Congress (ANC), which has governed the country since the end of apartheid.
Mmusi Maimane is widely expected to take over as head of the Democratic Alliance (DA), following a vote by delegates at a party congress in the coastal city of Port Elizabeth.
Mr Maimane is seeking to replace Helen Zille, a white woman, who last month announced she would leave her post after eight years. While the combative Mrs Zille led her party to steady gains, including premiership of Western Cape province, which includes Cape Town, she has faced persistent criticisms that the DA is "too white" to govern South Africa.
Mr Maimane was raised in Soweto township, cradle of the anti-apartheid movement where Nelson Mandela once lived. At weekends he is a preacher at an evangelical Christian church in Cosmo City, a suburb north of Johannesburg.
His youthful good looks and dynamic speaking style have earned him comparisons to President Barack Obama – as has the branding around his campaign for DA leadership.
With Mr Maimane the clear favourite among party delegates, the congress is awash with posters and T-shirts featuring a stylised image of Mr Maimane's face and the word "BELIEVE", recalling Shepard Fairey's distinctive posters from President Obama's 2008 campaign.
Mr Maimane, who is currently the DA's parliamentary leader, drew praise for his powerful reply to President Jacob Zuma's state of the nation address earlier this year, in which he described the South African president as "a broken man, presiding over a broken society".
But while Mr Maimane is educated (he holds master's degrees in theology and public administration), and ambitious (he rose swiftly through party's ranks since joining the DA in 2009), some consider him too politically inexperienced to draw voters away from the ANC.
Nelson Mandela: the memorials and landmarks

Show all 6
The next DA leader will face the heady challenge of convincing black voters to abandon the ANC, the party of the late Mr Mandela that fought for an end to white minority rule.
Mrs Zille, who is not publicly backing a successor, has worked to develop young black talent within the DA and previously declared that Mr Maimane "symbolises our party's future".
Zizi Kodwa, an ANC spokesman, said the DA "remained a racist party that desperately needs a black leader to hide its true colours".
Eusebius McKaiser, a political analyst, described Mr Maimane as someone who "likes to be liked". Mr McKaiser believes Mr Maimane's success in the DA will depend on having a strong team around him that can minimise his political weaknesses, such as shying away from thorny issues facing South Africa including land rights.
"He can't really get off the rainbow nation motif into the hard issues. That's going to be his downfall," he said. "Being black is necessary but not sufficient in a leader to attract black voters."
South African voters have become disillusioned with the ANC, which in recent years has been plagued by accusations of corruption and wasteful spending. Among the country's poor there is growing frustration with the slow pace of change more than two decades into democracy.
Despite this, the ANC, with the unpopular Mr Zuma at the helm, still dominated in last year's election, winning 62 per cent of the vote, down from 66 per cent in 2009 polls. The DA, in comparison, won 22 per cent of votes cast, up from 17 per cent.
Many South Africans remain cynical about the DA, created from the merger of several parties including an offshoot of the old National Party that ruled apartheid South Africa.
During a televised debate last week, Mr Maimane was questioned about his church's stance against gay marriage, which clashes with South Africa's progressive constitution.
Mr Maimane replied that he didn't agree with all of the Liberty Church's views: "Our church does not prescribe the laws to this country.
"There is a generalised view that says that if you have a religion, you cannot be liberal, which I think is dangerous," he said. "I think the issue here is that I have a personal conviction, I have a faith that I uphold, but I also understand that my faith is subject to the laws of this country."
For the next leader of the DA a crucial test will be the 2016 municipal elections, when it will challenge the ANC for control of Johannesburg, Pretoria and Nelson Mandela Bay, which includes Port Elizabeth.
Mr Maimane has pledged to broaden the DA's appeal into a "non-racial" party, focused on creating jobs and fighting poverty.
"We must govern in new places," Mr Maimane said in a message to congress delegates. "We must be a party that grows, we must be a party that expresses non-racialism. I believe I can take the party there."
Join our new commenting forum
Join thought-provoking conversations, follow other Independent readers and see their replies