South Africa violence: Zulu king denies inciting racist attacks and appeals for calm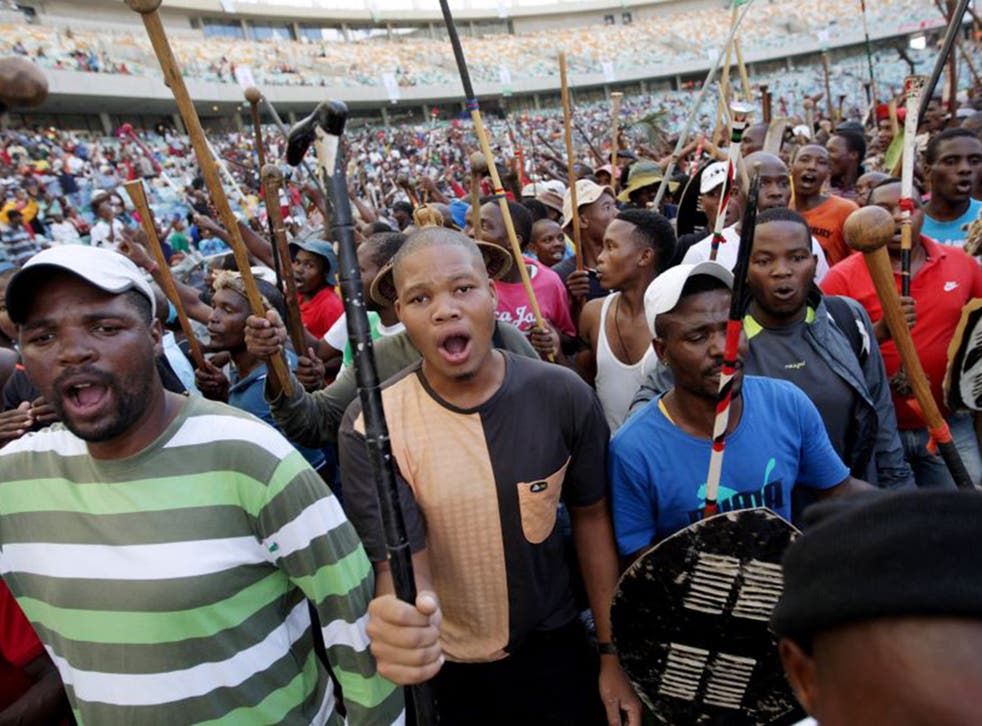 The South African Zulu king whose comments are believed to have sparked a wave of anti-immigrant violence in the country has appealed for calm in front of an audience of thousands.
King Goodwill Zwelithini's speech came as the South African president postponed next week's Freedom Day commemorations because of the violence, which has left seven people, including three South Africans, dead.
Freedom Day is intended to be a celebration of post-apartheid South Africa, and its racial diversity, marking the anniversary of the first post-apartheid elections in 1994.
The postponed ceremony bestows honours on South Africans and foreigners who have contributed to the country. Jacob Zuma's office said the celebrations would be postponed in order to allow the country to mourn those who had died in the violence.
"We need to make sure no more foreigners are attacked. We must stop these vile acts," Mr Zwelithini told the packed audience at the rally in Durban, where the majority of the violence has taken place. He denied inciting violence, and blamed the media for misrepresenting his remarks.
Despite the stated intentions of his speech, reports suggest that ambassadors from countries whose nationals have been attacked were booed by the audience, and that attendees sang xenophobic songs. Mr Zwelithini's comments were a marked contrast to those he made during a speech on 20 March. "Let us pop our head lice. We must remove ticks and place them outside in the sun. We ask foreign nationals to pack their belongings and be sent back," he reportedly told a cheering crowd.
In pictures: Violence in South Africa

Show all 8
It is thought those remarks may have triggered scenes of violence that have shocked the nation. One piece of footage, filmed in Johannesburg on Saturday, shows the fatal stabbing of Mozambican Emmanuel Sithole. Three men have been arrested over the incident. In total 300 arrests have been made in relation to the violence. James Oatway, the South African photojournalist who filmed the attack, told the BBC: "I'm traumatised, I'm dazed and confused, but mainly I'm angry at my countrymen."
The violence of the past few weeks in South Africa is some of the worst the country has seen in decades, fuelled in part by high levels of unemployment, at 24 per cent, and a perception that foreigners are taking jobs from locals. There are officially two million foreigners in South Africa.
South Africans have vocally rejected the attacks, which President Zuma has said "go against everything we believe in". Religious groups, trade unions and other organisations have planned a march on Thursday in Johannesburg to condemn the violence, and the South African Football Association has announced two friendly matches with neighbouring countries in a bid to reduce tensions. Mr Zwelithini said the fact anti-immigrant violence had broken out in the past proved he was not responsible for recent events.
The role of Zulu king is ceremonial, but it has influence, and Mr Zwelithini has used his position to promote traditional, and often controversial, practices. While denying he had called for violence, he acknowledged the sway he holds among his community. "If it is true that I said people must take up arms, the whole country would be in ashes by now," a BBC journalist quoted him as saying.
Join our new commenting forum
Join thought-provoking conversations, follow other Independent readers and see their replies