South Africa xenophobic attacks: Shops looted and violence on streets of Johannesburg as foreigners are forced to hide in police stations
Shops and cars belonging to immigrants were set on fire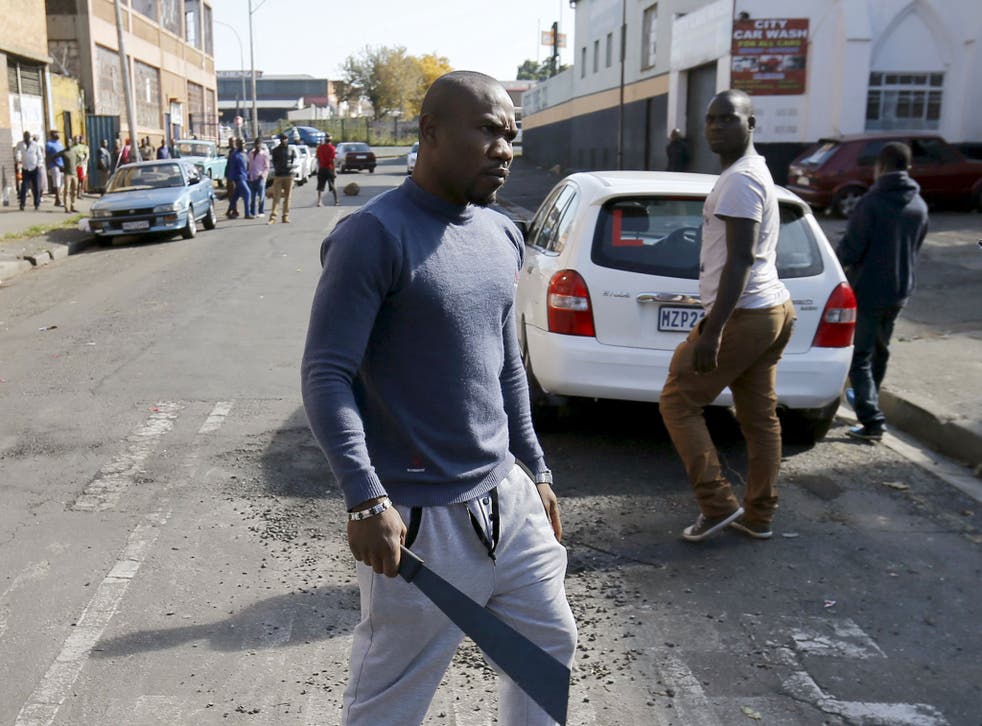 Shocking scenes have emerged from the streets of Johannesburg, where South Africa was experiencing yet another day of widespread looting and anti-immigrant attacks.
At least four people have died in the past fortnight of xenophobic rioting, fuelled by widely-held beliefs that the country's economic woes are being caused by foreign nationals.
And while police spokesman Colonel Jay Naicker said there was no further violence in the coastal city of Durban, where a peace rally took place on Thursday, the authorities were forced to cordon off Johannesburg's foreign-owned shops against an increasingly angry crowd.
Around 100 foreigners spent the night in a Johannesburg police station to seek protection from the mob, while others sheltered in a community centre.
At least 18 people were arrested, the city's police Colonel Lungelo Dlamini said, and officers fired tear gas and rubber bullets to disperse the crowd.
And after an immigrant vigilante group armed themselves with machetes to defend against the attackers, South African officials sought international support to end the "demon" of xenophobic violence.
"We believe that working together we can defeat this," South African Foreign Minister Maite Nkoana-Mashabane said after a meeting in Pretoria with diplomats from across Africa. "We all have to nip this in the bud."
A number of governments from across the continent have offered to evacuate their nationals, including Kenya. Malawi has hired buses to repatriate 500 of its nationals, but Information Minister Kondwani Nankhumwa urged South Africa to provide greater protection for immigrants – echoing calls from China and the African Union.
South Africa, with a population of about 50 million, is home to an estimated 5 million immigrants, from countries including Somalia, Ethiopia, Zimbabwe and Malawi, and from further afield, including China and Pakistan. Many own shops or sell wares as informal hawkers on street corners or in markets.
Periodic outbreaks of anti-immigrant violence have been blamed on high unemployment, officially around 25 per cent – although economists say in reality much higher – widespread poverty and glaring income disparities.
The latest wave of unrest began after Zulu King Goodwill Zwelithini was quoted by local media as saying that foreigners should leave South Africa. He has since said his comments were misinterpreted and has urged residents to be calm.
Johannesburg was the centre of anti-foreigner attacks in 2008 that killed more than 60 people.
In pictures: Violence in South Africa

Show all 8
Join our new commenting forum
Join thought-provoking conversations, follow other Independent readers and see their replies