Thousands of refugees rescued from boats off coast of Libya
Italian coastguard claims that it co-ordinated the rescue of more than 6,500 people across 40 operations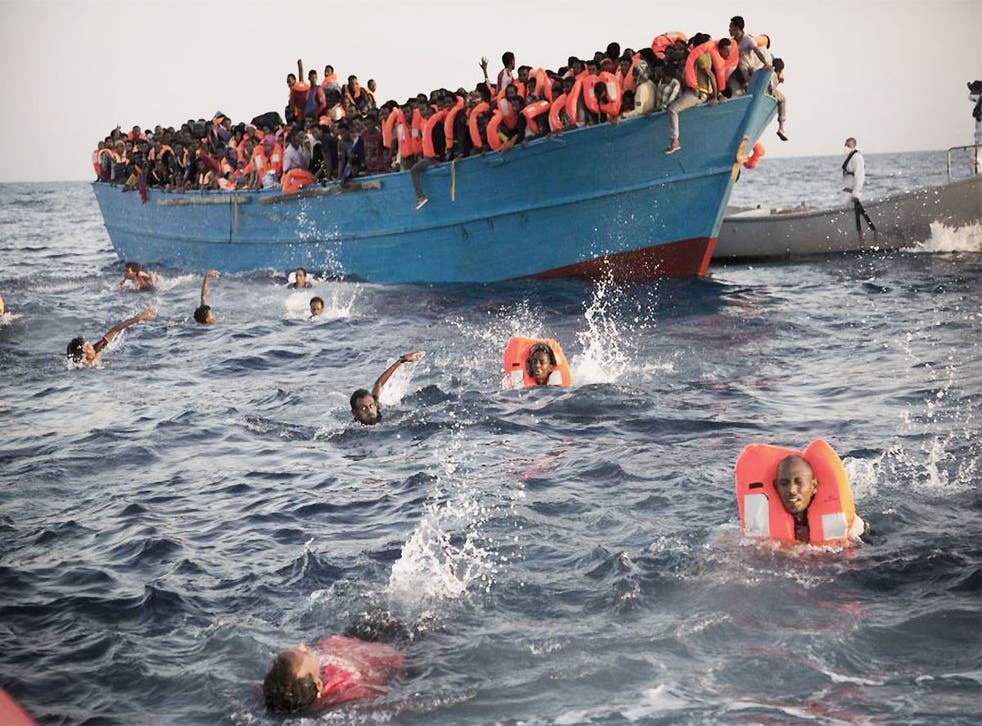 Thousands of refugees have been rescued in a number of major operations off the coast of Libya.
The Italian coastguard claimed on its Twitter account that it had co-ordinated the rescue of around 6,500 people across 40 rescue missions on Monday - in one of the busiest days of life-saving in the region in recent years.
Captured in dramatic images and video, one rescue involved Italian naval ships and vessels operated by two non-government groups.
Those rescued are believed to be mainly Somali and Eritrean nationals fleeing Libya on around 20 small, unseaworthy boats, spotted by the authorities just 21km (13 miles) off the coast near Sabratha. Medecins Sans Frontieres (MSF) said that the aid group's Dignity 1 search and recue boat had helped save around 2,400 people from more than 15 rubber boats, plus one wooden vessel that contained 600 to 700 people.
But the Spanish charity Proactiva Open Arms said 3,000 refugees were rescued, making it one of the largest single operations in the Mediterranean this year.
The charity's vessels were among the first to encounter the smugglers' boats, prompting some of the refugees on board to jump into the water and start swimming towards them. Others were pictured carefully carrying babies onto the rescue ships.
They were then transferred to the larger ships of the Italian navy and MSF, and it is expected they will be taken on to be processed either in Sicily or the Italian mainland.
More than 100,000 refugees have now reached Italy after crossing the Mediterranean in the past year, most coming from Libya.
Monday's rescues highlighted the dangerous tactics used by smugglers, who charge large sums for space on a boat they know will be unlikely to make the journey. They then face the prospect of either being picked up by rescuers, or drowning.
The rescues come a day after 1,100 refugees were picked up in the Strait of Sicily, crowded onto eight rubber dinghies, two punts and one larger boat.
In June, the EU expanded its anti-smuggling operation in the central Mediterranean to include training Libyan coastal and naval forces, which are intercepting boats and returning migrants to Libya.
But there are concerns for the conditions in which returned refugees are being held.
Rights groups say 3,500 are being held in around 20 official detention facilities across Libya, with many more detained in informal detention centres run by criminal gangs.
Join our new commenting forum
Join thought-provoking conversations, follow other Independent readers and see their replies