Tunisia hotel attack: These are the heroes who helped the victims of Seifeddine Rezgui and tried to bring the gunman down
Tunisian locals, hotel staff and Rezgui's wounded victims all tried to help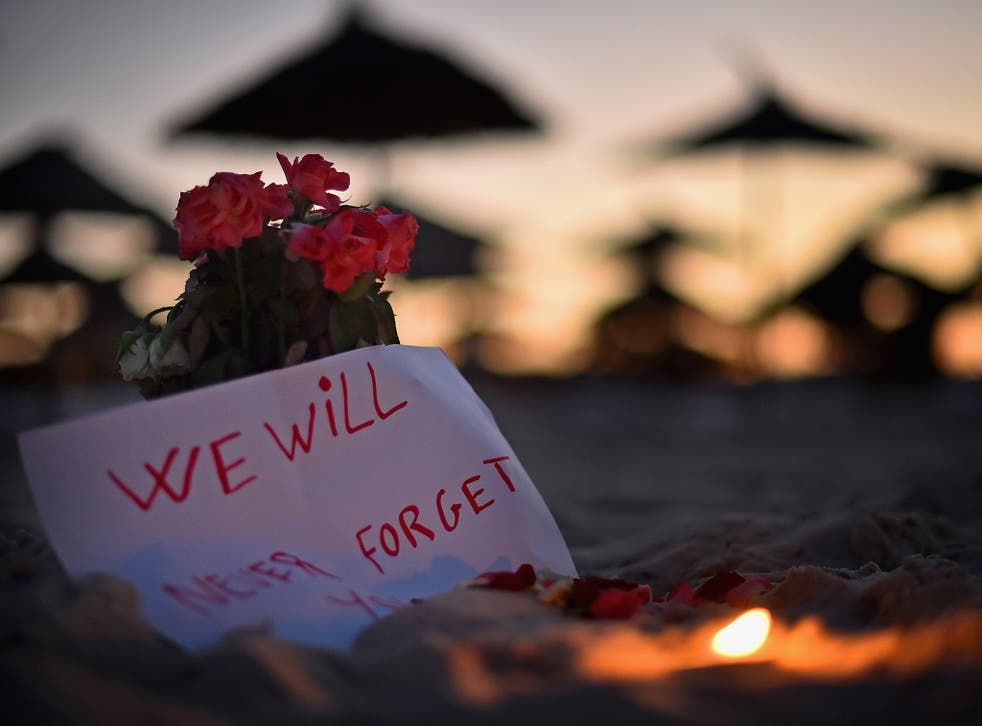 Tunisian locals, hotel staff members and even Seifeddine Rezgui's wounded victims put themselves at grave risk on Friday by helping the wounded, protecting other tourists or trying bring the gunman down after he killed at least 38 people on a Tunisian beach near the coastal town of Sousse.
Mathew James
Father-of-two Mathew James

was shot three times as he fought to protect his fiancée Saera Wilson. He was reportedly shot in the shoulder, chest and hip and threw himself across Wilson in an attempt to save her, and urged her to escape. He then held the hand of an elderly man who was dying next to him in order to give him comfort.
James was later taken to hospital where he was treated for his injuries before being transported back to the UK with fiancée Wilson.
Owen Richards
Owen Richards (pictured left) is a 16-year-old who watched his brother Joel, uncle Adrian Evans and grandfather Patrick Evans die during the attack in Sousse. He managed to flee the beach with a shoulder injury but was then discovered to have helped a wounded woman outside the hotel once he had escaped the beach.
Ibrahim el Ghoul
Ibrahim el Ghoul drove close enough to Rezgui to try and distract the gunman after he had first helped a family to safety.
The 18-year-old works in the area and ran towards the scene of the attack when he heard gunshots at another end of the beach.
He found four British tourists - a man, two women and a child - trying to swim away from danger and onto a boat after Rezgui had left the beach. When the gunman returned, he heard the screams of the tourists and took aim at el-Ghoul, who gathered the four behind him and shouted "Allahu Akbar!" at which point the gun was lowered and Rezgui walked on.
"Then I decided to go after him," el Ghoul told The Telegraph. "So I took a jet ski and caught up to where he was. I picked up rocks and was throwing them at him, anything I could." El Ghoul said Rezgui kept walking and continued smiling until he turned around to face the teenager, and said: "'I am not here to kill you. Turn around and go home'. That was the last thing I heard from him".
The locals who formed a human shield
When images emerged of a group of locals stood behind Rezgui as he walked along the beach after he first began shooting, it appeared as though they were looking on aghast. But holidaymakers at neighbouring hotels on the beach have confirmed that the local Tunisians and hotel staff had been forming a "human barricade" to protect the tourists.
John Yeoman, who was on holiday with his wife at a neighbouring resort when the shooting began, spoke out against the criticism, tweeting: "Those in the background formed a human shield to protect another hotel they are not watching they saved many lives."
Mr Yeoman's wife said another couple had said the local Tunisians were telling Rezgui "'You'll have to get past us as we're Muslims,' obviously I don't know the exact words but that was pretty much what they were saying".
The locals and staff who chased the gunman
New footage showing Rezgui's line of attack between the beach and the hotel near Sousse has emerged showing the efforts of the local Tunisians and hotel staff who attempted to chase and help stop the gunman.
The footage at one point shows the cameraman picking up a bottle from a bar table to use in self-defence while Rezgui stood just metres away.
Mayel Moncef
Local builder Mayel Moncef told Channel4News he could see Rezgui from the roof of a building as the gunman ran from the beach to an alleyway in an attempt to escape.
Moncef grabbed loose tiles from the roof of the building and threw them down onto the head of Rezgui, who began to fire his gun erratically in the street. It was at this point that police shot and killed Rezgui.
Moncef told the broadcaster that he saw a grenade roll out of Rezgui's hand after he was shot by police.
"All I did was my duty, the duty of any Tunisian and any Muslim," he told Channel4News.
Join our new commenting forum
Join thought-provoking conversations, follow other Independent readers and see their replies