Video: 'Fake' Mandela memorial sign language interpreter at ANC event alongside Jacob Zuma
The ruling South African political party had denied any knowledge of Thamsanqa Jantjie after Tuesday's service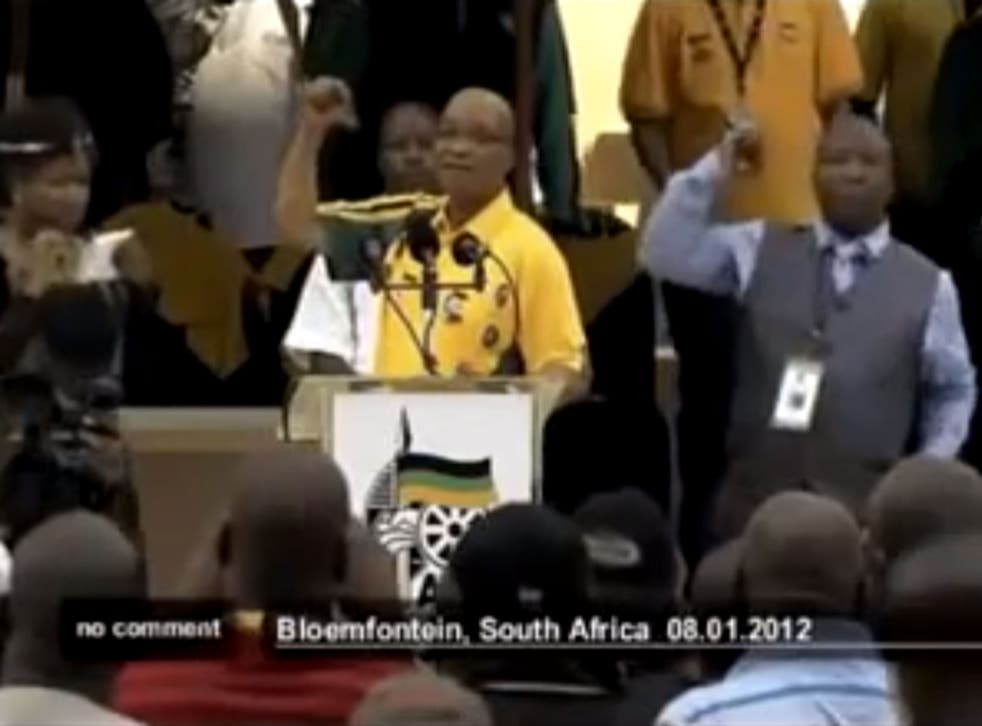 Video footage has emerged which appears to show the South African sign language interpreter Thamsanqa Jantjie, accused of "faking" his performance at Nelson Mandela's memorial, working alongside president Jacob Zuma at an event last year.
The video shows the 34-year-old working at an event for the centenary of the African National Congress (ANC) in January last year, and comes despite the fact that the ruling political party claimed to have no knowledge of Mr Jantjie yesterday.
The interpreter, who has suggested he suffered a schizophrenic episode during the service in Johannesburg on Tuesday, can be seen signing while Mr Zuma sings Kill the Boer to a large crowd at celebrations in Bloemfontein.
He was branded a "fake" by Bruno Druchen, the national director of the Deaf Federation of South Africa, who said "there was no meaning in what he used his hands for".
Mr Jantjie has since told a South African newspaper he has full qualifications, and was paid for his performance by the company SA Interpreters – which is regularly used by the ANC.
He nonetheless admitted that he started hallucinating and hearing voices during the service, making it difficult to keep track of what was being said.
"There was nothing I could do," Mr Jantjie said. "I was alone in a very dangerous situation. I tried to control myself and not show the world what was going on. I am very sorry. It's the situation I found myself in."
Join our new commenting forum
Join thought-provoking conversations, follow other Independent readers and see their replies