Video reveals vicious attack by Egypt's military police
Woman protester's beating threatens to further inflame the most recent outbreak of violence in Cairo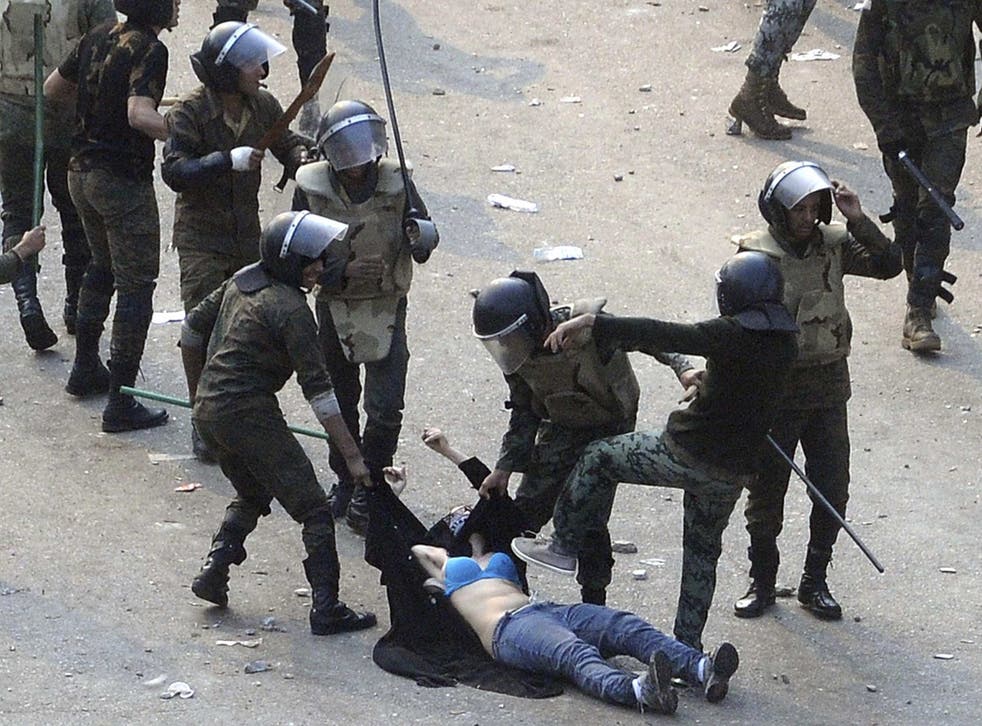 A video showing Egypt's military police viciously clubbing a woman, repeatedly kicking her head and then stomping on her semi-naked chest triggered a wave of outrage yesterday and threatened to further inflame three days of bloody clashes in the capital.
The footage, taken during another outbreak of rioting in which at least 10 people were killed and 441 injured, shows 10 baton-wielding military policemen charging towards fleeing protesters as the army stormed into Tahrir Square early on Saturday afternoon.
Some of the protesters escaped, but one woman wearing an Islamic headscarf and what appears to be a traditional black abaya robe was set upon by the military police and fell to the ground. The video shows her being repeatedly beaten with sticks, kicked in the face and dragged along the asphalt, apparently unconscious. At one point her bra is revealed – a huge humiliation for any Egyptian woman – before one of the military policemen stomps on her chest twice.
The incident received wide coverage after a photo of the semi-naked woman was splashed across the front page of yesterday's Al-Tahrir, a liberal Egyptian daily established after the fall of Hosni Mubarak in a popular revolution in February. Alongside a stark red headline reading "Liars", the paper noted how the military had used overwhelming violence against protesters despite denials from the country's new Prime Minister Kamal el-Ganzouri.
Holding a copy of the newspaper in his grubby, dirt-caked hands, Saad Ashour, an electrician, said that looking at the picture made him "feel crazy". The 28-year-old added: "It's against Islam, it's against democracy and it's against our human rights."
The most recent bout of violence, which came as the official results were announced from Egypt's second round of parliamentary elections, began on Friday morning when the military cleared a month-long sit-in outside the cabinet building near Tahrir Square.
Ugly clashes continued into the evening, as Qasr-el-Aini Street – the main road leading south from Tahrir Square to the cabinet offices – turned into a virtual war zone. Throughout Friday, military police and regime supporters stood on top of an 11-storey government building and lobbed rocks and concrete slabs down on the crowd, which responded by also hurling rocks. As night fell, protesters used sheets of corrugated iron to protect themselves from the falling debris.
By Saturday morning, an 18th-century research centre opposite the American University of Cairo was in flames, leading Al-Ahram newspaper, Egypt's venerable state-owned daily, to proclaim on its front page that "The heart of Egypt burns".
Soon afterwards military police stormed into Tahrir Square, torching tents and clearing civilians into surrounding side streets. Running battles continued throughout the day, and by yesterday morning the army had erected a 12ft-high concrete wall on Qasr el-Aini Street – just 200 yards around the corner from a near-identical barrier, constructed after the first wave of deadly rioting in Cairo last month.
Many of those who have been protesting in recent weeks believe Egypt's ruling Military Council wants to retain its influence over the country's political life. Yet some analysts have suggested that the ruling generals, who have promised to hand over power to civilians by July, are confident that many Egyptians do not support the protesters behind the latest violence.
Official results from the second round of voting showed Egypt's Islamists – who have refused to take part in any of the demonstrations since last month – again taking a majority of the votes and leaving the liberal parties trailing in their wake. The third and final round of voting for the lower house of parliament will take place in early January.
Ibrahim Ali, a 50-year-old who works in a perfume shop close to Tahrir Square, told The Independent that the protesters "do not represent the whole picture" in Egypt. "They are thugs and are taking drugs," he said. "If the army leaves now there will be chaos."
But with pictures of a woman being beaten and humiliated now seared into the minds of Egyptians, the military rulers risk losing some of the goodwill still afforded them by many who shudder at the memory of Mr Mubarak's brutal security forces. "This was not the army that is supposed to be protecting us," Maha Maamoun, from the Hisham Mubarak Law Centre, said.
Join our new commenting forum
Join thought-provoking conversations, follow other Independent readers and see their replies