Vodafone Egypt questioned over alleged puppet 'coded bomb plot' in advert
Youth activist Ahmed Spider accused the advert of containing secret codes for possible bomb attacks by the Muslim Brotherhood
Heather Saul
Friday 03 January 2014 09:37 Comments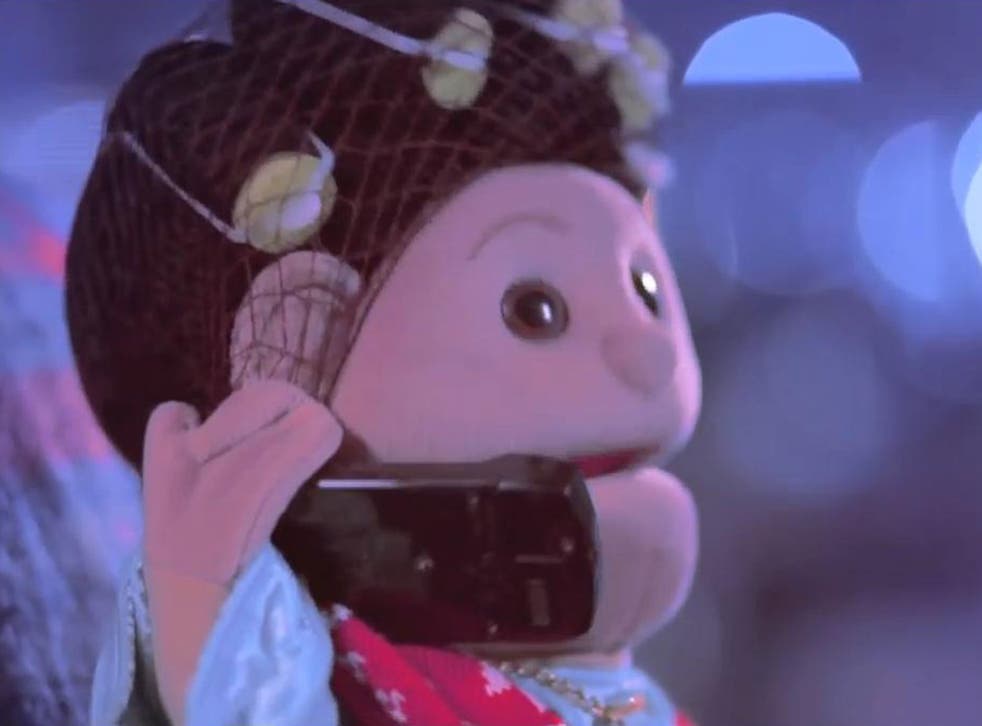 Prosecutors in Egypt have this week questioned officials of one of the largest telecommunications companies in the country over allegations that their advert included coded signals for bomb attacks by the Muslim Brotherhood.
Egyptian state security prosecutors have questioned the makers of a commercial for Vodafone Egypt which features popular puppet Abla Fahita, a widow attempting to reactivate the phone line previously used by her late husband.
In the advert, the puppet can be seen talking on the phone while her daughter Karkoura searches for her deceased father's sim card. Speaking on the phone with a friend, Fahita says she asked for the sniffer dog of a shopping mall to help search for the missing card and discusses another character called "Mama Touta".
However, video-blogger and youth activist Ahmed Spider accused the advert of containing pro-Muslim Brotherhood messages during an hour long appearance on Egyptian television on Tuesday.
The Egyptian unit of Vodafone, the world's biggest mobile operator by revenue, rejected the suggestions.
Spider said the mall and the dog were code words for the planned sites of a coming attack, and "Mama Touta" is a secret name for the Brotherhood.
The 25-year-old told the private Al-Tahrir TV channel in an interview that baubles hanging on a cactus featured in the commercial represented bombs. "These elements tell us that there will be a big mall and an explosion after a dog fails to find the bomb in a car", he said.
He said the four branches of the tree mimicked the four-finger gesture used to symbolise support for ousted Islamist President Mohamed Morsi.
Spider said he filed a complaint with Egypt's prosecutor general and a preliminary investigation was launched, security and judiciary sources told Reuters.
During an interview with Egypt's CBC network on Wednesday evening, the puppet was featured and told the audience: "I am a comedic character."
The accusations come after Morsi's Muslim Brotherhood was declared a terrorist organisation and accused of carrying out a suicide bomb attack last week on a police compound in Nile Delta in which 16 people were killed. The Brotherhood, long Egypt's main political opposition force, has denied any links to the attack.
In a statement to Reuters, Vodafone said the advert posted on YouTube and social media channels was intended to promote a special offer for customers to re-activate their old SIM cards and had no hidden meaning.
"Abla Fahita is a comic character, used in this ad as a tool to clarify the offer to viewers/customers, in a comic and sarcastic context," Vodafone said in its statement.
"The ad is only a marketing communication tool. It does not carry any hidden messages or meanings other than what has been mentioned above."
Vodafone Egypt, one of three mobile network operators in the country, is about 55 per cent owned by Britain's Vodafone and around 45 per cent by state-owned landline monopoly Telecom Egypt.
Additional reporting by Reuters
Register for free to continue reading
Registration is a free and easy way to support our truly independent journalism
By registering, you will also enjoy limited access to Premium articles, exclusive newsletters, commenting, and virtual events with our leading journalists
Already have an account? sign in
Join our new commenting forum
Join thought-provoking conversations, follow other Independent readers and see their replies