Welcome home, 'son': Barack Obama lands in Kenya
Mr Obama's visit has required a huge security operation, with Kenyan troops patrolling Nairobi and several US military aircraft spotted flying above the city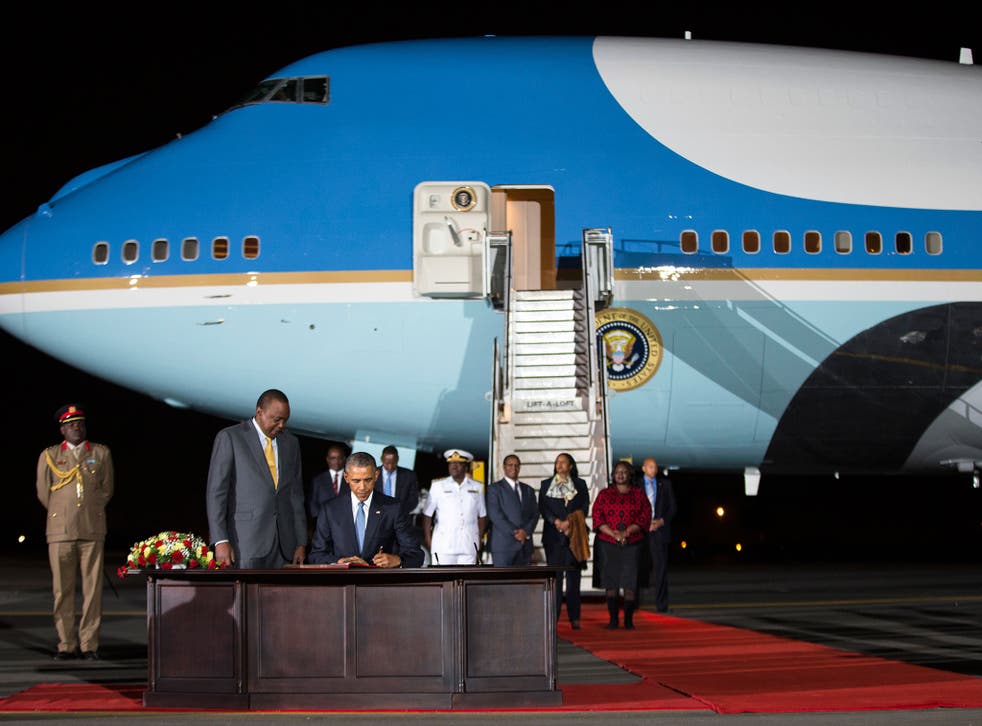 Barack Obama kicked off his official visit to Kenya yesterday by sitting down to dinner with his step-grandmother and other members of his extended family.
The US President was cheered by Kenyans who lined the streets as he was driven through Nairobi from the airport where he was formally greeted by President Uhuru Kenyatta and other top officials.
At his hotel, amid high security, he was reunited with the woman he calls "Granny" – his step-grandmother Sarah Obama, who helped raise his father.
The matriarch, in her 90s and also known as Mama Sarah, was accompanied at the dinner by the president's half-sister Auma Obama and dozens of other members of his extended family.
The president is regarded by many Kenyan's as a 'son' of the nation and earlier in the day, as Mama Sarah boarded her plane in the western city of Kisumu to fly to Nairobi, she declared: "Today, I am going to talk to him face to face."
The president's father, Barack Obama Sr, left Kenya as a young man to study at the University of Hawaii. There, he met and married Stanley Ann Dunham, a white woman from Kansas.
The elder Obama left Hawaii when his son was just two years old, first to continue his studies at Harvard, then to return to Kenya. The future president and his father would see each other just once more, when the son was 10 years old. Mr Obama's father died in a car crash in 1982, at the age of 46.
"I didn't have a dad in the house," Mr Obama said last year during a White House event for My Brother's Keeper, his initiative for young men. "I was angry about it, even though I didn't necessarily realise it at the time."
The trip is, however, likely to focus on trade and counter-terrorism, with the family reunion something of a sideshow. Mr Obama is not expected to travel to the village where his father is buried.
Official talks are, in particular, likely to concentrate on the Somali Islamist group al Shabaab Al-Shabaab, a terror group linked to al-Qaeda, which has conducted major attacks in Kenya, an ally of the West, including the 2013 massacre at the Westgate shopping mall in Nairobi and an attack in Garissa in April that killed nearly 150 people.
In Nairobi, he will preside at a Global Entrepreneurship Summit, pay tribute to victims and survivors of the 1998 U.S. embassy bombing and dine with Mr Kenyatta, whose indictment by the International Criminal Court for crimes against humanity largely barred Obama from visiting sooner. Charges have been dropped.
Mr Obama's visit has required a huge security operation, with Kenyan troops patrolling Nairobi and several US military aircraft were spotted flying above the city.
Major Nairobi roads will be temporarily closed and authorities said the airport would be closed for Mr Obama's departure for Ethiopia tomorrow. Safaricom, a mobile network operator, warned of disruptions to phone signals while Mr Obama was in Nairobi.
Join our new commenting forum
Join thought-provoking conversations, follow other Independent readers and see their replies