5-year-old girl asks Pope Francis to fight for immigrants
'All immigrants just like my dad feed this country, they deserve to live with dignity'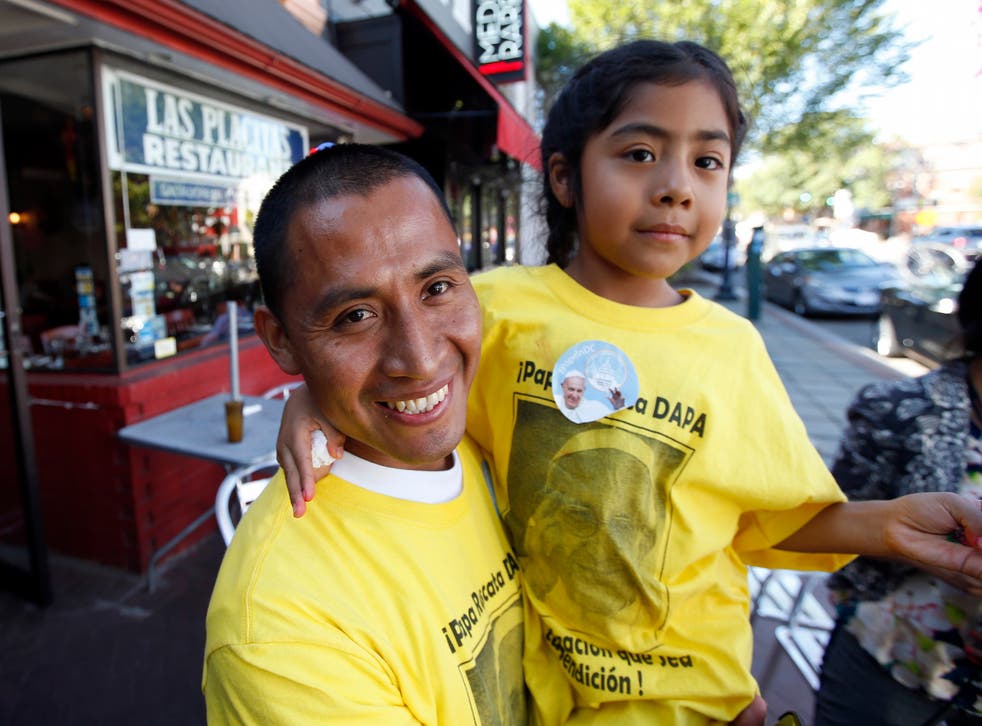 A young girl delivered a strong message to Pope Francis on Monday during a parade at Washington DC's National Mall.
Sophie Cruz, 5, was carried over the security barricade and escorted by body guards as she handed Pope Francis a gift: a letter and a bright yellow t-shirt.
The shirt read "Papa Rescate DAPA" which translates to "Pope rescue the [deferred action for parents of Americans.]" The measure was placed on hold by a federal appeals court in July.
"I'm scared that the [Immigration and Customs Enforcement] will take my family away. I believe I have the right to live with my parents. I have the right to be happy. My dad works very hard in a factory galvanizing pieces of metal," she told the Associated Press.
"All immigrants just like my dad feed this country. They deserve to live with dignity. They deserve to live with respect."
Sophie and her father Raul, 36, traveled to the nation's capital to see the Pope during his historic six-day trip. The Hermandad Mexicana Transnacional hosted the trip with a total of six children and 19 adults.
Sophie also told NBC Los Angeles that she hopes Pope Francis will convince president Barack President Obama to legalise all immigrants.
"Pope Francis," she says, "I want to tell you that my heart is sad and I would like to ask you to speak with the president and the Congress and legalizing my parents because every day I am scared that one day they will take them away from me."
The papal parade was expected to host nearly 18,000 people.
Watch Sophie meet Pope Francis below:
Join our new commenting forum
Join thought-provoking conversations, follow other Independent readers and see their replies