Afghanistan President Ashraf Ghani opens US visit with speech honouring sacrifices made by American soldiers
Mr Ghani is intent on contrasting his style with that of his predecessor, Hamid Karzai, who became belligerent towards the US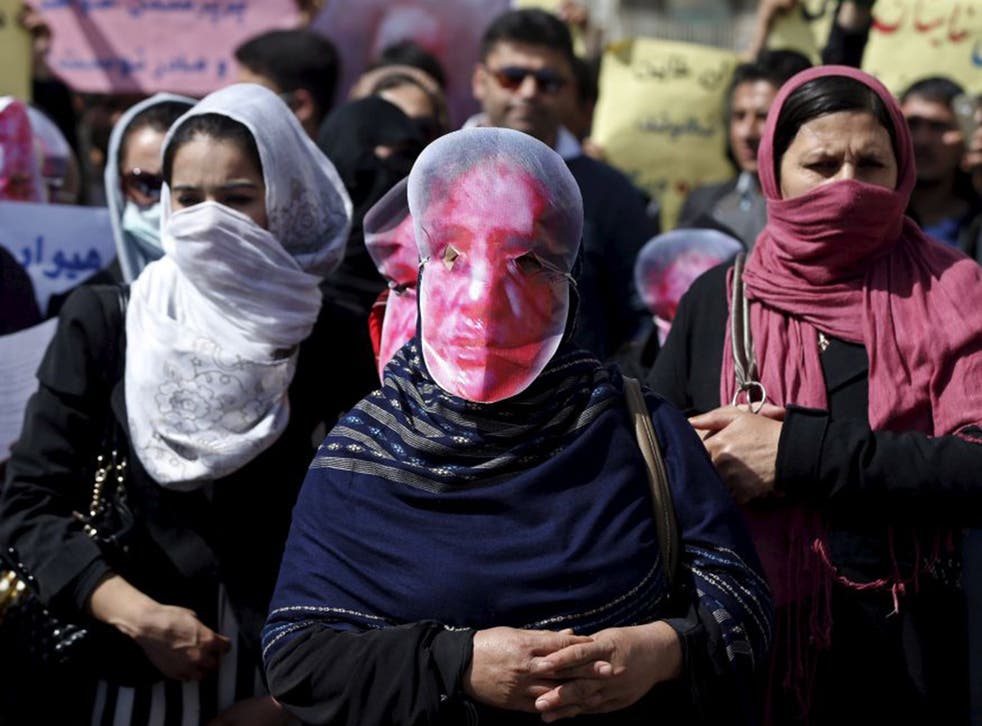 Amidst signs that Washington is poised to adjust the pace of its disengagement from Afghanistan, President Ashraf Ghani opened an official visit to the United States today by expressing fulsome thanks for the sacrifices made by US soldiers in more than a decade of war in his country.
"What I want to state on behalf of the Afghan people is that each one of you also has left a memory in the heart of every Afghan that you've touched and encountered," Mr Ghani told an audience of soldiers at the Pentagon. He is due to meet President Barack Obama tomorrow and to address Congress on Wednesday.
Mr Ghani, who was elected in September, is intent on contrasting his style with that of his predecessor, Hamid Karzai, who became belligerent towards the US, and in return persuading President Obama to leave greater numbers of troops in his country as it faces continued threats from the Taliban. He left Kabul at a moment of heightened tension, however, ignited by the public beating and killing of a 27-year-old female religious scholar named Farkhunda after she was accused of destroying a Koran. She was beaten, thrown from a roof, run over by a car and burnt last Thursday. After her burial amidst a loud public outcry on Sunday, protesters gathered again today demanding the arrest of her killers.
"We do not now ask what the United States can do for us," Mr Ghani said. "We want to say what Afghanistan will do for itself and for the world. And that means we are going to put our house in order."
He earned praise from Ash Carter, the US Secretary of Defence, who said Mr Ghani understands that "Afghanistan's future is ultimately for the Afghans to grab hold of and for Afghans to decide".
Mr Ghani is in the US with his chief executive, Abdullah Abdullah, who together have forged a fragile unity administration in Kabul. Mr Ghani took up the theme of improved US-Afghanistan dialogue upon arrival later yesterday at Camp David for private talks on the future of his country with the US Secretary of State, John Kerry.
In pictures: Afghanistan election: Voters defy Taliban to cast votes for new president

Show all 8
"It's time for Afghanistan to reciprocate the gift that the United States has so generously provided over the years," Mr Ghani said. "Reciprocating the gift means owning our problems, solving them and asking of ourselves what we must do for ourselves and for the region." Mr Obama made ending the wars in Iraq and Afghanistan a cornerstone of his agenda. But the existing timeline for halving US troop levels in Afghanistan by the end of this year to about 5,000 and removing all but 1,000 US military personnel by the end of 2016 has come under increasing scrutiny.
White House officials hinted last week at likely amendments to that schedule – slowing down the rate of withdrawal and possibly delaying the planned closing of two US bases in Kandahar and Jalalabad – citing the greater degree of comfort felt with Mr Ghani. "This is a different relationship than we had under President Karzai. It's clearly more co-operative," Jeffrey Eggers, a senior official, commented.
Some have seen in Mr Obama's full pullout from Iraq in 2011 the seeds of the subsequent fracturing of the country, notably its inability last year to resist the sweeping advance of Isis. While Taliban fighters remain the greatest threat to security in Afghanistan, Mr Ghani has expressed concern that Isis may also now be gaining a foothold in the country. At the Pentagon, he vowed to fight terror. "We will never be defeated," he said. "Terrorism is a threat. But we are willing to speak truth to terror by saying 'You will never subdue us'."
Join our new commenting forum
Join thought-provoking conversations, follow other Independent readers and see their replies