Alberto Nisman: Was prosecutor killed while investigating 1994 bombing of Jewish centre in Buenos Aires moonlighting for the FBI?
Exclusive: A new book claims US security services abandoned Mr Nisman as he was about to reveal President Cristina Fernandez de Kirchner's alleged attempts to cover up Iran's involvement in the atrocity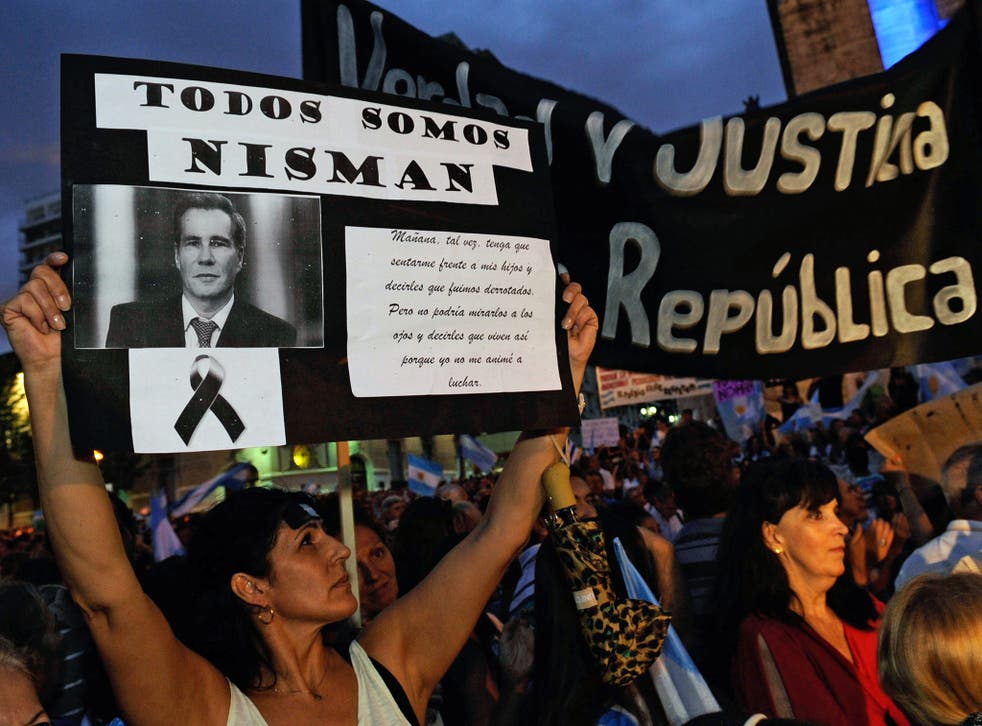 The Argentine prosecutor who was found dead a day before he was to present a case that would potentially implicate President Cristina Fernandez de Kirchner in a cover-up related to the 1994 bombing of a Jewish centre in Buenos Aires had been working secretly for the United States, it is now claimed.
The intimate ties between Alberto Nisman and the US intelligence services, especially the FBI, are detailed by a respected Argentine radio and television journalist, Facundo Pastor, who this week spoke exclusively to The Independent about his findings. Called simply Nisman – Crime or Suicide? Hero or Spy? Mr Pastor's new book on the subject has already shot straight into the country's top-10 best-sellers lists.
Mr Pastor, who had grown to know the prosecutor personally as he built a case that squarely accused Iran of orchestrating the attack on the Argentine Israelite Mutual Association building (known in Spanish by the initials AMIA), says he has diplomatic cables proving he was moonlighting for the FBI. The attack killed 85 people, making it the worst terror attack in the Americas until the 9/11 strikes in the US,
Mr Pastor believes that after lavishing him with attention for years, US intelligence abandoned Mr Nisman and failed to give him key evidence he was expecting as the White House switched its attention to securing a nuclear deal with Iran.
"When I ask if he is a hero or a spy, it is because with my investigation I backed up the fact that Nisman had turned into a top contact for the FBI in the entire region," Mr Pastor said. The book includes excerpts from 46 cables that, he says, showed that Mr Nisman was "reporting all his legal moves to the FBI through the US embassy [in Argentina], before even informing his own legal superiors".
The case has remained so explosive because of what Mr Nisman was expected to say to the national Congress the day after his death in January: that Ms Fernandez, who in 2013 had created a joint commission with Iran to get to the bottom of the bombing, had also set about trying to conceal Iran's responsibility in exchange for new trade and economic ties between the two countries. This claim has been denied by Ms Fernandez.
As Argentina prepares to elect a new president this Sunday, 10 months after the stunning demise of Mr Nisman, the case continues to grip the country, with supporters of Ms Fernandez insisting Mr Nisman committed suicide. The opposition continue to imply he was killed because of what he knew.
One of the largest and most angry demonstrations here in recent times occurred two weeks after Mr Nisman's death when about 500,000 people marched on Congress bearing "I Am Nisman" signs and demanding that the government provide an explanation of what had happened.
The mystery has deepened still further in recent weeks as the Fernandez administration has accused the US authorities of trying to shelter a former intelligence chief of the country and one-time close ally of Mr Nisman, Jaime Stiuso, who, shortly after giving evidence in the case in February, fled the country to the US. According to Mr Pastor, "he is probably being protected by American intelligence" there.
In his book, Mr Pastor avoids taking a view on whether Mr Nisman was murdered or if he took his own life. The forensic case as well as evidence showing that he urgently sought to get a gun from three sources before his death, suggests the latter, Mr Pastor says, but any certainty "disappears" when you consider who Mr Nisman was and the geopolitical context of what he was doing, particularly as regards Washington.
Mr Pastor believes Mr Nisman's quest to bring Iran to justice began to spin apart in 2013 when the joint memorandum with Iran was announced by Ms Fernandez – when she also cleared eight Iranian figures, including former President Hashemi Rafsanjani, whom he had indicted. "This is the first time that Nisman has been completely abandoned and cut off by the government," Mr Pastor said. "He went from being a top prosecutor given lots of money for his work to becoming an enemy of the government."
But Mr Nisman thought he still had the support of the United States, which both flattered him and promised to provide vital corroborating evidence for his case. "From the moment that he starts with the AMIA case, he develops a theory regarding the terrorist attack that was very specific and very useful at that point to the United States… that from the 1980s Iranian diplomats were infiltrating the region – Argentina, Brazil, Uruguay, Venezuela, Bolivia and others – in hopes that they would be able to export the Iranian revolution to it," Mr Pastor said.
"With his theory [on Iran's guilt], Nisman started becoming a highly valued person by the United States," Mr Pastor said, adding that information he had been passed to them helped the FBI foil a 2007 terror plot against JFK airport in New York. That, he said, was the "high point" of their collaboration.
But what Nisman did not see coming, the author says, was the impact the pursuit by Washington of the Iran nuclear deal, which was sealed this summer, would have on the relationship. All of a sudden "Nisman stops being important to the Americans".
World news in pictures

Show all 50
Mr Pastor said: "Nisman died without knowing or being able to imagine, that the US and the Obama administration would shortly be celebrating a nuclear accord with Iran, which was the country that he had been calling a terrorist state – because the United States had asked him to call it a terrorist state." It is Mr Pastor's contention that when Nisman was about to present his case, he realised it was empty.
"He spent two years confronting the government… but the day comes to present his case and Nisman realises that he has nothing… the proof that Stiuso's intelligence apparatus and the American intelligence officials had promised never came through."
Prosecutors are still investigating the circumstances of Mr Nisman's death. Many in Argentina have been left confronting troubling questions raised by Mr Pastor. "Did he spend 10 years dedicating himself to exposing a terrorist attack – or did he follow the script that the Americans had passed on to him before they cut him loose?" he said.
Join our new commenting forum
Join thought-provoking conversations, follow other Independent readers and see their replies